From Hair Stylist to Radiographic Technologist
Inspired By Her Son, New Mother Alexandra Giannotta Pursues Her College Degree at NYSCAS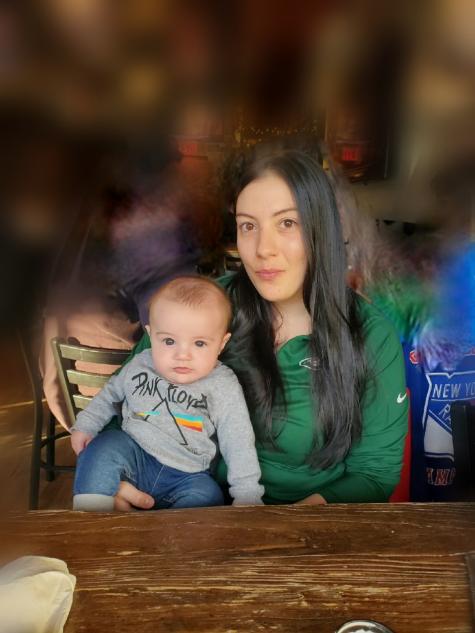 NYSCAS student Alexandra Giannotta pictured with her son James
We recently spoke with Alexandra Giannotta, a Touro New York School of Career and Applied Studies (NYSCAS) student pursuing her Associate of Applied Science degree in Radiographic Technology. Expecting to graduate in June '22, Giannotta explains why she made the scary but exciting decision to leave her job in the beauty industry to embark on a new journey in the medical field.
What attracted you to a career in radiographic technology?
For the past 11 years, I worked as a hairstylist at a salon located in Bay Ridge, Brooklyn. While there were many aspects of this role that I loved including making people feel like the best version of themselves and being able to form relationships with a diverse group of people that I otherwise might not have ever met, I realized that I wanted to do more to help people live a better-quality life, beyond their physical appearance. I also needed a job that allowed me to have a better work-life balance as I was oftentimes working 12-hour days, yet still had no access to vital benefits such as sick time and a retirement plan.
While making a career change at 30-years-old was something that initially scared me, I knew that I wanted to pursue a job in the medical field. After doing some research, I came across an article outlining the responsibilities of a radiologic technologist. This exciting role checked off all the boxes I was seeking in a new career including providing more stable working hours. I knew it would also allow me to work closely with patients, a big passion of mine, as well as the opportunity to work in different settings such as hospitals and offices. I also loved that I could enter the field with my completed degree in only two years.
Why did you decide to enroll in NYSCAS?
First, the college has a great reputation in the field of medical imaging. Next, after meeting a few program faculty and staff during the interview process, they were incredibly encouraging and instantly made me feel at ease, even while advising me that this was a rigorous and time-intensive program. I was nervous about stepping into this new medical world. But from the moment when I submitted my application to register for classes, the ongoing support I was shown prompted me to take this leap as I knew I would have people willing to help me overcome any challenges I might face.
In addition to being a full-time student, congrats on giving birth to your son James this past summer! How are you balancing your increasing family and student responsibilities?
I gave birth to my son James, who is now four months old, right before summer finals began. I ended up finishing the summer 2021 semester one-week post-partum with a 3.8 GPA.
When COVID hit in March 2020, I started taking classes remotely. It's been a challenge to balance all of my growing responsibilities since becoming a mother, especially as I returned to in-person learning when James was only five weeks old. Making the switch to commuting most of the week for many hours each day, while keeping up with schoolwork, and traveling to my clinical rotations was a lot for me. Through it all, I kept reminding myself that this was the best decision to advance my career and to provide the best life for my son. I couldn't have continued moving forward in my educational journey without my amazing support system including my fiancé. I joke around that he deserves an honorary degree, but I really feel that none of this would have been possible without his help. Staying organized and leveraging key time management techniques have also been critical in helping me succeed as a student.
What is some key advice you'd offer to other mothers looking to go back to school or to someone making the decision to restart their career?
The only advice I can give is just do it! There is never a good time to make a big change, and it's the hardest thing you'll ever do. Don't just pick any career, instead analyze the opportunities the job market offers in that field post-college. Make sure you have people in your life that will support you while achieving your goals. There is a light at the end of the tunnel and any temporary obstacles you face are worth overcoming so you create the brightest life possible for you and your family.