A Successful Property Manager Returns to the Classroom
After Two Decades as a Commercial and Residential Manager, Andre Gibbs Came Back to NYSCAS to Pursue His Degree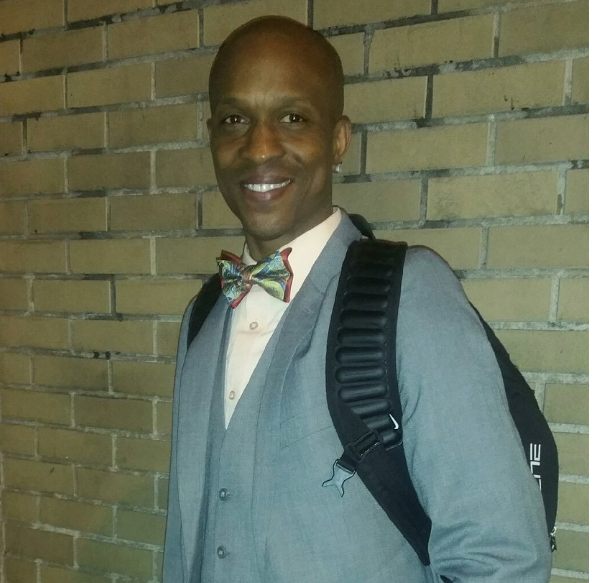 NYSCAS student Andre Gibbs
Ever wonder what it takes to be a successful commercial and residential property manager? We recently spoke with Project Manager Andre Gibbs, a current NYSCAS student pursuing his bachelor's degree in psychology, with an expected graduation date of May '22. Hear from Gibbs on his dream job, why he decided to head back to the Touro classroom after working in this field for two decades and how his mother inspired him to continue to push forward on his educational journey.
You've been working in the property management field for over twenty years. Why did you decide to pursue your bachelor's degree in psychology?
For more than two decades, I've been working to advance my career in the property management industry. My job responsibilities focus on national and global projects related to construction project management, facilities and tenant management, real estate and more. While I have received many certificates and licenses in this field over the years, to be continuously successful in this role, I've learned that it's critical to have the ability to seamlessly communicate with a diverse group of people. Therefore, I chose to pursue my bachelor's degree at Touro as I think it will help me to fine-tune my communication skill set while also better understanding the mindset of people with different backgrounds. Everyone I surround myself with is well educated, including my three grown daughters who are each exceling on their own career paths, so this degree is an important achievement for me personally, as well as professionally.
Your mother worked as a public-school teacher for more than three decades and taught many people in your neighborhood how to write and read. Can you talk a little more about her and the South Bronx community in which you were raised? How did her love for teaching others impact you personally?
I was born and raised in the South Bronx, only a few blocks from the famous Yankee Stadium. This was a tough neighborhood and although I grew up with a single mom, I learned the value of education early on. A teacher at District 9 in our community, my mom strongly believed in the importance of education. After watching my mother earn master's degrees from both Manhattan College and Columbia University and teach many of our community members how to read and write, she served as an inspiration for me to give back to the community. Although she passed away a few years ago, I'll never forget her words of wisdom including that having an education will equip you for a successful future and that if you're a leader, people will always gravitate towards you.
What is your advice for a prospective non-traditional student considering going back to college later in life?
I truly believe that while things happen along the way in life that you cannot control, you must always continue to move forward. Taking steps to attain your higher education degree is something that will always remain important and while there may be times that you might doubt yourself, you must never forget how critical it is to set goals and then work hard every day to achieve them. Some advice I'd give to a non-traditional student like myself is to not be embarrassed to ask for help when needed because there are many new things that I'm currently adjusting to like taking online classes, so don't be afraid to ask for additional assistance if/when it's required as it will only help you in the long run.
Have there been any courses or professors that particularly inspired you during time at Touro?
I give credit to Touro professors, faculty, and staff, all of whom have played a vital role in working with me in many ways, from registering for classes to providing after hours help when I really needed it to succeed. However, Professor Gary Batson's College Writing class really stands out to me since his teaching style reminds me of my mother. Professor Batson is extremely relatable to all of his students, highly attentive, always responsive, and even gives great advice on issues related to both school and life.
What is your dream job?
My dream job is owning and running a global residential and commercial property company. I also want to help other people break into the property management field as it's a great industry to work in with a lot of opportunities for growth. I also recently started working with an organization called Strive, which is a job training and career development services nonprofit agency, where I speak to youth to help them overcome any issue they may be facing currently. We often speak about dressing for success, and I hope to motivate them to achieve greatness now and in the future.