A Family Tragedy Leads to a Passion for Helping Others
NYSCAS Student Tamara Burks Shares Her Tumultuous Story and How it Motivated Her to Pursue Her Career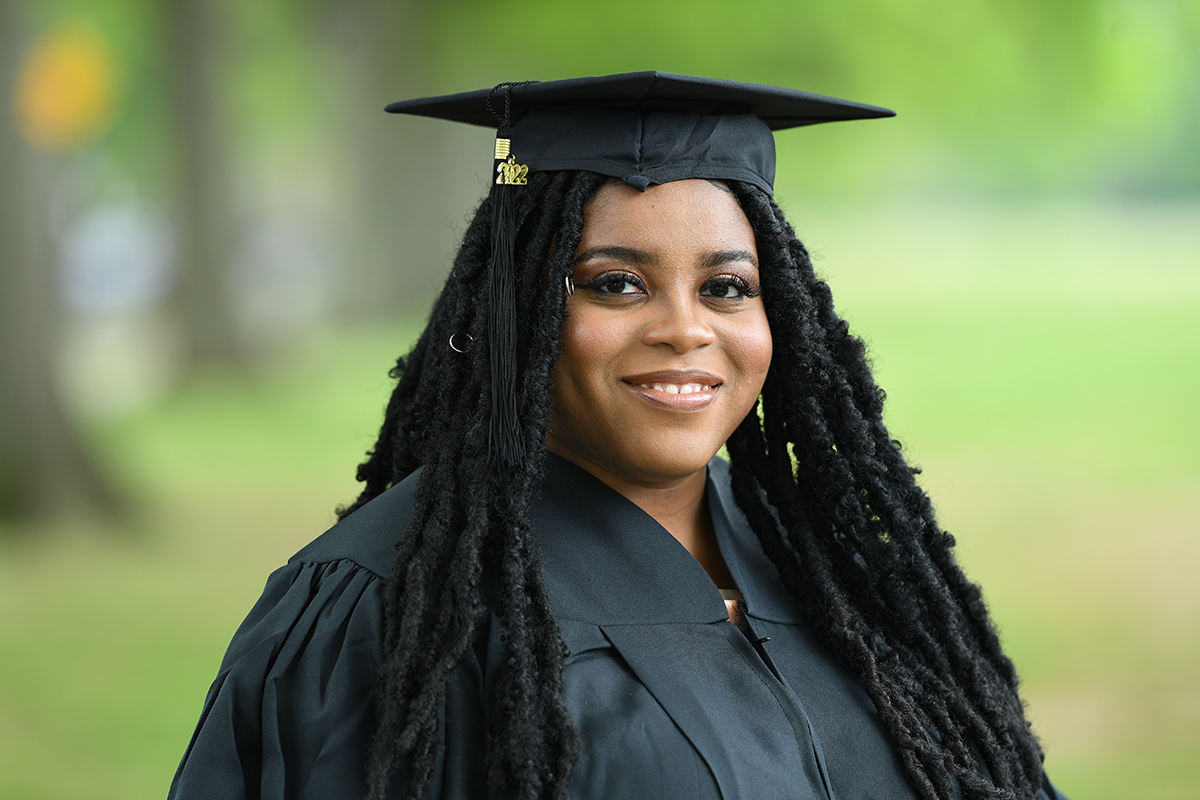 NYSCAS student Tamara Burks
After years of personal hardship, Tamara Burks was incredibly proud to receive her associate of science degree in paralegal studies from NYSCAS this past spring. Adding to her excitement, the newly minted paralegal also received a departmental award for excellence.
Completing this major milestone meant a lot to Tamara, who lost her childhood home in a fire and lived with her family in a shelter for some time. She also tragically lost her grandfather, who was murdered at home during a robbery attempt. These life-changing experiences led her to pursue a career in the law field with the hopes of helping other people in vulnerable situations, including immigrants. We recently spoke with Tamara to learn about her paralegal career at an NYC-based immigration law firm, her career goals, and her time at Touro University.
Can you talk a bit about your background?
I was born and raised in Manhattan. When I was seven years old, there was a fire in my apartment building, and I will never forget being stuck on the fire escape with my mother and other neighbors as we tried to escape the flames. Thankfully, the firefighters were able to rescue us and helped to calm me down because I was terrified. When the Red Cross arrived, they took us to the school across the street and provided us with food and water. As we no longer had a place to live, the organization assisted my family with finding temporary shelter at a few different hotels. While some families were able to find a permanent housing option right away, the rest of us weren't as lucky and had to live in shelters for a while. We moved to a shelter in the Bronx and stayed there for seven months. We eventually found a new apartment, also located in the Bronx, and are still there today.
Why did you pursue your degree in paralegal studies at NYSCAS?
Sadly, my grandfather was murdered on his porch a few years ago after a group of teenagers attempted to rob him. Although the police were able to locate, charge and incarcerate the ringleader of the group, he was only in prison for a few years. Due to a lack of evidence, they recently let him out of jail. I became a paralegal to help work on my grandfather's case and put his murderer back behind bars. I've also found myself becoming increasingly interested in forensic science and I hope to continue advancing my career while helping fellow victims find the closure they both need and deserve.
I enrolled in NYSCAS because my mom and sister had previously attended the same college, so I was already familiar with it and felt like I'd practically grown up here. I also knew that Touro's faculty and staff would help me to achieve my educational goals and I would be surrounded by people who take their jobs seriously, so it was an easy choice to make.
Where are you working now and what are some of your daily responsibilities?
I currently work at Kopchian Law, a law firm focused on immigration issues. My daily responsibilities include writing motions, attending hearings, and making calls to courts throughout the country to request status updates on clients' cases. I also help immigrants obtain their permanent residence status and employment authorizations. My favorite part of my job is when one of our clients receives their permanent resident status (green card) and I get to see the expression of joy on their face. It's the best moment, because I know that this person will have a better life, thanks to the role I played in helping them achieve that goal. One challenge we face is the way rules related to immigration change regularly, which makes our job a little tricky.
What is your dream career?
My dream career is to be a forensic anthropologist. I initially wanted to follow this career path after watching the TV series Bones. I've always been intrigued by true crime and mystery shows but watching Dr. Temperance "Bones" Brennan on the show really inspired me to get involved in this field. A forensic anthropologist specializes in analyzing hard tissues, or bones. When human remains that have already passed the decomposition stage are found, these specialists are brought in to analyze the bones and gather information on the deceased including how they died. Our bones hold so much information about ourselves! For example, at the law firm, whenever we need to determine a client's age, we have them take a dental age assessment, which is the most accurate age indicator.
Were there any impactful courses or inspiring faculty that made a lasting impression during your time at Touro?
After completing my associate degree, I'm now enrolled in courses to receive my bachelor's degree in Psychology at NYSCAS. Throughout my educational journey at Touro, there have been many faculty members who have stood out as they're incredibly knowledgeable and have proven to be helpful with a variety of issues like Professors Brent Cutler, Horace Batson, Abraham Goldstein, Lisa Alonzo, Dr. Sharron Gonzalez, and Rabbi Baruch Fogel.
What are three key skills you learned in the college classroom that you'll utilize as you advance your career?
Active listening, attention to detail, and professional writing are some of the vital skills that I utilize daily in my career. Active listening is particularly important for a paralegal because it enables others to feel comfortable to talk and be open with us. Our job is to help people; when we actively listen to them and show them that we care, we establish trust. Additionally, attention to detail is the foundation of forensic science and is vital in this career because it helps to minimize the chance of making mistakes, in addition to making it easier to notice even the smallest details that are vital. Learning the ins and outs of professional writing is helpful in general, yet as the legal field requires a large amount of writing including crafting letters to courts and clients, this skill is imperative and necessary to fine-tune as well.