Future Educator Advocates for Students in Need
New York School of Career and Applied Sciences (NYSCAS) Student Kelli McDermott Explains How Touro Pathway is Helping Her to Become an Educator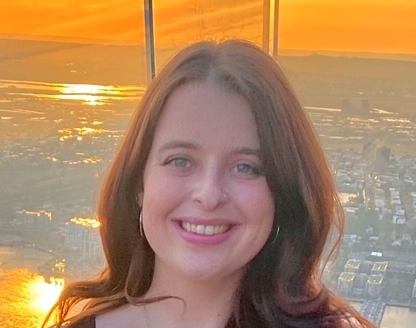 Kelli McDermott
Becoming a public-school teacher wasn't always Kelli McDermott's dream job. But when Kelli, a NYSCAS student and Staten Island native was offered a job as a paraprofessional at a Brooklyn junior high school, she fell in love with her new role and quickly realized that teaching was the career path she was going to pursue. We recently caught up with McDermott, who shared why she's passionate about the education field, explains the many benefits of Touro's Honors Teacher Preparation Pathway, a joint program between NYSCAS and Touro's Graduate School of Education (GSE), which will enable her to earn a bachelor's and master's degree in education as well as prepare for NYSED Certification in only five years, and offers advice for other students dreaming of becoming educators of the future.
How did your career in education get started?
I started working as a paraprofessional at a public middle school in Brooklyn when I was 22 years old. To be honest, it was not something that I had ever expected to be doing but I always loved kids, so I decided to apply for the job. The rest is history because after only a few months I realized what an incredible opportunity it was to be able to make a positive difference in the lives of children and knew that this was exactly what I wanted to do.
What do you love the most about your job?
Teaching foundational subject areas are an important aspect of my job, but I also really value the relationships I'm able to build with my students. In my opinion, preparing them to overcome an array of challenges they may face as they enter the real world is even more important than teaching them how to solve a math problem. Many of these kids don't have anyone who will advocate for them nor someone they can trust and confide in, so I take my job very seriously and truly enjoy the 40 hours a week we spend together building a mutual level of trust.
What prompted you to pursue your undergraduate degree at Touro?
Many of my coworkers at the Department of Education had great things to say about the college, so it made me want to look into their programs. Once I saw that the school offered flexible class schedules, I knew that it could align well with my current job, so I enrolled as a NYSCAS student in January 2019. At first, I was a little nervous to head back to the classroom as I hadn't been a student in five years, yet the professors and staff, were so helpful and welcoming that they made me feel at ease right away. In particular, two professors i stood out to me. The first is Professor Russell Hirsch, who taught me College Writing I. I will never forget him as he helped elevate my writing skills to the next level and be much more thorough when completing my analyses. The second unforgettable faculty member was Dr. Jill Ordynans, the deputy chair of my department. Dr. Ordynans is so knowledgeable and she always gave me honest feedback, while offering insightful information and useful advice.
Can you talk a bit about your experience in the Honors Teacher Preparation Pathway program?
Being part of this amazing pathway program, which allows me to earn graduate school credits while simultaneously completing my bachelor's degree, has been the highlight of my NYSCAS journey. The program has opened so many doors for me and has helped me to build important connections with people who have been in the education field for years.This past year, I took four graduate courses, and I'll be graduating from NYSCAS this month. At first, I thought the course load was going to be challenging to handle as there is a lot more work required as compared to only taking bachelor's level classes. While it was difficult at times, I had the incredible opportunity to learn about crucial topics such as working with English as a second language (ESL) students, writing individualized education programs (IEP's), and special education regulations. It's truly a privilege to be part of this program.
What advice do you have for other students who want to follow in your footsteps and pursue a career in education?
My advice is to make as many connections as you can while at school. Take advantage of the fact that the school's staff and faculty have a ton of great experience under their belt that they're willing to share. When I started my first semester, I thought that because I was already working as a paraprofessional, I knew everything about teaching and working with kids, but you need to be open minded and willing to learn in order to grow. Touro gives its students many opportunities to be successful; don't miss out!