"You don't want to ask later, 'Why didn't I?'"
Award-winning Gospel singer and honored veteran, Gerard Placide, to graduate from NYSCAS with honors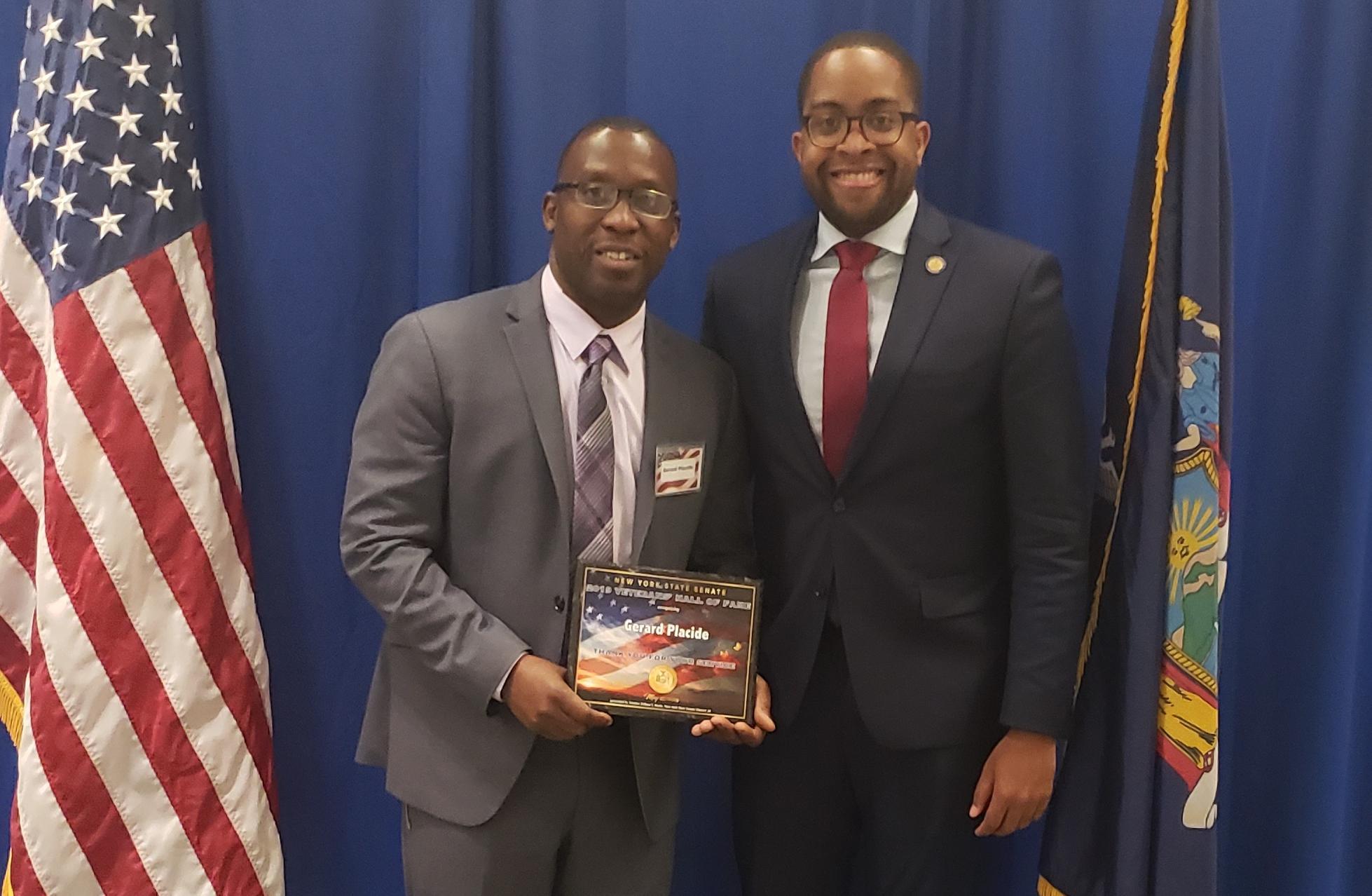 At Touro's New York School of Career and Applied Studies' (NYSCAS) commencement ceremony on June 12, 2019, graduates, friends and family will have the opportunity to listen to world-renowned Gospel singer Gerard Placide. Originally from Trinidad and Tobago, Placide has performed for Barack Obama, George W. Bush, Queen Elizabeth II, Bill and Hillary Clinton, John McCain, Condoleezza Rice, Robert Gates, the United Nations' 57th General Assembly and many others.
But this performance is a particularly important one for Placide: Not only will he be singing before the Touro community, but he'll also be earning his associate's degree in liberal arts.
As a teenager in Trindad, Placide experienced trauma and hardship, feeling misunderstood by his own culture and struggling to find his identity. Sometimes, he lived on the streets. While he was singing on the street, he was discovered by a woman working with the Love Movement, who laid the groundwork for him to sing for Sarah Ferguson, the Duchess of York. Then, he sang for the Queen, and in the 1990s, he moved to the United States.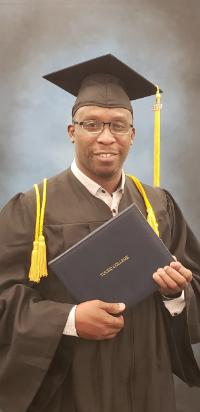 Gerard Placide in his cap and gown.
Initially, Placide had difficulty finding work and sharing his music. A break came in 2000, when he was singing at the 42nd Street and 8th Avenue train station in New York, where Al Sharpton discovered him. Reverend Sharpton brought him to Abyssinian Baptist Church in Harlem, where he developed a relationship with community members and made connections, including with the Clintons. To this day, he keeps in touch with Senator Clinton, who he says played a pivotal role in connecting him with other high-profile individuals.
In 2001, Placide saw a flyer for the McDonald's Gospelfest on the floor of a subway car. He decided to enter and went to Carroll Studios for his audition.
"I wasn't dressed like the others," Placide recalls. "I had on old pants and moccasins. But I wasn't intimidated."
When some of the other singers heard his accent, they raised their eyebrows. "Why are you here?" one contestant asked him. "This competition is for professionals. This is not for people who swing from vines."
"She was comparing me to Tarzan," Placide says. "So I flipped the script. I said, 'Jane, why are you here?' And everyone started laughing. I didn't take it personally. When I left my audition, she was the first one to hug me, and she's still my friend to this day."
Placide won the competition, and went on to win for three years in a row, the first non-American to do so.
In 2006, Placide enlisted in the Army. He wanted to go to college, and the GI Bill gave him that opportunity.
While he's hesitant to discuss the specifics of his experiences in the military, which he admits were extremely difficult, he does credit it for giving him the courage to be bold.
"I was no longer bullied by people," Placide says. "I was standing up to people and standing up for others, preserving their rights."
His experience also encouraged him to take a stand on social justice. "Everyone is talking about equality. I think we should be talking about equal opportunities. I would hate to be in a world where we are all the same. We should think about what makes us strong: our differences."
For his service, Placide was nominated to the Veterans Hall of Fame by Senator Zellnor Myrie (New York District 20). He received his honor in a ceremony at the New York State Senate on May 21, 2019.
After returning from active duty in 2010, Placide took the next step in his education. "I wanted to go back to school because I didn't want to be a supporter of policy but an initiator," he explains. In Brooklyn, he heard people talking about Touro and decided to look it up, discovering that there was a location close to his home.
Initially, he was nervous to go back to school. "I hadn't been in school since I was 17. In Trinidad, I didn't do well because I had a lot of academic challenges. I didn't have stability. I was rebellious, and I was still searching for myself."
At Touro he found a community of support. He recalls that Marina Meshman, who teaches Introduction to English in Starrett City, created a foundation for him to improve his English and learn the American form of the language he had studied in the Caribbean. Dean Timothy Taylor and Lorinda Moore "took special care of me." Ira Weinstock "opened up my appetite to learning about government." William Lewis "built me from the ground up in terms of writing." And Guiseppe Infante "is like a big brother to me."
"The atmosphere for learning goes further than a student-teacher relationship," Placide says of his time at Touro. "They became family. I'm grateful for the experience at Touro because it deserves credit for getting me this far. They take you where you're at and get you to where you need to be. I look at Touro as preparation for the grand performance."
In the fall, Placide will continue his studies at Baruch, where he plans to earn his bachelor's degree in Public Policy. Currently, he works in the Department of Veterans Affairs under the work-study program, and he'd like to be an advocate for veterans and immigrants.
"I believe once you've served this great nation, it has an obligation to take care of you," he says. "The younger generation is looking, and how our veterans are treated will ultimately determine whether the future generation will want to get involved."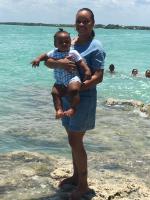 Kelcey Placide and Gerard Placide, Jr., Gerard's wife and son
As Placide takes the next step in his education and future, graduating with a near-perfect GPA, he doesn't lose sight of how grateful he is to his family, including his wife, Kelcey, and his one-year-old son, Gerard Jr., and his faith and religious community. He's also thankful for the opportunities Touro gave him.
"I am where I am today because of this school," he says. "Its patience and passion have opened up my appetite to step up higher. I could never forget this school."
Placide urges others to explore their identities and pursue education. "It starts with understanding who you are. But the pillar for success is education. You cannot be a successful individual without being empowered academically. I would encourage others to seek advice and pursue their passion. You don't want to ask later, 'Why didn't I?'"