Touro University NYSCAS Celebrates 49th Annual Commencement
Female Valedictorians and Future Professionals Honored During Ceremony at Historic Coney Island Amphitheatre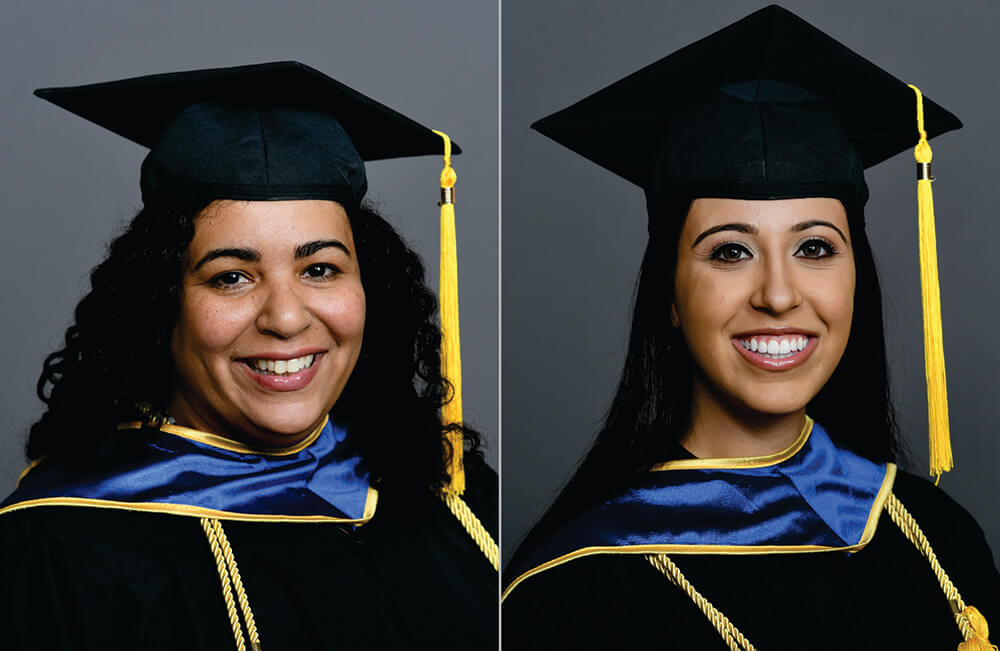 NYSCAS Valedictorians Rosalinda Tull and Melody Kohanbash
More than 700 students celebrated graduation from New York School of Career and Applied Studies (NYSCAS), a division of Touro University, this week. The school's 49th annual commencement ceremony was held on Thursday, June 15 at The Amphitheater at Coney Island.
"Graduates, use the skills you learned at NYSCAS, build on them, and continue to work on making the world a better place. Regardless of the path you're choosing to pursue, you have proven to yourselves and to your loved ones that you have the strength and resilience to succeed," said Dr. Judah Weinberger, Dean of NYSCAS.
Applauded by friends, family, colleagues, and in some cases their own children and even grandchildren, these stellar grads will now leverage the countless skills learned in the Touro classroom as they advance their careers in fields ranging from nursing and biology to paralegal studies and education.
Dr. Chistopher Irobunda, Jim Ovia Associate Professor of Cardiology and Vice Chair, Faculty Development, Diversity, Equity & Inclusion in the Department of Medicine at Columbia University Irving Medical Center, served as keynote speaker at the commencement ceremony. "Perseverance through the rigors of the journey is the only way to get to where you want to go. This means you must know and prepare yourself, believe in the purpose of your journey, acknowledge, and accept help where you can along the way, be curious, and don't be afraid to take a few chances. The obstacles will have no choice but to give in, and you will get to your destination," said Dr. Irobunda.
Valedictorians to Follow Passions for Human Services, Accounting Fields
This year's valedictorians included Brooklyn residents Rosalinda Tull and Melody Kohanbash, who were both chosen for their exceptional academic achievements. As the daughter of parents who immigrated from Puerto Rico to the U.S. for a better life, Tull considers herself to be an American success story and is excited about the opportunity to become a leader in the field of human services, where she'll specialize in gerontology and psychology.
"Even though my dream career was once to be either a lawyer or doctor, I experienced a work-related injury resulting in a permanent disability that forever changed the course of my life. Instead of feeling sorry for myself, this experience showed me how resilient I am and that nothing can stand in the way of achieving my goals. Since many elderly people don't have an empathetic individual to be their advocate, I want to be that person as I know what it's like to feel as if no one is looking out for your best interests," said Tull.
Kohanbash credits her mother, a Touro University alum, for inspiring her to enroll and explore the possibilities and opportunities that the college offers. After graduating with a degree in Business Management and Administration with a concentration in Accounting, Kohanbash plans to begin her graduate studies this fall and will then prepare to take the CPA exam.
Additionally, special recognition was given to standout students who received awards for Excellence in Biology, Psychology, Digital Multimedia Design, Marketing, Cybersecurity and Network Administration, Accounting, Finance, Education, Business Management and more.