Touro NYSCAS Student Turned Writer Debuts New Children's Book, "Daddy Has Cancer"
Psychology Major Sharon Coggins Shares How Writing Helped Her Process Grief Over Loss of Her Husband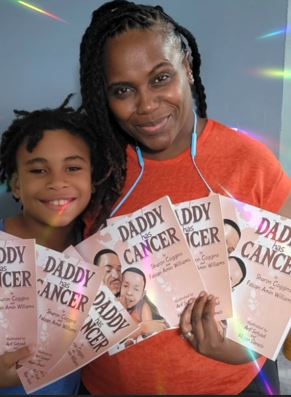 NYSCAS student Sharon Coggins with her son Fabian and the book they wrote together titled, "Daddy Has Cancer."
It's no secret that writing helps people express emotions during challenging times. With that in mind, Touro NYSCAS student Sharon Coggins put pen to paper to sort out her feelings as she watched her husband suffer from cancer. Many years later, Coggins is enjoying the fruit of her labor with the release of her debut children's book, Daddy Has Cancer. The book, co-written with her now 10-year-old son Fabian, was created to help him and her three other children process their thoughts surrounding their father's disease and untimely death.
We recently spoke with Coggins, a preschool teacher, about her career and plans for the future, how she found such incredible strength during a time of darkness, and her advice for others dealing with the loss of a loved one.
You're currently pursuing your bachelor's degree in psychology at Touro's New York School of Career and Applied Studies (NYSCAS). Why did you choose NYSCAS and why are you passionate about the field of education?
Over the last few years, I've been pursuing my bachelor's degree but due to personal obstacles, I haven't completed it just yet. In 2020, when the COVID-19 pandemic began, I started working from home. I called Francesco Marchione, NYSCAS Retention Manager, and he informed me that I could now take online classes. Online courses were ideal for me as they allowed me to work and care for my family without having to leave my home.
As a preschool teacher, I believe that we should never stop learning, and I wanted to show my students and my own children that they should never give up on themselves or their dreams. I'm passionate about the field because I believe children should feel heard and not just be seen. I want to help preschool children learn the key skills needed to express themselves while learning how to communicate effectively, which is essential for this age group as they're learn how to best interact with others.
Congrats on recently publishing your book titled, Daddy Has Cancer. Can you tell us a bit about what inspired you to write it?
The inspiration behind my book was my son Fabian, who was only 4 years old when I started working on it. There were not many books for preschoolers that represented our Guyanese culture and highlighted a story similar to ours. As my husband Fabian Sr.'s health continued to decline, my son had many questions about what was happening to his hero. I began writing in my journal, documenting my son's feelings throughout this journey. It was very important to me to ensure Fabian was emotionally, mentally, physically, and spiritually healthy. I knew he needed an outlet to express how he felt about the changes he was witnessing at home. Eventually, I put together a draft version of the book, and was able to read it to my husband before he passed away.
Why did you choose to co-write the book with your son? In what ways did this writing journey help you both while grieving?
I wanted my son to be a part of keeping his father's memory alive. I wanted him to remember his dad in a positive light, using his voice to share his father's memory with the world. It was vital that he always had a reason to be proud of his dad, who was a very loving father. Working on this project was very challenging for us, but it gave us a reason to keep pushing through the pain.
How did you find strength in a time of such darkness to write?
Writing was all I had; it was a way to get my thoughts out at a very hard time for my family as a whole. I didn't want to burden my husband with what I was experiencing personally, so instead I jotted some thoughts down on paper. This helped me to better channel my heartache, pain, anger, and sorrow that I could not express directly to anyone at the time.
What advice do you have for other families dealing with a loved one who is sick?
Despite all the obstacles that may arise, keep smiling and bring out the good from within you, keep helping others, and put one foot in front of the other even during your darkest days. Don't forget there is a light at the end of the tunnel. Also, remember to communicate with your family members and try to find an outlet that will help you deal with your pain in a positive way. Remember that children are affected by our responses to tough situations, so being very mindful of their needs is key. Self-care and self-love are absolutely imperative during tough times because if you don't take care of yourself, you won't be able to take care of anyone else.
Was there a particular class or professor at NYSCAS that helped you in writing this book?
There were two NYSCAS professors who stand out to me and inspired me to write this book. Dr. Eric Bekoe helped me to improve my writing ability and motivated me to never give up. He explained the meaning behind the phrase "know your past, so you can have a better understanding of your future" to me and it resonated deeply within me. Dr. Benkoe is probably not even aware of how much his kindness touched my heart, Professor Hirsch Russell encouraged to share my writing with the class, and that marked the first time I spoke to the public about what my family had gone through. Professor Russell was compassionate and understanding, and both his constructive criticism and feedback pushed me to finish my book and reminded me why I love writing.
What is your dream career?
I truly love teaching preschool-aged children and while I'm already working in this role, I want to be the absolute best I can be. My goal is to complete my bachelor's degree at Touro and then work towards receiving my master's degree in education.