Touro College's NYSCAS Celebrates 45th Commencement Ceremonies in Brooklyn and Manhattan
NYC Comptroller Scott Stringer, Former NYC Governor David Paterson Deliver Key Addresses to Crowds of Thousands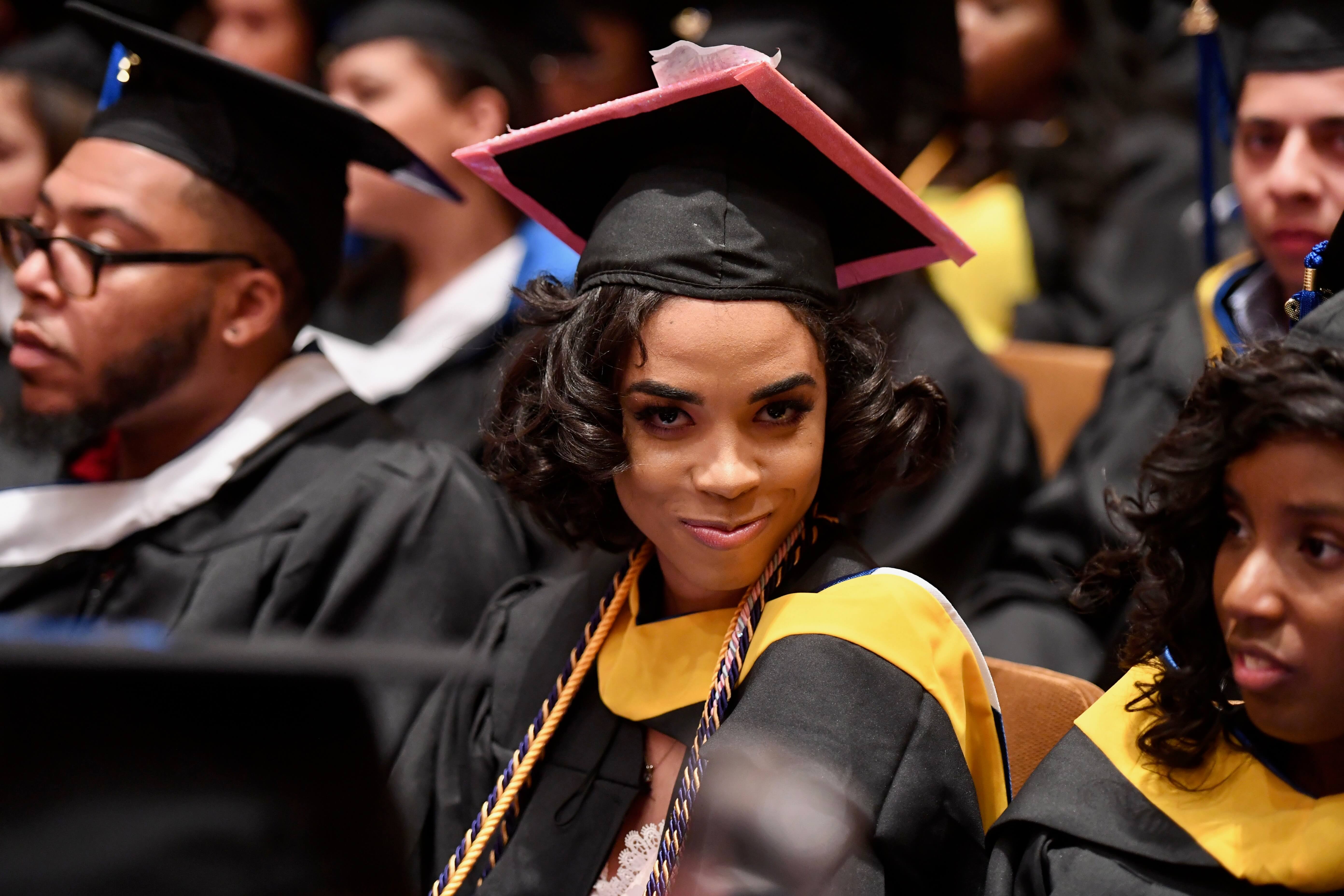 Congratulations to the NYSCAS Class of 2019 Graduates!
New York School of Career and Applied Studies (NYSCAS), a division of Touro College, honored 465 students at the Brooklyn commencement ceremony at the Ford Amphitheater Coney Island on June 6th, and 456 students at the Manhattan ceremony at Lincoln Center on June 12th, in front of a crowd of thousands including family and friends of the graduates and Touro faculty and staff.
Not Just a Diploma…but Also the Keys to the City
"You are graduating from an institution that is handing you not just a diploma, but the keys to the city. You come from so many different places including Israel, Haiti, China, Russia, all five boroughs and more, representing the diversity of NYC. You all speak different languages and have different backgrounds yet today, you're all gathered together to celebrate 465 winding paths to diplomas in everything from biology to information technology to early childhood education," said NYC Comptroller and NYSCAS commencement speaker Scott Stringer at the Brooklyn ceremony.
In Manhattan, David Paterson, former NYC Governor and a distinguished Professor of Health Care and Public Policy at Touro College of Osteopathic Medicine, spoke about achieving key goals in spite of the obstacles he faced as a blind man, encouraging graduates to move ahead despite the odds being against them.
NYSCAS Grads to Fulfill Their Career Dreams
In Brooklyn, Dilorom Akhmedjanova, an accounting major, was Valedictorian and Brooklyn-based Meshulam Twerksi, a biology major, was Salutatorian.
Akhmedjanova was born in Uzbekistan and immigrated to Brooklyn with her husband and young son nearly five years ago. Raising a family and working in a medical office, it was after her colleagues told her about Touro that she decided to enroll because of the flexible schedule that could accommodate her lifestyle. Graduating with a degree in accounting, she plans to become a CPA.
"Attending NYSCAS has been more than moving from semester to semester, from class to class and from assignment to assignment. Each step along the way has been about discovering our interests, fulfilling our dreams, and having time to interact with the interesting and diverse people around us. We all have the capacity to do something great and graduating underlines that we can accomplish our biggest goals when we commit ourselves to them fully," said Akhmedjanova.
"I cannot tell you how fortunate and blessed the class of 2019 is to have had the opportunity to pursue our higher education and I feel twice as blessed to have acquired the discipline and fortitude necessary to have attained my goals. I congratulate my fellow classmates for the great efforts expended to get to this point and salute our dedicated professors and Dean Judah Weinberger for coaching us and instilling us with the passion to study and master key subject matter," said Twerksi.
Additionally, at the Manhattan ceremony, Lakewood, New Jersey resident Nafatali Gross, Bachelor's degree Valedictorian, spoke at the ceremony. After majoring in network administration and cyber security, Gross now works as a network engineer and aspires to become either a network administrator or a chief operating officer. "Over the past few years, we have labored in unison with one goal in mind: attaining a degree and beginning our professional lives. While admittedly the path to that goal was never an easy one; sometimes coming at the cost of a family get-together or a moment with friends and sometimes juggling work and children while taking night classes, today we can finally sit back and reap the benefits of all our hard work. Congratulations class of 2019," said Gross.
Marilyn Henry, Associate degree Valedictorian who majored in psychology, walked at the graduation with honor cords as a member of Psi Chi International Honor Society of Psychology and also spoke at the commencement ceremony. "After graduation, I plan to work with young children to develop a better understanding of their psychological needs," said Henry.
Dr. Alan Kadish, President of the Touro College and University System; Executive Vice President Rabbi Moshe D. Krupka,; Dr. Judah Weinberger, NYSCAS Dean and Associate Vice President of Undergraduate Education; Timothy Taylor, Associate Dean of Students; Dr. Stanley Boylan, Vice President and Dean of Faculties; NYSCAS Associate Dean Ella Tsirulnik; and Dr. Avery Horowitz, Dean of Advisement and Counseling all gave brief remarks at the ceremonies.
"Today we celebrate the culmination of your hard work and perseverance. You're graduating after years of dedication to your studies and we are very proud of you. At NYSCAS, students from varying cultures have learned to work together effectively and pleasantly. For some of you, this may be the first college graduation in your family; you have blazed a trail for others to follow," said Dean Weinberger.