Touro College Ranked No. 1 in Value Colleges
Student centered, supportive environment adds up to high graduation rates and alumni earnings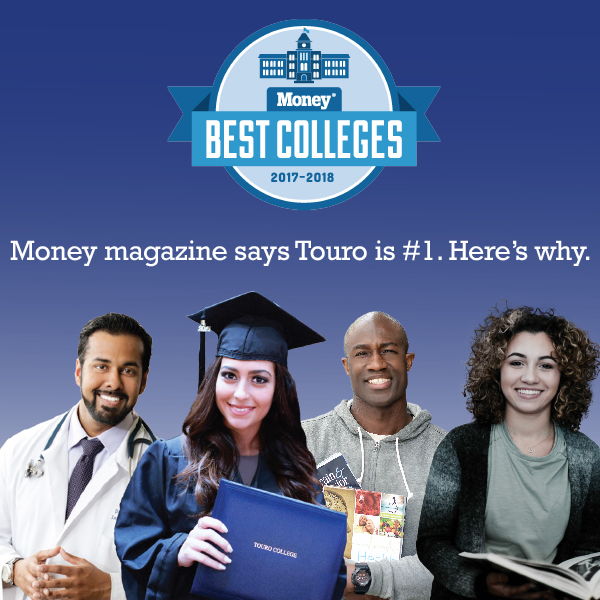 Touro College was ranked #1 in the nation by Money magazine on the 2017 list of "50 Colleges That Add the Most Value."
Touro College was ranked #1 in the nation by Money magazine on the 2017 list of "50 Colleges That Add the Most Value." The rankings are part of the magazine's annual "Best Colleges for Your Money" list.
"We are gratified to be recognized as the top value college in the nation," said Dr. Alan Kadish, president of Touro College. "Touro is a leader in health sciences, education and finance and our students' professional achievements reflect that."
Money's Value-Added All Stars list looked at graduation rates, student loan repayment rates and alumni earnings for a given student population.
Touro offers small class sizes and personal attention. "Our students have tremendous access to their professors and research has shown that meaningful interaction between faculty and students can positively influence academic performance," said Kadish.
Additionally, at Touro, students are supported throughout their academic journey with tutoring, career guidance, internship placement and flexible schedules that accommodate those who work while going to school.
"Touro is student-centered and mission-driven. We are proud to serve and support diverse communities, making world-class educational opportunities accessible to all members of society. Our students become outstanding professionals who give back to their own communities in myriad ways. Touro is where knowledge and values meet," continued Kadish.
For more information on the Money rankings, visit the 50 Colleges That Add the Most Value.