Touro Alum Lands Dream Job at the NBA
NYSCAS Alum Jade Daniels Talks About his Passion for Technology, Basketball, and Giving Back to the Community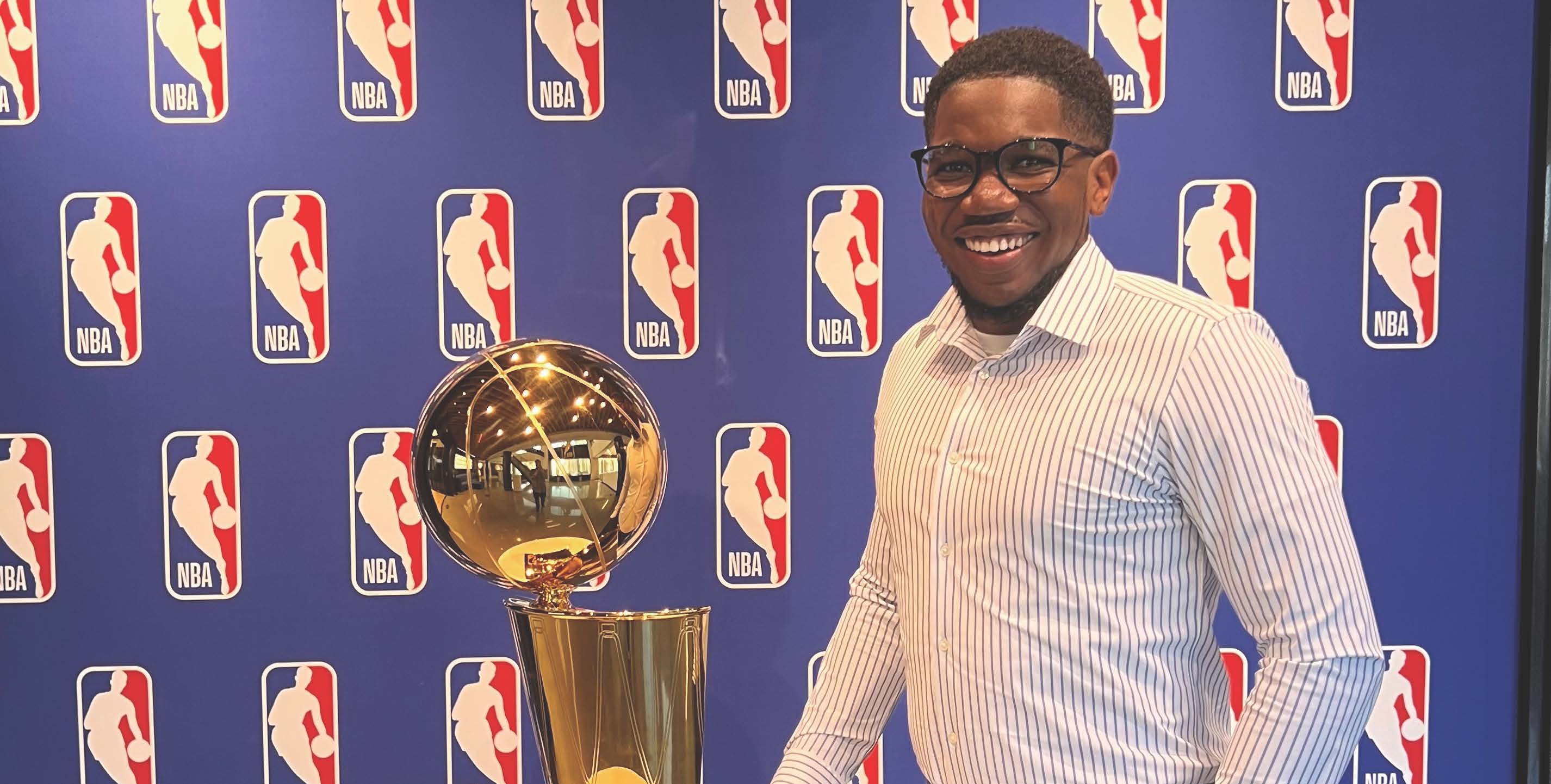 NYSCAS alum Jade Daniels
New York School of Career and Applied Studies (NYSCAS) alum Jade Daniels jokes that he needs to pinch himself every day when he gets to work. "I work at the NBA as a Senior Product Manager. The NBA is my dream job because, as a kid, I dreamt about playing in the league," he said. "And sometimes, I still pinch myself like, hey, this is what I wake up to do. Friends still look at me now, and they're like, oh my God, Jade, you work for the NBA."
Daniels, a Brooklyn, NY, native, started his tech career while enrolled as a Touro undergrad student where he earned a degree in business management. At NYU Langone Health, Daniels began as a system analyst, working his way up the career ladder, and was eventually promoted to lead IT analyst/product manager. After nearly a decade working in the tech healthcare space, he decided to pursue his MBA at Syracuse University with hopes that this advanced degree would open the door to new opportunities.
"While at NYU Langone, I was responsible for the applications and technology that the doctors used to capture clinical data and interface with their patients. I managed new and innovative technology and worked on projects to increase the safety and care of patients. Despite some amazing opportunities, I wanted something more exciting. During the pandemic, I had a chance to do deep self-reflection and realized that working somewhere that enabled me to embrace my passion for basketball was really what I wanted to do for a living," Daniels explained.
Working at the NBA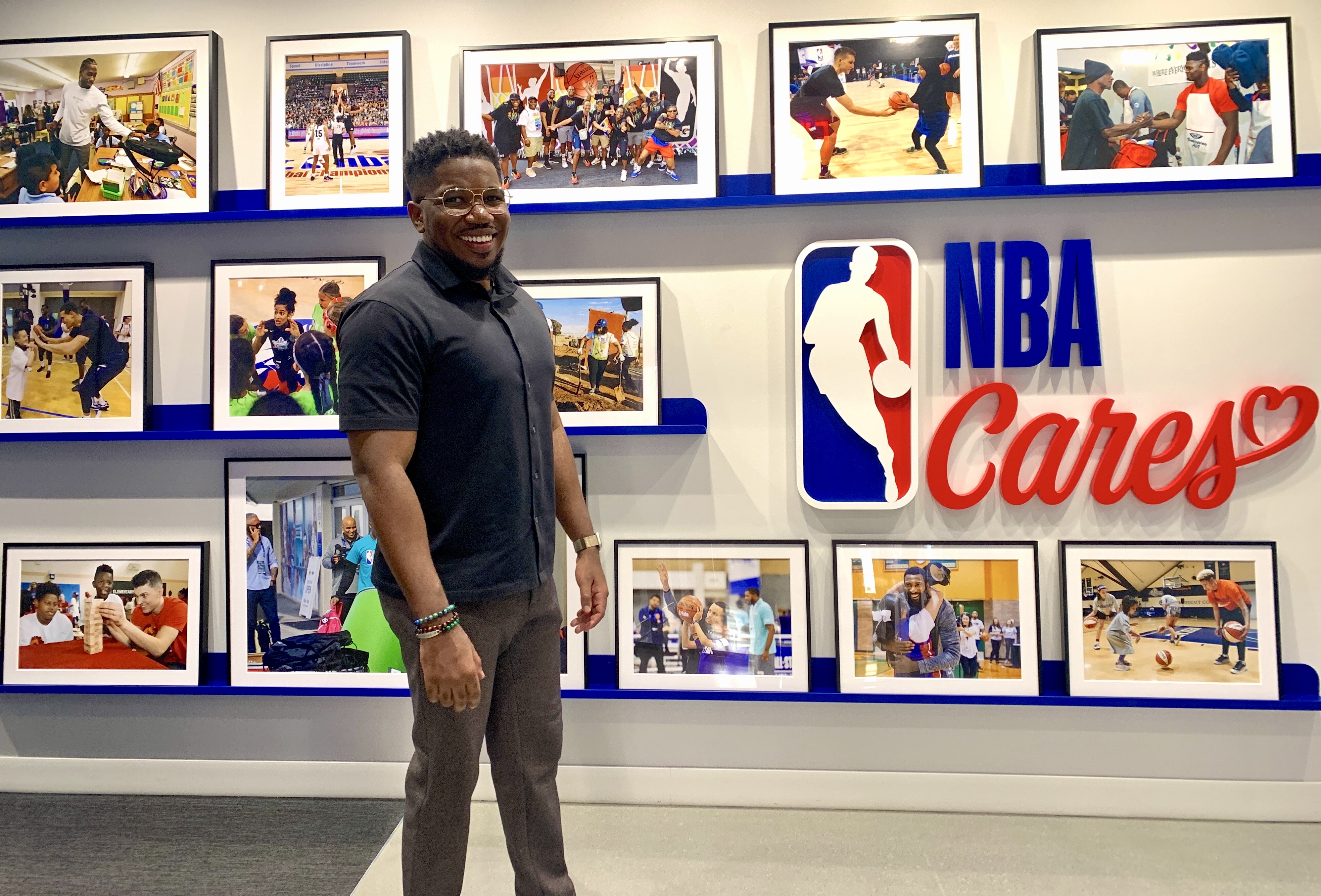 Daniels spotted a job opening for a Senior Product Manager at the National Basketball Association in the spring of 2022.
At that time, the NBA was getting ready to launch its direct-to-consumer app which would deliver NBA games and content directly to the fan. The revamped app would allow fans to watch their favorite teams and/or games directly on their connected devices. The app would also allow greater fan engagement, capturing individualized data to provide a curated enjoyable experience.
"In my role as a product manager, I am tasked with assisting our technical and business teams in optimizing the application. Our teams present and assess emerging technologies and collaborate with business teams in efforts to develop and execute product roadmaps for application growth," said Daniels.
Daniels added that working for a company that has a great work culture and values was a priority. He added that in a time when most folks would want to work remotely, he couldn't resist the urge to come into an office space that was decorated with NBA memorabilia and even the Championship trophy. 
"I joke about this, but I went from wearing suits and a tie to wearing a basketball tee shirt and sneakers. So, to leave that and work somewhere where the company has players that look and sound like me and where I feel accepted and appreciated for what I bring to the table is an amazing feeling," said Daniels.
For students looking to follow a similar career path, Daniels advises not to be too hard on yourself, embrace your unique characteristics, and remain open to learning new things. "Shaq said something that always resonated with me: to focus on what you're good at rather than what you're just okay at. It's good to sharpen your edges but focus on improving upon what you really excel at. Also, I recommend reading as many books as possible, meditating, taking time out for self-care, and securing vital mentorship," Daniels added.
Giving Back to the Community
Aside from his career, it's important to Daniels to give back to the community. He serves as the Brooklyn Board Advisory Chair of the Madison Square Boys and Girls Club, an organization whose mission is focused on providing a safe, stable, and supportive environment for the youth in NYC's underserved communities.
"The reason why community is so important to me is because I know that, in many of our communities, there are broken households, not necessarily by choice but by the fabric that makes up what's accessible and then the strains on the socioeconomic trials and tribulations that we have to face," said Daniels. "In thinking about how to support people, I focus on my purpose, which is helping youth and young adults build that community of friends, of mentors, of just seeing people who look like them get to places that they've maybe dreamed about."
Daniels leads the board in fundraising, business partnership building, and other opportunities which can provide access and resources to youth and young adults at their Brooklyn Clubhouses.
"Touro taught me that if you want something, you have to go for it, and I think about that with each step I take both professionally and personally," said Daniels. "Touro helped me believe in myself. Being at Touro gave me the freedom to say I want to actually create this for myself and be the change."