Tira's Inspiring Story: Sharing Joy, Strength and Hope Through Music Therapy
The NYSCAS and GSE Alumna Opens up About Her Story, Using Her Art to Help Children With Autism and Brain Damages, and Getting a College Degree Later in Life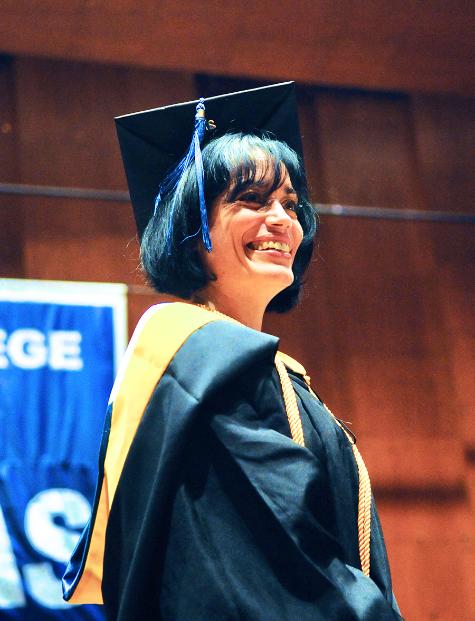 From the moment she was born—exactly twelve minutes before her twin sister—Tira Bluestone knew she was going to be a performer.Art is in her veins: writing songs, performing music on her guitar, acting on stage, creating animated videos, you name it. Throughout her inspiring journey, Tira has found ways to use her creativity as a tool to help children with learning disabilities.
Tira was born in Livingston, N.J., and moved to Manhattan as a child after her parents' divorce. At seven years old, she took part in her first off-Broadway production, playing the part of a little boy in A Thousand Clowns. Both she and her sister (who goes by Dhira) loved acting so much that they attended the High School of Performing Arts in Midtown (now the LaGuardia High School on the Upper West Side), where they majored in drama.
During her senior year, however, Tira had to leave her high school and did not get to go to college. Her stepfather needed her to take care of her ailing grandmother. "Being taken out of high school was extremely hard for me," she recalls. "It became especially difficult when I wanted to go to college and I couldn't, because I didn't have a high school diploma; it was a roadblock. I cried."
In her twenties, Tira made her Broadway debut in the musical Dreamtime, in which she and Dhira performed one of their original songs, titled Find Yourself A Dream Come True. In 1993, a year later, the show closed when the theater where it ran—the renowned Ed Sullivan Theater—was sold and transformed into a television studio and the Late Show with David Letterman moved in.
"Tira and Dhira are our yoga names," she explains. "We've been teaching yoga for 25 years. You could say they're our stage names. I'm actually Dena, she's Debbie." The two sisters formed a country-rock band, which they named Twin Trilogy. They started performing their original songs in clubs all over the city, along with their backup singers. Later on, Tira met John Colianni, a renowned jazz pianist, and together the two put together the Manhattan Jazz Society, a nine-piece band; they toured across the country, as well as in England, Scotland, and Ireland.
Tira's career in special education began almost by chance in the early 2000s, when a friend called Tira to tell her that the organization she worked at was looking for a substitute teacher. The organization was SNACK*, an activity center for children and adults with autism spectrum disorders and other developmental and behavioral disabilities.
"I started working there, and I fell in love with the work I was doing for the children," she says. "I began writing songs to help the students learn different concepts."
Tira is a work in progress; she never stops learning. In her early forties, she attended an animation course at the New York Film Academy. "I wanted to turn my songs into videos, to combine the songs with the illustrations I would draw. Then, I decided to go one step further and create an interactive computer game the students could use to learn the alphabet through visuals and music."
For over a decade, she worked for Arts Horizons, an educational organization.
The dream to attend college never faded. One day, a friend of hers mentioned Touro College to her, so she visited the school and learned she would need to obtain her high school diploma in order to pursue a college education. "I left feeling very depressed," she says. "When I started working with children with autism, however, I felt inspired to learn more and receive the appropriate accreditation to enhance my work. I decided to take the General Educational Development (GED) tests so that I could go to college. And so I did. I took my entrance exam, got into NYSCAS and pursued my associate's and bachelor's degrees; I majored in special education."
"I loved Touro and NYSCAS so, so much. It was a life-changing experience. I made wonderful friends in all of my classes. Lorinda Moore—the Director of the Office of Student Advocate—was my mentor. I consider her to be a family member. Overall, getting a degree gave me a new lease on life."
At her graduation in 2013, Tira was her class's valedictorian. Then, she immediately started her master's in special education at the Graduate School of Education (GSE). "I asked for a meeting with President Kadish. I showed him the videos of my songs, my computer games; I showed him my potential and asked him for a presidential scholarship. He granted it."
Today Tira is working at the International Academy of Hope (iHOPE), a network of schools that serves children, adolescents, and young adults who have sustained brain injuries or have other brain-related disorders.
Her advice? "If you want to work in this field, go to school and develop the skills and qualities that are needed in a teacher, so you can provide what students need in the best way possible," she says.