"The Classroom? It's a Two-Way Street"
Gena Bardwell, Speech Department Chair and Director of General Education, on Touro, Communication, and Teaching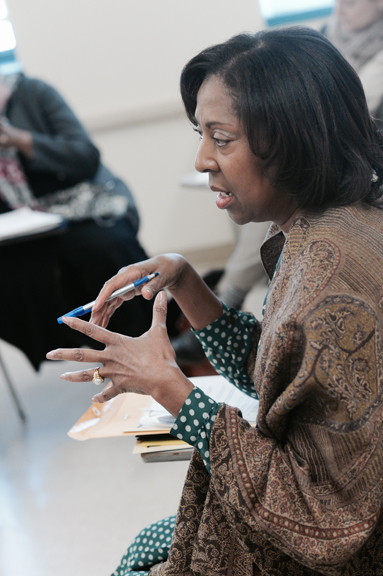 "Meet students where they are and elevate them to new heights of curiosity and discovery." This is the motto of Gena Bardwell, who has worked at Touro College since 1998, and has recently been appointed as Chair of the Speech and Communications Department at NYSCAS.
The classroom, she believes, is a laboratory: "I go in there as a student, and I come out of it having learned from the students. It's a two-way street." She says she likes to work with students one-on-one and "guide them to where they want to go."
Bardwell comes from a family of educators. Her mother worked in the Kansas City school system for over 40 years, and her 99-year-old aunt was recently honored by the Kansas City School District for her work as a reading instructor. Bardwell received her B.F.A. from Stephens College and her M.F.A. from Rutgers University; she has worked as an actor and as a playwright. She says that she has used her theater background as a resource to teach speech.
"I've been at Touro for a long time, and I've seen it go through so many stages," she says. "It's turned into a wonderful institution for students to learn, get support from the faculty, and become whatever they want to be."
Bardwell has been Director of General Education since 2016, which allows her to work with faculty and evaluators in a variety of disciplines at the school. Prior to that, she taught Public Speaking, Interpersonal Communication, Event Management, and Human Communication. She has also taught Strategic Management at Touro's business school.
Communication skills are very important in all fields, she says. "It is useful to become a good speaker, a good explainer of information; to ask questions, to listen, to think creatively about how to solve a problem. These are skills you can use in any job."