Student Spotlight: Six Questions for NYSCAS Tornadoes Player DJ Abreu
NYSCAS Tornado player DJ Abreu shares his enthusiasm for the game—and explains how it makes him a better student.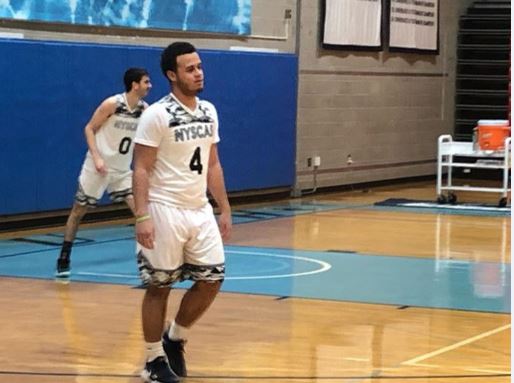 NYSCAS Tornadoes player DJ Abreu
We sat down with NYSCAS student and Tornadoes basketball player DJ Abreu to talk about his favorite and most challenging parts of playing on the Touro team, why sports are important in the lives of everyday people and more. Here's what he said.
1. Where were you born and raised and why did you enroll in NYSCAS
I was born and raised in Washington Heights, a small Hispanic community in Manhattan. I am proud to be from there and the neighborhood has helped make me the person I am today. In Washington Heights, basketball and baseball are the sports the youth usually play growing up as there are many public courts and fields available in the area, and for many, it is a childhood dream to become professional athletes.
I initially enrolled in NYSCAS because I wanted to be near my family. Family is very important to me, as is basketball, and being able to play for the Tornadoes is a blessing.
2. Why is it important for you to play on the NYSCAS Tornadoes and what skills are you learning in the Touro classroom that you are now utilizing on the court?
Playing basketball is truly what I love to do, and it keeps me focused and motivated to do better in school. This is my first season with the Tornadoes and I typically either play the position of shooting guard or point guard. Coach Irv Bader is an amazing leader who routinely tells us we need to figure out any issues on the court together as one cohesive team. He also likes to tell us anyone can stand on the court and play a defensive position, but what matters most is the non-stop hustle. One skill I have learned in the classroom that I now utilize on the court is how to leverage effective communication techniques. Learning how to communicate in different ways has continued to help improve our team's chemistry, leading to game wins. Coach Bader has been a major influence on us. At practice, he watches us carefully and always helps identify any issue that may arise during the actual game and then comes up with a solution. He communicates his problem-solving ideas in a firm tone but yet he encourages us to always do our best. We can tell from the way he speaks that he cares about us as individuals as well as our performance as a team and we want to make him proud.
3. What are your favorite and most challenging parts of playing on the team?
One of the biggest benefits of playing on the team is getting to meet new people and playing against different levels of competitors. I also love the ability to hone my skill set and get better each time I play by learning from my teammates. One of the toughest parts of being on the team is that we don't practice all together as often as we'd all like and this impacted our overall chemistry initially, and we all had to learn how to trust each other and our team captain so we can work seamlessly.
4. Who is your favorite basketball player and why do you think sports are important in someone's life?
My favorite basketball player is professional athlete Paul George from the Oklahoma City Thunder. I admire his ability to score many points, loyalty to his team, agility for a person his size, his leadership and mostly, because of his smooth style. Growing up watching Paul George on the basketball court always made me want to elevate my game as I watched him compete against the best players in the world at such a young age. His determination was inspiring, and I still think about it to this day when a game isn't going as planned.
Additionally, sports are important in building confidence since playing in front of people isn't easy. Being closely watched by a large group of spectators can put a lot of pressure on someone, but once you overcome that barrier it changes you as a person. Playing basketball growing up has boosted my confidence, helped me prove to myself that I can do anything I put my mind to, and kept me out of trouble.
5. Describe a situation on the court that brought your whole team together.
When we were playing against Pratt institute, after trailing by 10 points in the second half, we all worked together, gave it our all, and ended up winning a very close game.
Another example is when we first played the Long Island-based Five Towns College, we lost by 13 points. Yet, the second time we competed against that team, my mother was in the hospital suffering from cancer and we started that day saying a prayer for her to get well. That experience elevated our bond to new levels and because we all wanted to be victorious for her, we ended up winning. After reflecting on this situation, we realized that we play much better under pressure and were more aware of each other's strengths and weaknesses. Many people doubted how good we would be, but each game helped us improve and we ended up turning the season around.
6. What advice would you give to other NYSCAS students thinking about joining the Tornadoes?
If you're considering joining the Tornadoes, just go for it! Overall, the experience is great and a lot of fun. However, it is critical to commit lots of time to the sport. I joined a gym in my neighborhood and started conditioning training on my own and even worked out after games sometimes. At the beginning of the season, I was out of shape and it was causing me to get cramps when running for extended periods of time, so I knew I needed to take extra steps to get my health back on track to be the best player for the Tornadoes. My dream career is to become a sports trainer and this was inspired by Coach Irv Bader, who has helped me get through a lot of tough times in my life and always supports me in continuing to move forward on the right path.