Single Mother of Four Credits NYSCAS for Nursing Career
Anya Khaimova Explains How a Life-Changing Experience Fueled Her Passion to Become a Nurse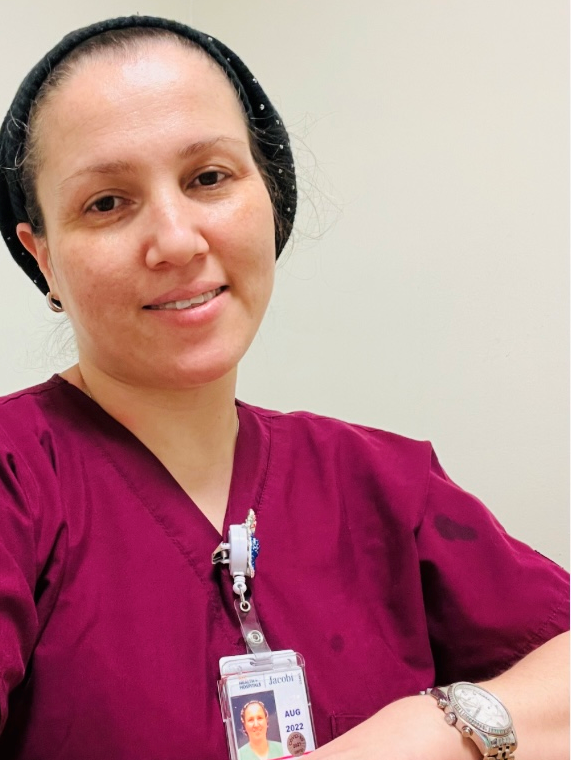 NYSCAS alum Anya Khaimova
While there are almost four times as many nurses in the U.S. as there are physicians, a career in the nursing field is not for the faint of heart. This critical role requires compassion, empathy, dedication, many hours spent on your feet, and a love for helping people, says New York School of Career and Applied Studies (NYSCAS) alum Anya Khaimova. Khaimova, a '17 Summa Cum Laude grad who pursued her bachelor's degree in biology at Touro, shares her passion for the field, how Touro staff and faculty helped her overcome challenges while she balanced student and family responsibilities, and what a day in her life as a staff nurse at New York City's Jacobi Medical Center is really like.
Why are you passionate about the nursing field?
I'm passionate about nursing because I experienced first-hand how vital nurses are in a hospital setting and how their support during a great time of need is invaluable. When my daughter was hospitalized for a traumatic brain injury, it was the unforgettable nurses who were consistently kind and thoughtful while working so hard to provide the best care possible for my daughter. After that experience, I knew I wanted to make a difference in the medical field and serve as an advocate for patients who could not advocate for themselves. It was my dream to give back by providing to others the high level of care that was given to my daughter.
Can you tell us a bit about your experience as a NYSCAS student and if any staff and faculty members helped you while pursuing your degree?
As a single parent of four children, it was incredibly difficult for me to balance attending classes, completing clinical rotations, and taking care of my children. In fact, this was the second time that I attempted to complete my bachelor's degree, but the first time, it seemed like an impossible task and I took some time off. A major difference this time around at Touro was the constant encouragement that I received from Lorinda Moore, the NYSCAS Director of the Office of Student Advocate. Lorinda always remained in my corner. She inspired me, offered crucial guidance to help me overcome various obstacles, and pushed me to always do better.
What steps have you taken along your educational journey since graduating from Touro?
After receiving my bachelor's degree at Touro, I enrolled in an accelerated program at the Phillips School of Nursing at Mount Sinai Beth Israel. I completed the 15-month program in only four semesters, and it helped in preparing me to pass the National Council Licensure Examination for Registered Nurses to obtain my nursing license. After working in the field for a few years, I decided to continue my quest for knowledge by enrolling in the graduate nurse practitioner program at Molloy College. My goal is to positively impact as many lives as I can, but I also hope to one day open my own practice where I can focus on women's health.
What are some of your daily responsibilities as a staff nurse at Jacobi Medical Center?
As a staff nurse at Jacobi Medical Center, I'm assigned to the labor and delivery unit. I care for patients who are preparing to give birth, assist in the operating room during c-section surgeries and help take care of newborn babies. Some of my other day-to-day responsibilities include ensuring patient charts are continuously updated, administering vital medications, and inserting intravenous lines and antibiotic drips.
What advice did you give your daughter who is currently following in your footsteps as a NYSCAS student, who is also studying biology?
The advice that I give to my daughter is to always follow her dreams and to be impactful in the statements she makes and the actions she takes. I advise her to outline her goals and then to ensure the steps she takes from this day forward will help her to achieve them. I always tell her that if she works in a role she feels passionate about, then she won't ever feel like she's actually working as it will be both fulfilling and rewarding. I remind her constantly that despite obstacles she will encounter, she must always move forward, which is an example I'm proud to have set as her mom.