Professor Yannie's Psychology Boot Camp
Meet Professor Yannie ten Broeke, psychology professor at NYSCAS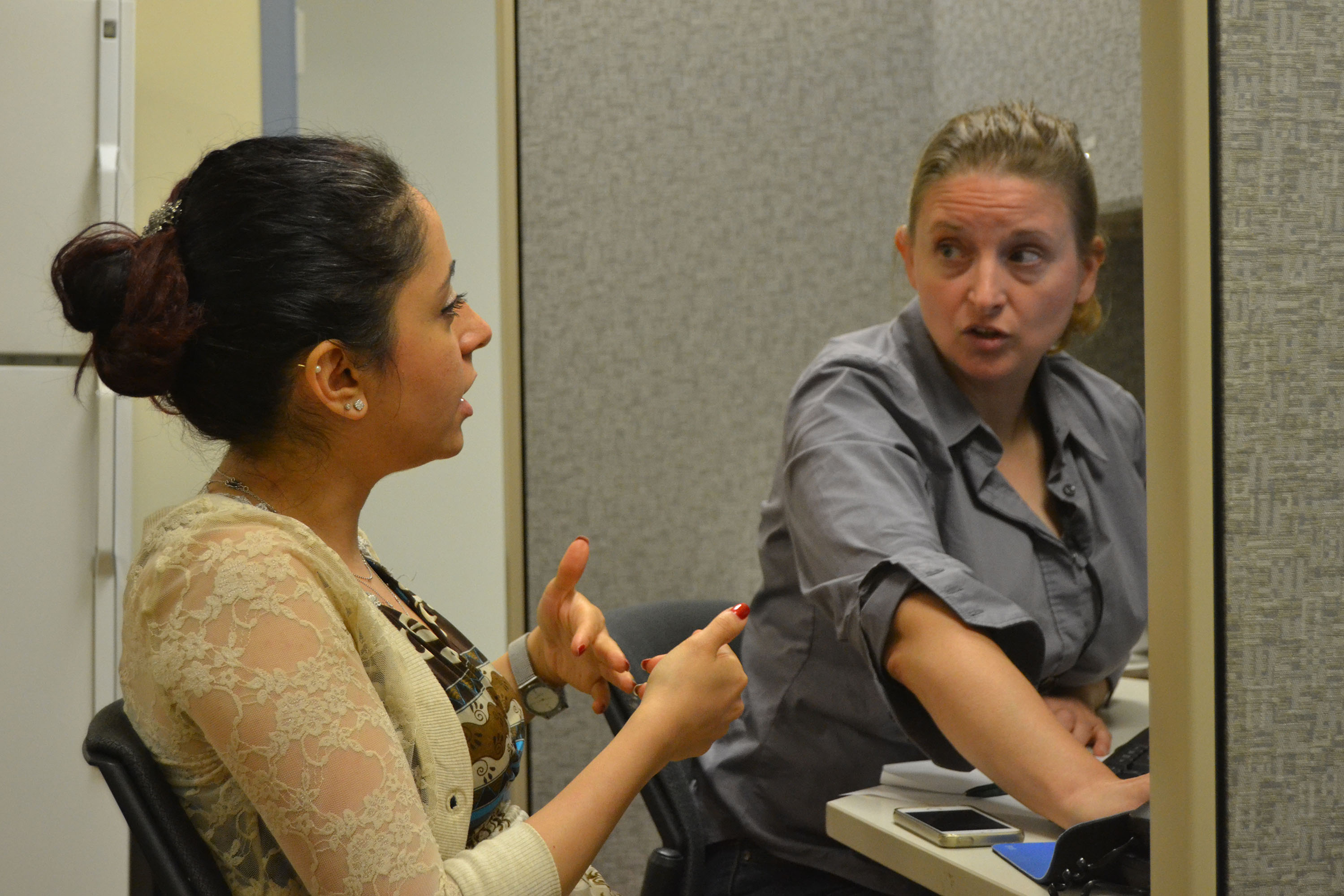 Professor Yannie ten-Broeke (right) brainstorming research ideas with student Behgol "Bell" Levian, NYSCAS '16, who is pursuing NYSCAS's Honors Psychology track.
It is seven in the evening, and Professor Yannie ten Broeke is using a sports example to explain displaced aggression to her Advanced Topics in Psychology class at New York School of Career and Applied Studies (NYSCAS) in Manhattan.
"If someone loses $5000 on the Knicks," she describes, "he can't take it out on the Knicks. But he might smash a wall in when he comes back from the game." One student adds a comment. "I remember reading that Super Bowl Sunday is the most common day for domestic violence cases," he says. She nods. "The reason why domestic violence is so common after sporting events is because of the alcohol consumed. The alcohol, by far, fires people up."
The class is learning about displaced aggression as part of a larger topic on violence. As future educators, psychologists, or social workers, the topic is "essential," says the professor, "for future psychologists, social workers, and educators understand the nature of aggression and violence and what can trigger it." Next week, Professor Yannie ten Broeke's students are handing in their final thesis projects, so she shifts from the lesson on violent crime to discuss and answer questions about their progress on their papers.
Hailing from New Jersey, Professor Yannie (as she is often called by her students) received her master's in forensic psychology from John Jay College of Criminal Justice. At John Jay, she participated in a joint research program with the FBI's Behavioral Science Unit. Her background as a prolific freelance writer contributes to her psychology courses often called a "boot camp" for college-level writing, and she is a stickler for APA format. "I want good grammar, attention to detail, and strong critical thinking," she tells her students. "I don't need long term papers, I need good papers. And I want my students to you to develop and follow their own ideas about their topics."
And her students know it.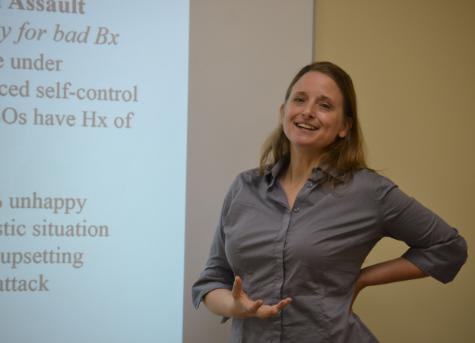 "It's tough, they sweat it out; but it's for their own good," she says. "So many alumni come back to visit and tell me, 'I went to graduate school and no one knew how to use the research databases, and I had to show them all!' That's the kind of feedback that makes me remember why teaching is such a rewarding career." Besides for being a full time professor at NYSCAS, Professor Ten-Broeke also serves as a mentor and supervisor for the Psychology Honors tracks, in which she assists students in brainstorming, writing, and producing the original research required of them to graduate with honors.
After class is dismissed, a number of students approach the professor's desk to discuss their papers, which involves students pulling together primary sources to synthesize an argument related to interpersonal crime. Twenty-five-year-old Eyituoyo Wilkie, who plans on applying to social work programs this year, will be writing his paper on cyber bullying, and asks Professor Yannie for help finding additional research articles. She is excited to help, and shows him the long list of search results after inputting "web," "bullying," and "cyber" into a research database. One article catches her eye. "It's 65 pages, which I know sounds like it hurts, but it's going to have a killer reference section!" she says enthusiastically.
Like Wilkie, forty-something Harold Sakin is at NYSCAS as a stepping stone to graduate school. Sakin, a crisis paraprofessional in his 20th year of working in a District-75 school, is looking towards a doctorate in clinical psychology. Because he works from 7:00 am until 4:30 pm every day at an elementary school in Fresh Meadows, he travels straight from work to attend college classes in the evening. "I have enough time at home to eat an orange," he says, laughing.
But it's all worth it, he says.
"I want a brighter future, where I can have more of an impact than I'm having now. While I love being part of the team I'm on," he says, referencing his current position, "I want to be captain of my own team."