Paralegals, Paralegals Everywhere
How interest in the paralegal profession is picking up speed at NYSCAS
The paralegal field continues to be one of the fastest growing career paths in the United States in the 21st century, with compensation steadily rising above the daily cost of living at an increasing pace. And at Touro College New York School of Applied and Career Studies (NYSCAS), students know this. While some complete the paralegal program with a bachelor's already under their belt, others enroll to receive their A.S. in paralegal studies. Some use the program as the foundation for their continued college education, while others use it as a stepping stool to bolster their candidacy for law school.
Chaired by Assistant Professor Brent Cutler, who has been at Touro for over 26 years, the young department will be entering its third year and has seen a rise from 11 students to over 55. How to explain this quadruple increase in just a few years? Professor Brent Cutler has an answer: "Because our faculty treats the students like we would our clients."
Meet three NYSCAS students in the paralegal program who will tell you more.
Alexandra Laurore: From Fashion to Criminal Justice
Long-Island native Alexandra Laurore was raised by her uncle, a member of law enforcement. Add that to her teenage obsession with TV shows like Criminal Mind, Law and Order, and CSI, and "from a young age I knew that all I wanted to do was work in criminal justice."
"People are always surprised," she laughs. "For some reason they always ask whether I'm becoming a fashion designer. I love fashion, but joining the government's criminal justice department is my dream."
The 27-year-old currently interns as an auxiliary police officer (APO). When she puts on her uniform, the NYSCAS student becomes "the eyes and ears of the law enforcement." Her duties are varied, but most overlap with those of a full-time officer. "My very presence itself is supposed to promote a sense of security among the civilians," she says.
For her training at the Police Academy, she learned how to salute, how to stand in uniform, and how to carry out physically grueling tasks. "It's not meant for everyone," she says. "You have to be a strong person. You can never let your emotion control your actions or affect your ability to do the job."
To become a better candidate for law school, Laurore is at NYSCAS pursuing paralegal studies before completing her BA in criminal studies at John Jay College of Justice. "My criminal justice degree will train me in learning how to handle the legal, social and technological challenges in the field as it applies to law enforcement, political jobs and legal jobs."
Steve Rosado: Patent Law A

ficionado
Steve Rosado was looking for a paralegal program that offered courses in patent and trademark law, and he found it at NYSCAS. Patent law "piques my interest," he says. "With all the advancements in technology—like virtual reality and accessory gadgets—it's going to get even bigger soon. For example: Samsung and Apple's race to develop new technology. "Samsung has the patent on the glasses that connect to your phone, but this competes with the Google Glass. Although there wouldn't be a patent case until one sues the other for infringement, it's still fascinating."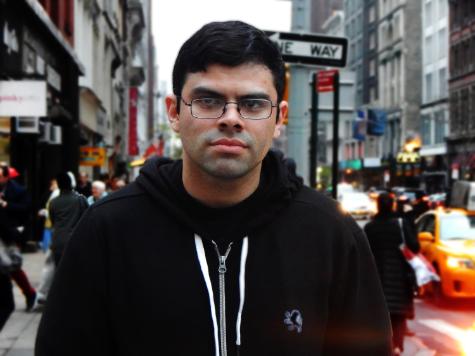 Though January was his first semester at NYSCAS, he's already loving it. "The professors know what they're talking about and they answer all the questions I give them, even after class. I ask Professor [Lisa] Alonzo questions on property law outside of the curriculum, and she's very informative; she has a good grasp of her field. I also like her homework assignments that involve real-world practice. She once gave us the assignment to figure out how to find and go about changing a home deed in New York City." He admires Professor Cutler's Criminal Law class for "his uncanny ability to describe the background and stories behind landmark Supreme Court cases, not just the actual holdings."
Besides patent law, he's also interested in criminal law. ("I love appellate procedure," he says.) This semester, he has a paid internship at the law office of Gary S. Villanueva in downtown Manhattan, where his daily tasks include everything from drafting up civil motions to analyzing Racketeer Influenced and Corrupt Organizations Act [RICO] federal criminal cases, oftentimes using the PACER system to locate and examine previous court documents.
Before coming to NYSCAS, the Brooklyn native earned his BA in political science and Asian studies from Hofstra University, and worked in sales and business before deciding that law was his calling. Though he's already earned a paralegal certificate, he's now pursuing his AA in paralegal studies at NYSCAS to make him a more qualified contender for law school.
Kelima Lespierre: The Tools to Fight for Family
Florida-resident Lespierre's interest in the legal field began with trying to protect her family. When her daughter was being harassed, she wanted to get the perpetrator persecuted to the full extent of the law. The problem was, she didn't know how.
"There were smashed bottles on our front lawn one day, and her truck's windows were broken the next. But I didn't know what I could do to legally protect my daughter. Single mother Ms. Lespierre told herself, "Something has to change. I need to learn about our rights. No child should be left confused or vulnerable like that, thinking, 'Who's there to fight for me?'"
She decided to leave Florida and start fresh in New York with four kids—ages 20, 18, 16, and 12. "I packed everything up, took my kids, got in my car, and drove up here. I came to New York in August and got accepted to NYSCAS's paralegal program in September."
Right away, she knew she made the right decision: When she first began taking classes, she met Professor Brent Cutler, who introduced her to his colleague, a respected attorney. Now, this lawyer is representing Ms. Lespierre's daughter in the harassment case, and Ms. Lespierre has become a fiery fighter for the legal system. "Everyone deserves justice at some point, at some level. I tell my kids all the time: Know your rights. They're getting older, and they need to be aware of their privileges and rights as citizens in America."
In the past, Ms. Lespierre has been an employee at a credit card consolidation company and at Hilton's corporate office. Now, as a full-time student, her goal is to be able to be there for her kids as much as she can. "The other day my daughter was telling me, 'Mom, I'm so proud of you. You came up here, started your whole life over, and now you're going to school. You're my 'she'ro!''
"I said, 'Aww. I'll take that!"