NYSCAS Students Aim to Persuade at Speech Contest
25th Contest Brings Together Diverse Student Body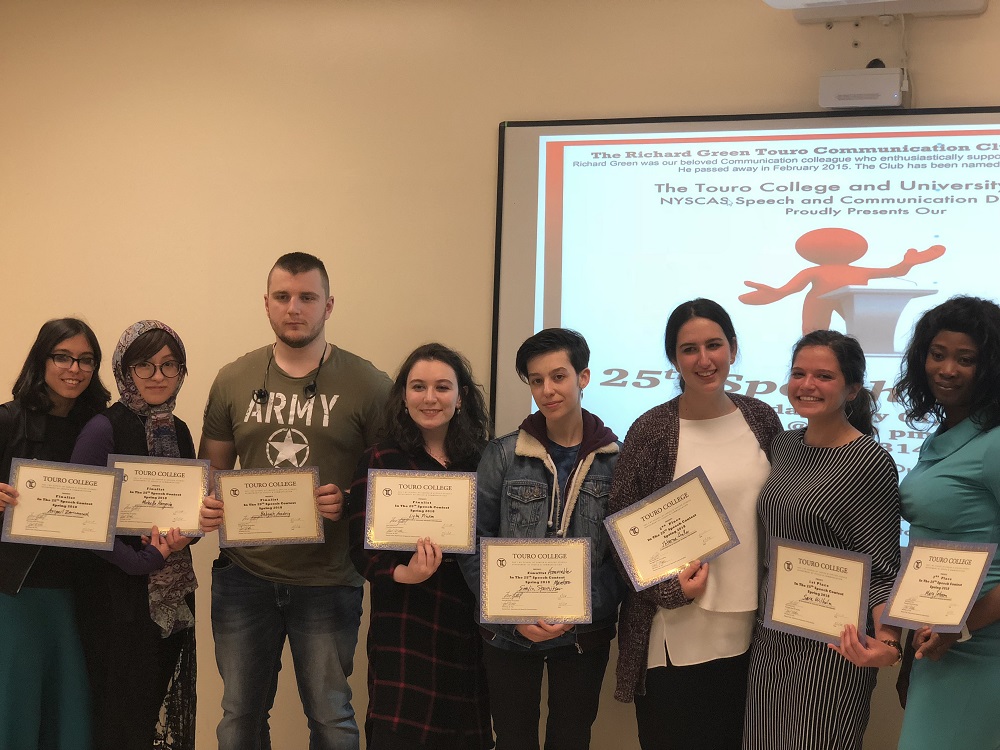 Students at NYSCAS debated a wide range of issues during the 25th Annual Speech Contest.
Should America have stricter gun control laws? Is extreme dieting positive? Why should we fund NASA?
These were some of the topics that were addressed during New York School of Career and Applied Studies 25th Speech Contest, organized by the Richard Green Communication Club on May 1. Students from all of NYSCAS's campuses journeyed to the 23rd street location to compete for prizes and bragging rights.
Student Sara Wilhem had another motivation for attending.
"I have a big fear of public speaking," said Wilhelm. "I wanted to prove to myself I could do it."
The competition was open to all students though several speakers had been nominated to deliver speeches on behalf of their classes. This year's competition was different than last year, explained Professor Hal Wicke, Deputy Chair of the NYSCAS Communications Department, as students were required to mount a 5-7-minute speech aiming to persuade their fellow college students of an issue. (Last year students were required to deliver an informative speech.) Students were able to use speeches they had prepared in one of three basic communication classes they took as a graduation requirement.
"We're giving as many students as possible the experience of learning how to communicate consciously," said Professor Wicke. "We want our students to be aware of their position and then be able to defend it."
Students were judged by a panel of faculty members. Points were awarded based on the organization of the speech; the content; and the delivery (eye-contact, gestures and posture). Communication Professor Gena Bardwell, Director of General Education, served as emcee.
Professor George Backinoff said that the goal, aside from allowing students to practice their public speaking skills, was to augment the sense of community at NYSCAS.
"This club gives people an after-class activity to attend," he said.
Perhaps the best turn-of-phrase belonged to student Lyba Pinson who spoke about banning books. (She was a finalist. Pinson used her own experience as an example: she thought Catcher in the Rye was immoral but didn't believe it should be banned).
"Banning books is like banning thoughts we don't like," she said, "It doesn't work and it causes more harm than good."
David Lowinger began his speech with an audio of a school shooting; Mary Johnson spoke about her own experience in a lawless neighborhood of Jamaica.
"Would you rather have your child be secretly responsible or prematurely pregnant?" asked Evelin Savnitser during her speech arguing in favor of not requiring parental permission for birth control.
While Wilhem might not have totally conquered her fear of public speaking, she did emerge as the first-place winner in the competition for her speech on the negative effects of dieting; Shterna Haller won second place for her speech on the evils of social media; and Mary Johnson took third place for her speech in favor of gun rights.