NYSCAS Manhattan Commencement Exercises "Not Just about Graduations, but About Changing Lives"
695 Bachelor's Degrees and 451 Associate's Degrees Awarded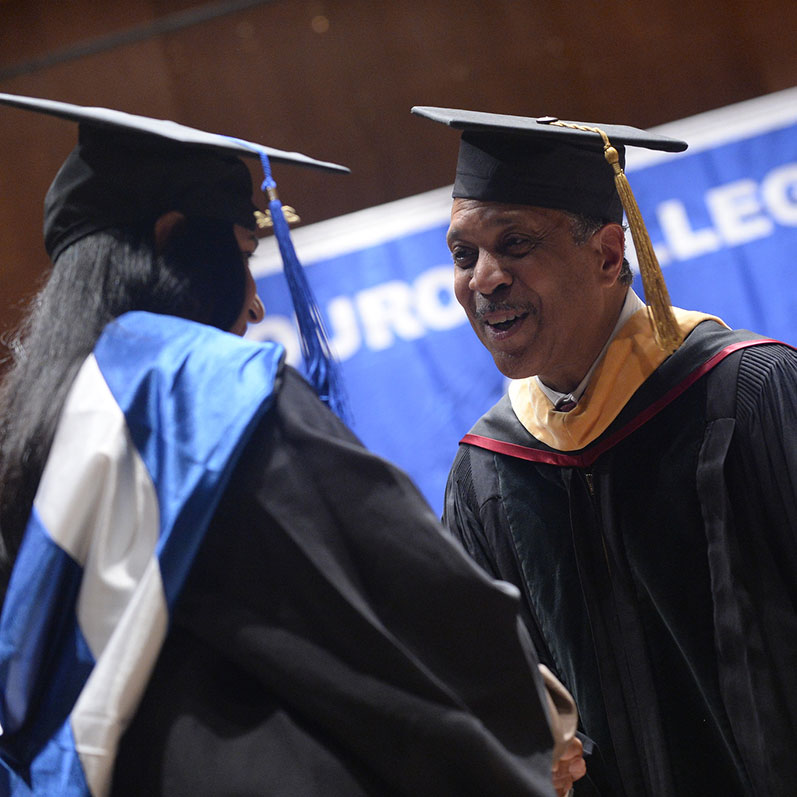 New York, N.Y. – Spirits soared as graduates gathered at Avery Fisher Hall in Lincoln Center for the 40th commencement exercises of Touro College's New York School of Career and Applied Studies (NYSCAS). Between the Manhattan and Brooklyn campuses, NYSCAS awarded 695 bachelor's degrees and 451 associate's degrees.
"We are so proud of our students," said Vice President and Executive Administrative Dean Eva Spinelli. "They come from all walks of life and enter our college with hopes of starting new careers in a profession they choose from our many majors and course offerings."
During the ceremony valedictorian Scott Haarburger addressed his classmates, as did salutatorian Jennifer Sun Hsieh. Haarburger, a biology major who was also the valedictorian of his high school class, graduated summa cum laude with a cumulative GPA of 3.94. In the fall he will enroll in the Touro College of Osteopathic Medicine.
Born in Northeast China, Hsieh came to the United States in 1996. The mother of three graduated with an associate's degree in arts and a near-perfect GPA of 3.95. She will pursue her bachelor's degree and plans to work in special education. Hsieh was also the recipient of an award from the history department for outstanding academic achievement.
Dr. Jana B. Woodhouse, an award-winning certified financial advisor and business owner, delivered the commencement address. Among the first African American women to work on Wall Street as a full-service broker and options trader, Dr. Woodhouse acknowledged that going into the workforce can be challenging, but she urged the graduates to aim high and aspire to management positions.
"Do you want to receive the check or do you want to write it?" she asked.
Before the conferral of degrees, Dara Taylor, daughter of Associate Dean of Students Timothy Taylor, brought the graduates and their families to their feet with an emotional rendition of "I Believe I Can Fly." Finally the graduates ascended the stage to receive their associate's and bachelor's degrees and shake hands with Dean Spinelli, Vice President and Dean of Faculties Stanley Boylan and Associate Dean of Faculties Leon Perkal, accompanied by much cheering from the assembled crowd.
"NYSCAS Commencement Exercises are not just about graduations, but about changing lives," stated David Raab, Executive Vice President of the Touro College and University System.
The administration and faculty congratulate the class of 2014 and wish them much success!