NYSCAS Alum Overcomes Adversity and Empowers Vulnerable Adolescents
Community Coordinator Kinder Bradley Gives Back to Her Neighborhood and Honors Son's Memory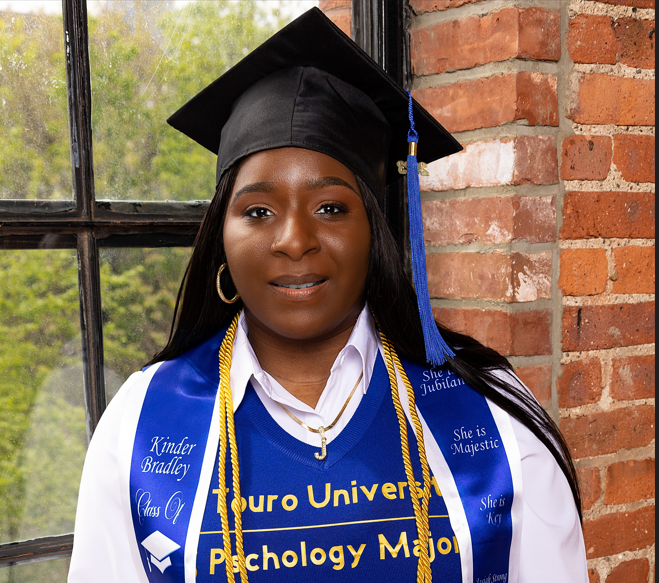 NYSCAS alum Kinder Bradley
Touro University New York School of Career and Applied Studies (NYSCAS) alum Kinder Bradley has faced many significant obstacles in her life. Pregnant and alone at just 17 years old, she and her newborn baby found themselves homeless, seeking refuge in a subway car at night. Fortunately, she found support at Covenant House, a homeless youth services provider in NYC, where she was able to regain some stability. Despite being repeatedly told that she would never achieve her goals, Bradley persevered through the New York City shelter system and secured a job before reaching her 20s.
Throughout this challenging journey, Kinder remained dedicated to pursuing her passion for psychology and education. Determined to set a positive example for the young children in her life, Bradley chose to complete high school to earn her diploma instead of opting for a GED. Bradley's life continued to improve as she started working as a paraprofessional at PS95Q The Eastwood School in Queens, NY. A few years later, she welcomed her daughter Mikela into the world. However, in 2017, tragedy struck when her son Jasiah was diagnosed with brain cancer, significantly altering their lives.
Becoming a Touro NYSCAS Student
Despite the challenges of caring for her sick child, Bradley continued to work toward her goal of becoming a teacher. She learned about a Department of Education program that sponsored college classes for its employees. Eager to advance her career, she enrolled as a full-time student at Touro NYSCAS. She remained committed to her college classes even while dealing with the personal heartbreak of losing her brother and then her son.
Following Jasiah's passing, Bradley applied for a Community Coordinator position at the same school she was already employed at. "When my son passed away, I felt like I couldn't be in a classroom anymore and needed a change. When I found out about the open Community Coordinator position, I applied because I know exactly what it's like to be homeless. I always tell our parents that no matter what your situation is at home, school is going to be the most consistent thing in your child's life so please bring them every day," said Bradley.
During her time at NYSCAS, Bradley acquired crucial skills that she now employs in her role. These include a deep understanding of Individualized Education Programs (IEPs) as well as honed public speaking abilities for presentations to clients. She credits NYSCAS for teaching her the importance of forming partnerships with stakeholders to benefit the community.
Having graduated Magna Cum Laude with a bachelor's degree in psychology in Fall '22, Bradley is currently pursuing her master's degree in counseling for mental health and wellness at New York University. Her dream is to become a Licensed Mental Health Counselor and open her own practice to provide healing and support to others, enhancing their quality of life. She has also established a nonprofit organization called "I am your sister INC." to mentor at-risk adolescents aged 12 and up.
Bradley's unwavering dedication has not gone unnoticed. She was recently honored at the Northwell Health Hospice Care Network Annual Gala for her tireless efforts in caring for her son and her impactful work in helping people in need within her community.