Making a Better Future, Career Advancement, and More: Top Goals from Touro NYSCAS's 2018 First-Year Students
"I Want To Be Able to Use What I Learn to Help Other People."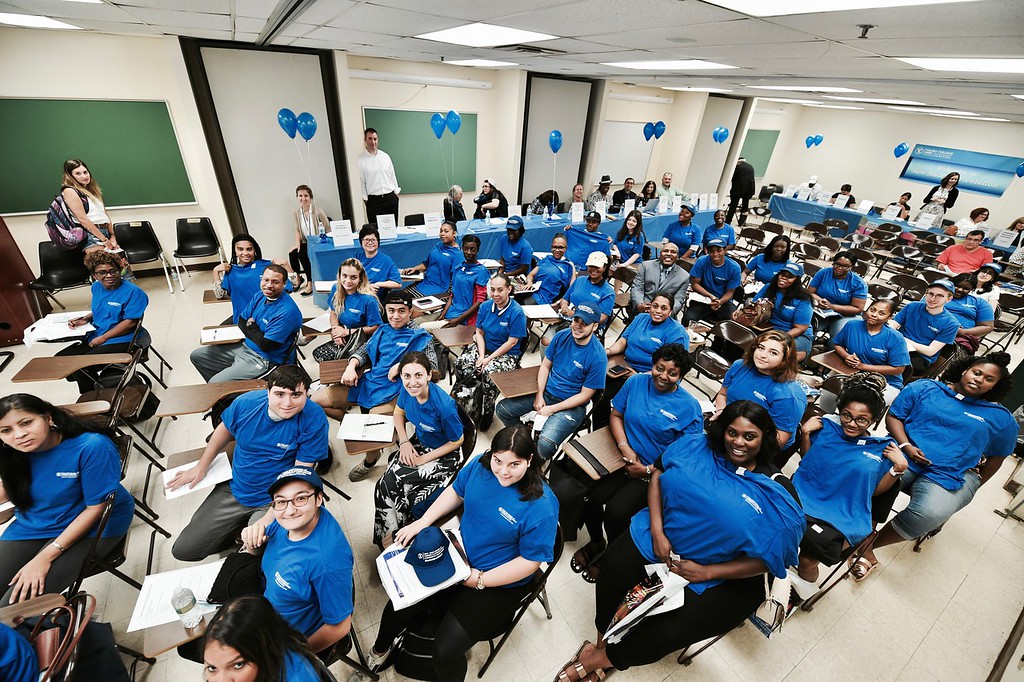 First-year students at NYSCAS discussed their plans for their futures during orientation on August 16.
On August 16, 2018, we welcomed the classes of 2020 and 2022 at two orientations on the Manhattan campus. We know our students are ambitious and hardworking, so we asked them, "Aside from earning your degree, what's one goal you hope to accomplish during and after your time at Touro?"
We received responses that are as diverse as our community. Here are some of their answers:
"Be able to use what I learn to help other people."
"Boost myself."
"Finish in two years."
"Advance in my career."
"Explore my options and interests."
"Take on new challenges."
"Make a better future for my kids."
"Follow in my kids' footsteps."
"Earn a better salary."
"Help the next generation."
Many students expressed a desire to begin or advance in a specific career path. For instance, one young man is starting at NYSCAS on his journey to become a doctor. Several students currently work as paraprofessionals in elementary, middle, and high schools and want to become teachers.
Some students transferred from other institutions because they were excited about the opportunities NYSCAS could give them for their future. "I heard Touro has a great reputation," one young woman said.
Another student, who had taken a break from her education, was thrilled to have the chance to return. "Touro gave me the opportunity to go back," she said.
"We know that each of you is different and comes from a very different background," said NYSCAS Dean Judah Weinberger. "We want to personalize your experience. Each of you can forge your own very unique path."
Sophia Volfson, director of Academic Advisement and Counseling, urged students to take ownership of their learning and exercise independence while using the resources available to them. "Choose a career path, choose who you want to be, and we will help you get there," she said. "I encourage you to challenge yourselves."
Students could certainly see that they will have plenty of support within the Touro community. "We're a family here," said Matthew Bonilla, vice president of Student Administrative Services.
Congratulations to the classes of 2020 and 2022 on taking the next steps in their education and careers. We can't wait to see them accomplish these goals and more!