Icelandic Poetry on a Wintry Night: Professor Helen Mitsios Celebrates Publication of Poetry Collection
New York School of Career and Applied Studies (NYSCAS) English professor Helen Mitsios gathered with Nordic poets for a reading and panel discussion at the Scandinavia House in New York City on January 8th.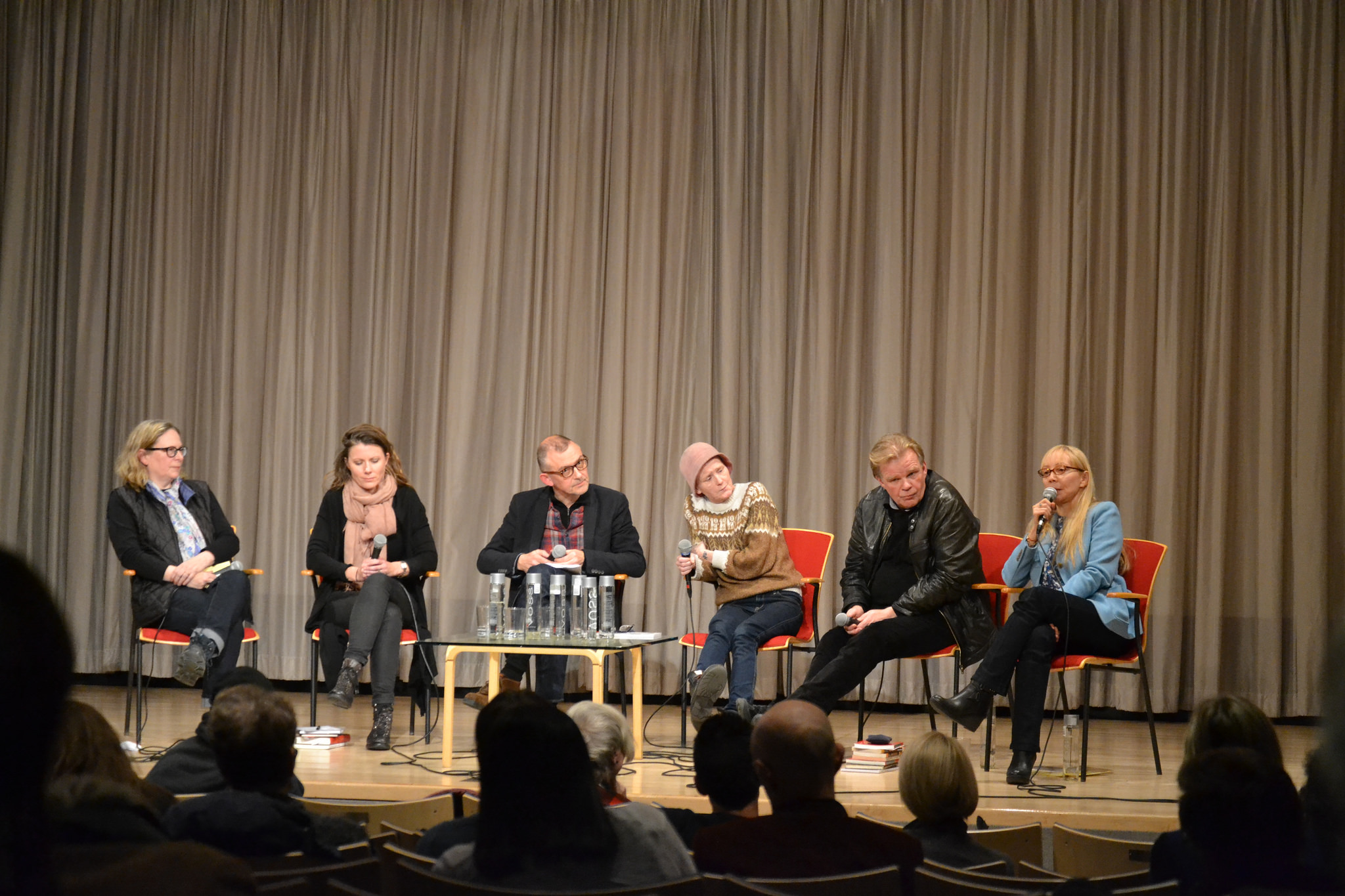 Helen Mitsios, far right, at the Scandinavia House poetry reading, with four of the seventeen poets featured in Beneath the Ice: An Anthology of Contemporary Icelandic Poetry (Talisman House Publishers).
"Here is the land / where time drops / like a newspaper through a letter-hole / but there is no subscriber, /no space, / only fathomless depths / where the stars glitter," read poet Einar Már Guðmundsson from his poem titled "Don't Speak of Large Nations."
On an icy, cold night ("It's actually colder here than in Iceland right now," one of the poets said), Professor Helen Mitsios, award-winning poet and editor, hosted a poetry reading and panel at the Scandinavia House to celebrate the publication of her most recent book, titled Beneath the Ice: An Anthology of Contemporary Icelandic Poetry (Talisman House Publishers). The reading featured seventeen of Iceland's best-known poets. The collection was edited by Mitsios and translated by native Icelander Sola Bjarnadottir O'Connell. It is the first anthology of contemporary Nordic poetry published in the United States in over twenty years.
The celebratory event was attended by four of the poets who flew in from Iceland for the event—Einar Már Guðmundsson, Gerður Kristný, Bragi Olafsson, and Didda Jónsdóttir. Each read several of their poems to the captivated audience who packed the auditorium. Afterward, Mitsios and O'Connell hosted a panel discussion on the poets' paths to success, their experiences writing poetry and their reactions when it's translated into several languages, and the challenges and joys involved in translating Icelandic fiction into English. After the event, the poets and guests mingled while enjoying refreshments.
"Hearing them recite poetry in their native language was really interesting," said Amber Johnson, a NYSCAS biology major in Professor Mitsios' Women In Fiction class. "The [Nordic] language is unique. The fact that it was able to be translated — was genius."
Another NYSCAS student in Professor Mitsios' Introduction to Literature class, Shawntay Johnson, also attended the reading. "The poets had a great sense of humor," she said. Amber agreed. "Even though Gerdur Kristný's poetry was sad, she was really funny in the panel discussion."
Professor Mitsios is the editor of numerous books including New Japanese Voices: The Best Contemporary Fiction from Japan, which was twice listed as a New York Times Book Review Editors' Choice. She is also co-author of the acclaimed memoir Waltzing with the Enemy: A Mother and Daughter Confront the Aftermath of the Holocaust.
"I became enamored by Icelandic poetry while I was studying for my M.F.A. in poetry at Columbia University," said Mitsios about her journey to Beneath the Ice. "I discovered the amazing poem "Time and the Water" published in 1948 by Steinn Steinarr, and this led me to visit the country." She continues reading Icelandic poetry and fiction today, and she and O'Connell are currently working on Out of the Blue: The Best Contemporary Short Stories from Iceland as a follow-up to Beneath the Ice.