"Graphic design is everywhere, especially in New York City"
A Chat With Touro's Susan De Castro, Coordinator of NYSCAS's Digital Multimedia Design Program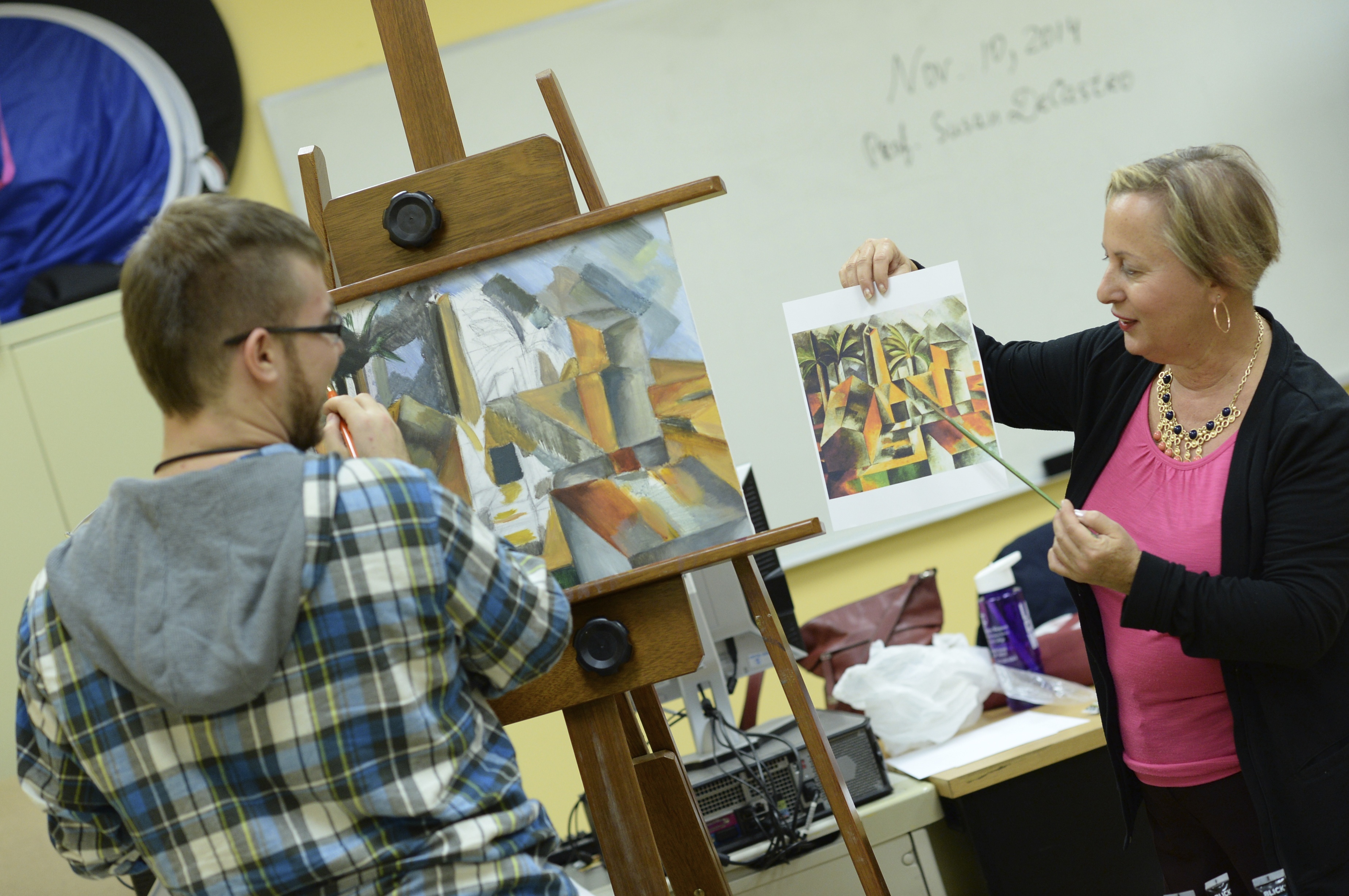 Susan De Castro often tells her students not to delete their first graphic design and art projects. She encourages them to keep them, so that by the end of the semester, they can see how much they have progressed. When they compare their most recent work with their first efforts, they're always astonished, she says.
De Castro is the Coordinator and Acting Deputy Chair of the Digital Multimedia Design department at NYSCAS. She started teaching at Touro back in 1996, when graphic design was not as in-demand as it is today.
"The web is booming," she says. "With the upsurge of social media marketing, the new fields of UX (user experience) and UI (user interface) design, there are lots of new opportunities. Until a few years ago, students in this field would find jobs in specific marketing agencies or graphic design firms. Now, virtually every company needs someone in-house with marketing and design skills."
The skills students learn in the program can be used in many professions, De Castro believes. "Many times, friends and colleagues ask me to design materials for them, ranging from flyers, to business cards, to Facebook banners."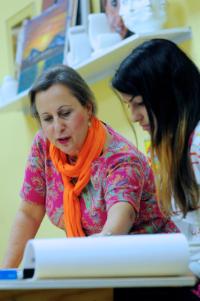 Professor Susan De Castro, in front of an easel and paper, explains an assignment to one of her students during class.
From Fine Arts to Adobe Creative Suite
De Castro is from Philadelphia, where she earned her Bachelor of Fine Arts from the Tyler School of Art and Architecture, which is part of Temple University. During her undergraduate degree, she also spent one semester in Rome, Italy.
"Painting has always been my greatest passion," she says. "I still paint regularly every week, and exhibit locally and in group shows." Her stunning paintings—a mix of portraits, landscapes, and still lives, can be seen on her personal website, www.suedecastro.com.
After graduating, De Castro taught public school art in Philadelphia. Then, she moved to New York to pursue her master's at New York University; she majored in Arts Management and minored in Painting.
In the early 1990s, she decided to go back to school to study graphic design and specialize in computer graphics. While working on a full-time schedule, she enrolled in the School of Visual Arts as an evening student. She learned the Adobe software suite, layout, typography, and many more subjects. After completing the coursework, she started freelancing as a graphic designer and taught at various computer schools in the city.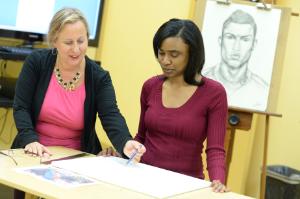 Professor Susan De Castro, standing in front of a blank canvas, assists one of her students during class. In the background there is a realistic portrait done in pencil, standing on an easel, made by one of her students.
Just a few years later, in 1996, she started teaching as an adjunct at Touro, then became full time, and the Department Coordinator. De Castro also helped with the implementation of the Digital Multimedia Design major.
Besides teaching DMD courses, she also teaches Drawing and Painting, and has had great success in motivating students to explore their artistic creativity. She says she teaches students who have studied art before, or have little or no art background: "Many students have hidden talents and end the semester with beautiful drawings and paintings!"
New York, New York!
When asked about her relationship with the city of New York, Susan De Castro's eyes light up.
"I couldn't be anywhere else!" she says. "I consider myself a true New Yorker, even though I wasn't born here. This city is the pulse of the world. My advice for NYSCAS students is to use the city, explore; there are so many cultural venues and art galleries to discover."
"Art and graphic design are everywhere—especially in New York City." She advises her students to always keep their eyes open, "You have to keep your eyes open. Take them off your smartphone and look around, get inspired. You could get an idea from anything you see."