Full Circle: NYSCAS Alum Gives Back with Job at NYC Housing Authority
Krystal Ann Camacho Provides Key Resources to Residents in Public Housing Developments Citywide With Her Dream Job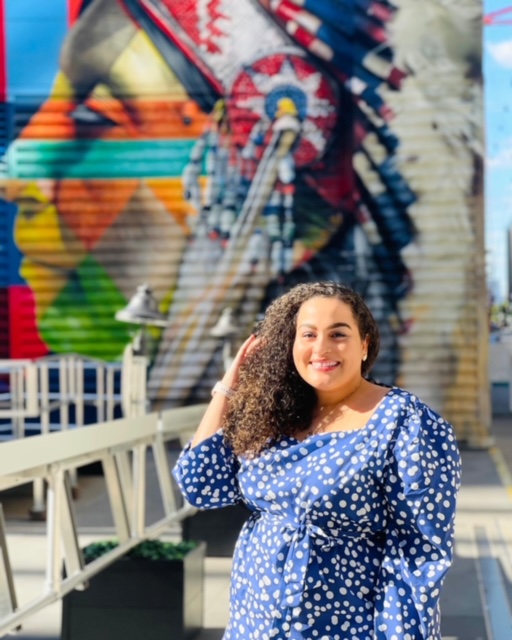 NYSCAS alum Krystal Camacho
If you thought pursuing an undergraduate degree at Touro's New York School of Career and Applied Studies (NYSCAS) was a challenge, now imagine simultaneously serving as the primary caregiver for a chronically ill family member while balancing the daunting requirements of several jobs.
Krystal Ann Camacho, who graduated from Touro in '12, faced these barriers and more as a student but continued to push ahead to receive her bachelor's degree in Social Science, with a major in Psychology. While managing multiple responsibilities at home, work and school, Camacho was able to create meaningful relationships with her professors and classmates, and even became a finalist in the college's annual speech contest.
We recently caught up with this stellar alum to learn more about her invaluable experience at NYSCAS, how she was able to remain focused on achieving her vital goals, and why landing her new role in the Big Apple is truly a full-circle moment.
Can you talk about your current role at The NYC Housing Authority (NYCHA)? How did your own upbringing and life experience impact your desire to become a civil servant?
I'm currently a Community Coordinator at the Healthy Start @ NYCHA Program, a new program that my team and I have built and established. The program is working to ensure every NYCHA family with a newborn or infant has a safe place to live and can be connected to vital community resources through partnerships with stakeholders throughout New York City. As a former resident of the Lillian Wald Houses, a public housing community, located on Manhattan's Lower East Side, I saw an opportunity to give back to the community that helped shape me. I always envisioned myself working for this agency. Growing up, I witnessed the many challenges my mother faced as a single mother of six including food insecurity and lack of income, therefore I felt compelled to do something to help people like my mother living in public housing. I didn't know then that I would end up becoming a civil servant government employee, yet I will never stop trying to make a positive impact on the lives of others in need.
How would you describe your experience at NYSCAS? Were there any courses or professors that helped or inspired you?
I first enrolled in NYSCAS in 2007. When I walked into the Touro classroom for the first time, I will never forget how I immediately felt at ease since the class sizes were much smaller compared to the classes at the college I had previously attended. This enabled me to better focus on my studies and helped me to develop better relationships with the staff, classmates, and professors. While pursuing my degree. Professor Princess Coombs and Professor Joyce Robbins were instrumental in my personal growth. I'm still in touch with Professor Robbins, who me to the world of public service, and it was in her class that I learned more about social sciences, the welfare system, and city government, which quickly became my passions. She helped me to build up my confidence through becoming my mentor and took the time to teach me key skills needed to be a better student, even while still struggling with the loss of my mother.
While you were pursuing your degree at NYSCAS, you had to face many difficult situations. In particular, you were taking care of your sick mother and were working. Can you tell us about that time?
In the summer of 2006, my mother was hospitalized multiple times. During my first semester of college, she became increasingly ill, so I had to drop out of college to care for her. During that time, I was already working full-time at 17-years-old. Once she started to get better, I wanted to go back to school so I started searching for a college that was located closer to home. I found NYSCAS and started taking classes in the fall of 2007, while also working three jobs and serving as my mother's primary caregiver. I honestly don't know how I managed it all at the time, but I knew I only had myself to rely on and that if I gave up, it would mean giving up on creating a better life for myself and my family. I believe that because I grew up facing many struggles, it made me resilient and determined to overcome any obstacle that got in my way. As I continued my studies, my mother's condition worsened. After getting home from work very late at night, she would sleep next to me as I studied in bed. My mother was diagnosed with Chronic Obstructive Pulmonary Disease (COPD) due to years of smoking. Even though she quit, the damage done was irreversible. December 2009 marked the last time my mother would ever return home and we didn't know at the time that it would be the last holiday season she spent with us. I was the last person she saw before she passed away in February of 2010, but at least she was finally free from this excruciating pain. After going through the grieving process that I don't think ever fully ends, I immersed myself in my studies and my work as an attempt to distract myself. My professors at Touro were understanding and compassionate, giving me extra time to make up the coursework or tests I had missed. To this day, I appreciate what the faculty and staff at NYSCAS did for me. I wouldn't have obtained my degree nor be where I am in my career if were it not for their ongoing support.
What advice do you have for NYSCAS students who may be facing multiple challenges?
If you're facing any challenge, be sure to reach out to someone. Build relationships with everyone around you. Be open and honest with your professors about what is going on in your life. You don't have to go into too much detail but letting them know about your situation will make you feel like you don't have to balance the weight of the world on your shoulders. You truly don't have to face these challenges alone and they will help you in any way they can.
You recently published your personal essay "My Beloved LES" as part of a collection titled Remembering Water: A Contemporary Anthology of Creative Nonfiction by Storytellers of Color. What prompted you to write this essay and what role does writing play in your life?
Writing has always played a vital role in my life, and I've always been fond of books and reading. While we didn't grow up with very much, my mother always made sure to fill our home with books. When I was fourteen, I wrote a song that I sang in a musical to help students cope with the effects of 9/11. It was the beginning of my journey as a writer. The essay that I recently had published highlights my love for the Lower East Side, where I was born and raised. Writing about the neighborhood enabled me to give readers some insight into the place I called home for many years before gentrification took place. There are stories that need to be told about the incredible community I used to call home and being able to share them is an honor. I never considered myself a true writer until I enrolled in a writing workshop called "Roots Wounds Words," founded by Nicole Shawan Junior; and it was there that I truly found my voice. Now I write almost every day, and it brings me incredible joy and serves as an outlet for my emotions.
What are your dreams and hopes for the future?
My dream is already happening and I'm thankful every day for the opportunity to help others through my work and to be able to write in my free time. My hope for the future is to continue inspiring others who've had similar experiences to myself. While there may be moments in your life that are out of your control, the one thing you can control are your actions. Be sure to keep the faith that it will all work out in the end and always fill your life with love as our world truly needs more of it.