Fruits of Her Labor
Mia Probinsky enrolled at NYSCAS to fulfill several pre-med prerequisites. She walked out with so much more than she'd imagined.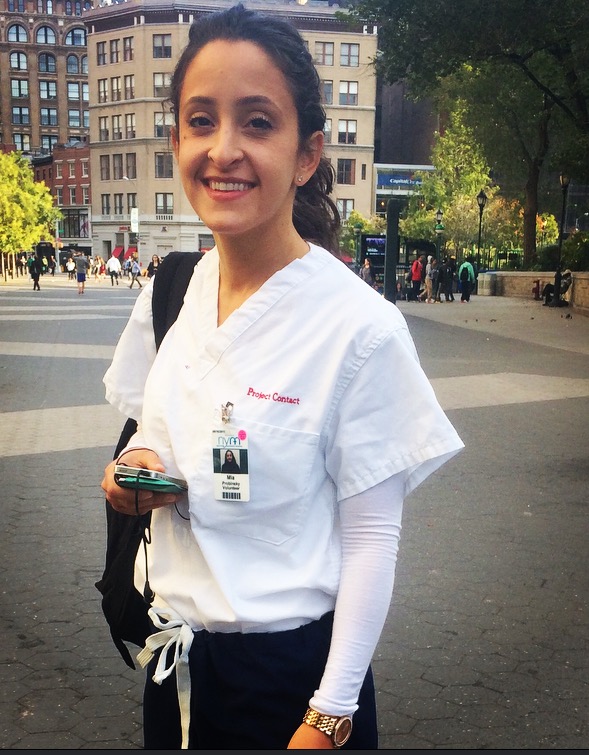 Florida-born Mia Probinsky enrolled at NYSCAS to fulfill a number of undergraduate biology prerequisites. Now, she's a student at Touro College of Osteopathic Medicine-Harlem.
When Mia Probinsky was young, she wanted to be a mailwoman.
"At the time I thought that the only things that arrive in the mail were birthday cards and Hanukah gelt. I thought there could be no better job than to deliver presents and happiness to people all day!"
Soon enough the Florida native realized that "things like bills and foreclosure statements also arrive in the mail, which don't make people as happy as I had previously imagined." But she's found a way to reconcile her young dream of being a mailwoman with her current aspirations of becoming a doctor: "This idea of giving something to people to make them happy has always been a part of my innate characteristics…and as an adult, I cannot think of a better gift than the gift of health."
The Gift of Health
Mia graduated from Boston University with a degree in health science, but completed the majority of her pre-requisite science classes at Touro's New York School of Career and Applied Sciences, where she was placed on the Dean's List every semester.
"I stumbled upon NYSCAS accidentally," she says. "I remember being so upset because the 600-student Organic Chemistry class at a different college was full, and I thought my whole plan was messed up. A friend mentioned that his brother went to Touro and I should go check it out to see if they had any room.
"That was my first lesson in the mantra, When one door closes, another one opens. Not only did I get into Touro, I was given one-on-one attention in all of my classes—something I would have never received in a classroom of 600."
At NYSCAS, she found that the most challenging classes, such as physics and cellular and molecular biology, were the ones she enjoyed the most. "I had to work like a demon, but when the light of understanding finally came into clear focus, nothing brought me more happiness." Every week she tutored fourteen NYSCAS peers in Physics, Chemistry and Calculus. She also had the chance to participate in research with NYSCAS professor Dr. Milton Schiffenbauer. In her spare time, she volunteered with New York Methodist Hospital's Emergency Room team, where she served in treatment, triage, the Rapid Evaluation Unit and Pediatric ER.
Looking Back
Having just begun her Master's in Interdisciplinary Biological Science this year at the Touro College of Osteopathic Medicine (TouroCOM)-Harlem, Mia says she is "eternally grateful" to have taken her fundamental science courses at NYSCAS. In particular, she credits her current academic success at TouroCOM to two faculty members at NYSCAS: Dr. Robert Fardon, her mentor, and Dr. Brian Chiswell, a biology instructor.
"I cannot emphasize this enough: Dr. Fardon was the number one greatest thing about Touro College. Nothing prepared me more for the difficult journey to my medical degree more than he did. During the semester I took both Physics I and II with him, I spent at least ten hours a week in his office reviewing the material I didn't understand, and he spent countless hours of his own time to help me over the phone as well."
The most unique thing about him, says Mia, is that "he inspires everyone who crosses his path and shares his love for knowledge and curiosity in such a contagious way.
"And he taught me some major life lessons, too, such as to 'surround yourself by people who like to be questioned' and 'no matter how much knowledge you acquire, there is not a single person you cannot still learn from.'
"Then Dr. Chiswell: I was so nervous to take his class because I'd heard how challenging it was, but I trusted Dr. Fardon's suggestion. And now, every single day when I sit down to study, all I can think about is how grateful I feel for having taken Cellular and Molecular Biology with Dr. Brian Chiswell. I cannot emphasize enough how much that class is saving me in Physiology and Biochemistry and Histology in graduate school. As I always tell Dr. Fardon: Pre-med students should not be allowed to graduate without having taken Dr. Chiswell's Cellular and Molecular Biology class."
Fruits of Her Labor
Besides biology, Mia's interests are eclectic. For one, she loves the outdoors—a product of having helped her family tend to the 1,000 fruit trees on their farm in Homestead, Florida for a large part of her childhood. "My parents bought land and planted groves of tropical fruits, with our home built in the middle. My days were largely spent playing with our Great Danes, helping the Mexican women pick and pack fruit, and learning some Spanish along the way."
She's also a professional salsa dancer. She spent two years "bringing the beauty of dance" to underprivileged children at her local Boys and Girls Club in Florida, and later taught professional salsa classes in Boston. "Not only was I giving them an outlet to express themselves physically, but I became a role model and mentor for these children, which was so gratifying." Mia has also volunteered abroad—in Israel, to participate in a program that promoted socialization between Palestinian and Jewish children; and in Oaxaca, Mexico, to assist with her father's educational program that provides university scholarships to students in villages that lack basics such as running water. "Exposure to the beauty of so many different cultures gave me the unique ability to find something in common with every person I meet, regardless of where they come from in the world," she says.
"Becoming a doctor, actually, ties all the various parts of my life together," Mia muses. "Tending to the orchard with my parents taught me the importance of hard work and dedication—to toil for the fruits of your labor, essentially. Dance gave me an understanding of body movement, exercise and discipline. Volunteering with children abroad taught me how to communicate with sincerity and kindness, but mostly with the patience to learn about the physical and emotional needs of those who are under my care."
As for Mia, she "can't wait to finally have the chance to incorporate all these lessons in my medical practice."