From Olympic Competitor to Nursing Student
Touro Student Hailey Kops Shares Her Experience Competing in the 2022 Winter Olympics and Why It's Her Dream to Help Others as a Nurse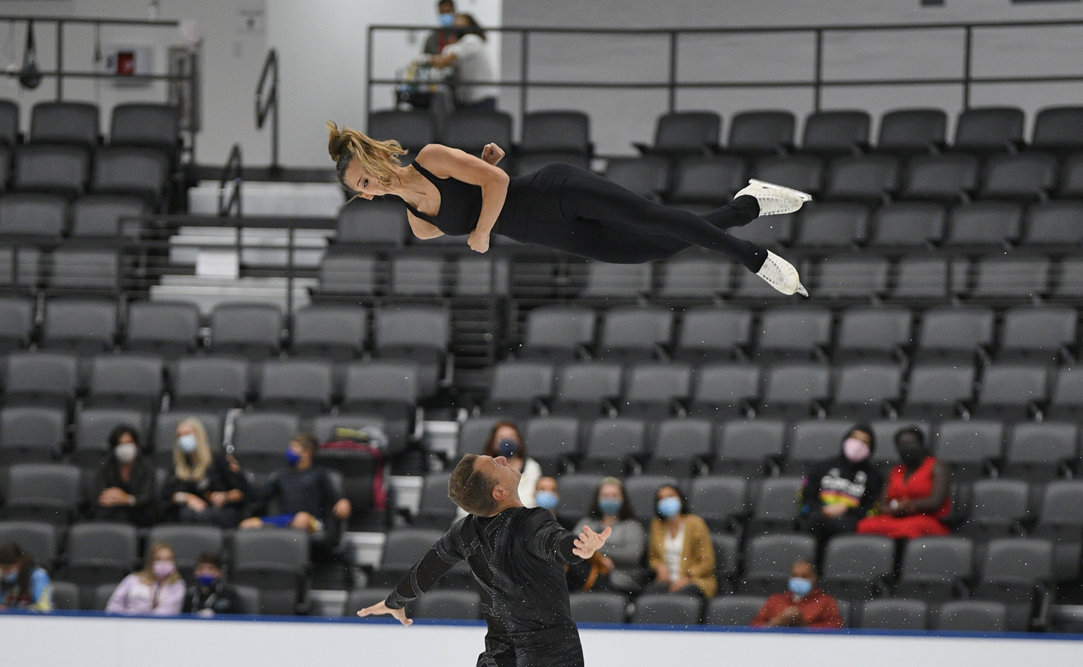 Figure skating has been a part of Hailey Kops daily life since she was a child. Her love for the sport, combined with hard work and determination, enabled her to compete against top athletes from around the world—including in the 2022 Beijing Winter Olympics. Now Hailey is a nursing student at Touro University New York School of Career and Applied Studies (NYSCAS). She recently talked to us about her life-changing experience at the Olympics and how Touro is instrumental in preparing for her future career.
How did you get your start figure skating? When did you decide you wanted to do this competitively?
I grew up in a family of ice skaters including my mom, who is a figure skating coach, and my dad, who plays ice hockey, so learning how to skate was practically a rite of passage in my home. My mom would bring me with her to the rink while she was teaching, starting at just three years old and I immediately fell in love with the sport. My two older brothers Corey and Max would skate so fast around the rink, and I would try my best to catch them. This was my first introduction to training, and I couldn't get enough of it. Three years later, when I was six, I started competing professionally. I truly love performing and the adrenaline of a tough competition. I instinctively knew when I laced on my skates and glided on the ice that I wanted to compete in figure skating at the highest possible level.
Competing on the 2022 Israel Olympic Team must have been quite an experience! How did it feel to be a part of the team and how did it differ from participating in other competitions including two World Junior Figure Skating Championships?
Skating is usually a solo sport, and at times can be very overwhelming and lonely. I always wanted to be part of the Israeli national team. Growing up in the United States as a proud Orthodox Jewish woman, I always had a tremendous amount of love for the State of Israel. When the head coach of the Israeli national team gave me a chance to try out as a pair skater (a skater with a partner) and to represent Israel, I was shocked and so incredibly thankful for this amazing opportunity. Representing Israel at two Junior World Figure Skating Championships and placing 7th in the world was one of the highlights of my life, but the goal for many competitive athletes like me is to compete at the Olympics. It's hard to explain in words the powerful and incredible feeling that overtook me when I walked into the stadium with the other five Israeli athletes as we proudly followed the Israeli flag during the opening ceremony of the 2022 Beijing Winter Olympics.
As an Orthodox woman, can you share how you balance your responsibilities as a professional athlete?
My parents and I knew that managing my Jewish observance and competing at such an elite level would be difficult and require a complex balance. To achieve this, I would walk to the rink on Shabbat, bring my own kosher meals to competitions, and my parents would contact the local Chabad House in all the countries where I competed. There are many hurdles and obstacles that all athletes are faced with while following their career paths, yet we all seem to navigate these difficult scenarios in our own way. I didn't view being an Orthodox Jew as an obstacle, but rather an opportunity to compete in the highest level of the sport while still upholding the principles of our Jewish faith.
What made you choose Touro NYSCAS and what are your plans?
Fortunately, one of my older brothers attended Touro University and was very informative and supportive of my decision to enroll. I wanted to be able to teach the specialized skills that I learned as a pairs skater to future athletes as a college student and quickly came to the realization that Touro would be the perfect option to help me achieve my professional goals due to its flexible course schedule. Touro also provides the ideal smaller class sizes to meet my individual needs. My dream career is to become a nurse working in either an emergency room or in a surgical setting. As a nurse, you need to always remain focused and when I was skating professionally, the margin of error is so incredibly slim that if you lose your focus for even one second you could fall or miss a critical transition. Whatever area of the nursing field I choose to pursue in the future, I'm excited to help others while teaching figure skating at local rinks.
Are there any specific skills you're learning in class that will help you along your career journey?
Time management has been one of the main skills that I'm learning at NYSCAS. Being a full-time student and working part-time is hard, but also extremely rewarding. At a young age, my grandfather taught me about the concept known as "POP", which stands for patience, optimism, and perseverance. I have successfully applied it during my years as a skater when I would have an injury or I was stuck on a difficult jump or throw, and I'm now leveraging this ideology as a college student. Figure skating taught me many invaluable lessons about hard work and in many ways the importance of picking oneself up, regardless of how many times I might have fallen. As a nurse, I'm sure that I will encounter challenging patients and situations, but as long as I stay focused and apply "POP" I'm confident that I will be able to deal with whatever comes my way.