Fostering Roots Through Education and the Arts
Republic of Georgia native keeps her culture alive while pursuing her degree at Touro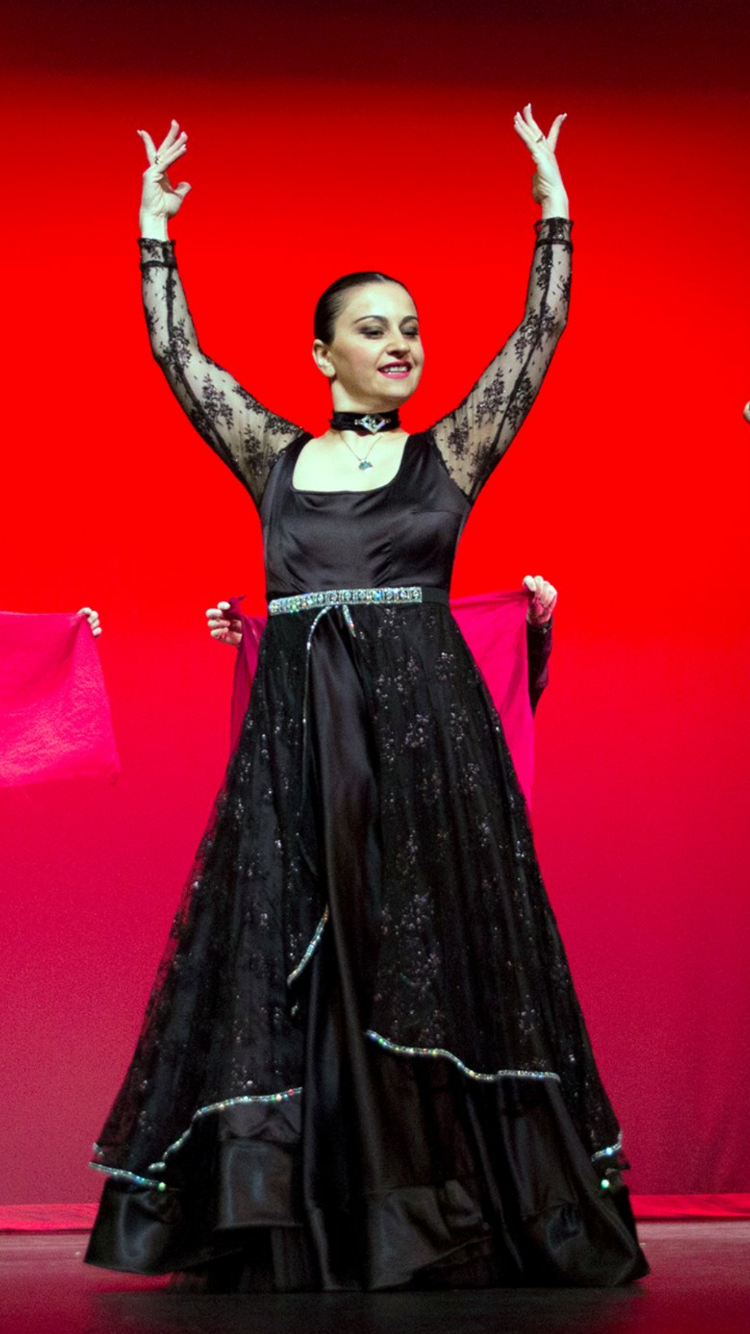 Pesvebi means "roots" in Georgian.
Shorena Barbakadze, a second-semester student at NYSCAS, chose the name for her Georgian children's cultural arts center because she wanted to deepen her students' connection to their ancestry.
"We're trying to keep our culture alive," the native Georgian, who migrated to the United States 19 years ago, said, adding that Georgia has a "big history and deep culture."
Shorena feels lucky to be able to run Pesvebi and work toward her degree. She originally came to the United States to perform Georgian dance with her then performance partner, now husband. But the duo ended up falling in love with the country—and each other—and stayed.
When she gave birth to her first child in 2000, Shorena wanted to connect her son to his heritage and celebrate her culture. As a dancer and artist married to a musician who plays 12 instruments, starting a cultural performing arts center was an obvious choice. The couple opened the center that year, and today, they teach nearly 100 students at any given time.
The talented students, colorful costumes, and breathtaking performances have attracted admirers from around the world. Shorena's students have performed in Georgia, prompting standing ovations from audience members, who were moved to tears by the sight of Georgian-American children performing Georgian dances and songs.
Shorena is proud of what she's accomplished with Pesvebi, but the praise isn't what motivates her; the work is an act of love.
"We do this because we love Georgian culture and want our kids to know what pesvebi means," she said.
Now that the 38-year-old mother of four finally has some time for herself, she's turning her attention to her education. "I love to study, but when I came here, I didn't have the chance," she explained.
Shorena is studying to be an occupational therapist, but is also considering early childhood education; what's most important is that she's working with children.
Before coming to the U.S., Shorena was working towards a degree in French. She couldn't return to school when she emigrated, because she didn't have the time or resources.
Touro's welcoming environment and resources for ESL students have made the transition back to school easier on Shorena. Her instructors and fellow students are "always ready to help" her with her questions and her English. She's also learning a lot from her computer assignments and is working with tutors to improve her language skills.
Despite being a full-time student and completing her work-study in the advisement office, Shorena's commitment to Pesvebi hasn't waned. Recently, she was one of four recipients of the Successful Georgian Lady Abroad award and traveled to Georgia to perform. She also continues to bring her students to perform around the world.
Now, she's looking forward to Tbillsi, an annual Georgian festival that takes place on Staten Island. Named after the capital of Georgia, the festival features food, performances, art, dancing, singing, judo, soccer, and sword dancing. Last year, it drew more than 3,000 people.
"Everybody's always asking, 'How do you have the energy to be a full-time mom and full-time student, do work-study, and run Pesvebi?" Shorena doesn't mind being busy. She's been busy since childhood, so it comes naturally to her.
For her, learning at Touro and running Pesvebi don't feel like work. She's also fortunate to have the support of her family and community. "The love I get from my family and my people helps motivate me," she said.
Pesvebi Georgian Cultural Center is located at 238 Kings Highway, 2nd Floor, Brooklyn, NY 11223. To learn more about the center, visit www.pesvebiny.com or call 347-218-2462.