"Be fearless in the pursuit of what sets your soul on fire"
499 Graduate at NYSCAS Manhattan's 44th Commencement in Lincoln Center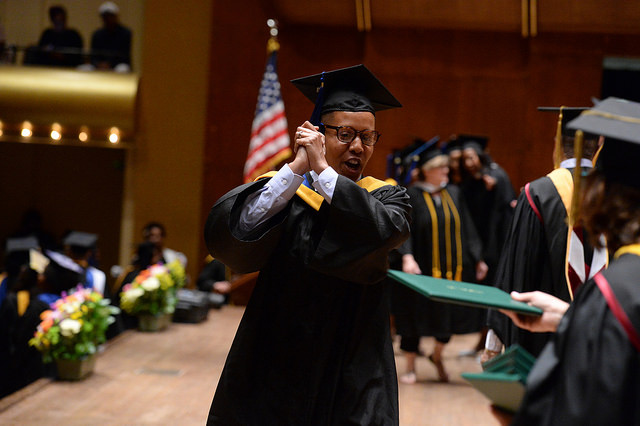 NYSCAS graduated 499 students at their Manhattan campuses commencement exercises at Lincoln Center on June 13, 2018.
One graduate skipped across the stage to receive her diploma and another tossed her cap into the audience after shaking the deans' hands, when the Manhattan branch of the New York School of Career & Applied Studies held its 44th commencement exercises on June 13, 2018 in Lincoln Center's David Geffen Hall. Three hundred and thirteen baccalaureate degrees and 186 associate degrees were presented.
"In many ways, NYSCAS is a school of dreams," Dr. Alan Kadish, president of the Touro College and University System, remarked. He noted that there are three different meanings of the word "dream": the kind we have when we sleep, a fantasy, and a hope for a better future. "In order for each of us to succeed in the future, we have to combine elements of each of those dreams. Keep dreaming, and keep dreaming big. Remember that you're now part of almost 100,000 Touro alumni who've helped change things by dreaming big."
Dr. Kadish introduced the commencement speaker, Norman Siegel, a civil rights and civil liberties lawyer who served as the director of the ACLU's New York Civil Liberties Union from 1985-2000. "Whatever you decide to do, I urge you to use the critical skills that you learned at Touro to analyze issues yourself," Siegel told the graduates. "It is incumbent upon 'we the people' to speak out and take action when necessary and appropriate."
Valedictorian Petal Harrigain advised future graduates to "aim high, be specific, and set a target."
"Whether you know it or not—whether you even believe it—a classmate, a son or daughter, a partner, a friend is watching you, and your accomplishments are a source of inspiration for them," Harrigain said in her valedictorian's address.
Harrigain appreciated the camaraderie among classmates and mentors at Touro. She emigrated from Trindad at the age of 19 and is the owner and director of a daycare. Graduating with an associate's degree in special education, she plans to earn her BA. She's got big plans for the future - community superintendent of schools and maybe even the chancellor of the New York City Department of Education.
She noted in her speech that Muhammed Ali's life is a source of inspiration to her, recalling when the athlete and champion for social justice carried the torch in the 1997 Olympic games, Harrigain told graduates, "His falls made him stronger—much like us, the graduating class of 2018. We are motivated not only by our time spent here at Touro but all of our future goals and aspirations. Today, we are carrying our Olympic torches."
"As you journey on the road to success, do not be deterred by your age, your gender, your ethnicity, or your social status, for these characteristics make you uniquely you. Touro College has admirably equipped you for the next phase of your life."
"Be fearless in the pursuit of what sets your soul on fire," Harrigain advised her fellow graduates.
Associate dean of students, Timothy Taylor presented a special recognition award to two graduates – Charla Johnson and David Fletcher - who demonstrated "singular resilience in challenging circumstances to achieve their degree, and by so doing symbolize the achievements of many of our students."
Sergeant Charla Johnson served 12 years in the army, and when it was time to decide what to do next, she knew she wanted to make a difference in underserved populations and communities. She enrolled at Touro with a veteran's tuition award to earn her bachelor's degree and heads to New York University to pursue her master's, with plans to become a high school history teacher.
David Fletcher "has shown a remarkable ability to survive." The graduate spent a year homeless and unemployed before enrolling at Touro in 2013. Fletcher lost his mother to cancer and has since become an advocate for cancer patients. Along with his fiancée, he established a cancer association and received a citation from Brooklyn Borough President Eric Adams for his "outstanding dedication and work to fight cancer."
Like her co-valedictorian, Galit Nisanov believes in the power of setting goals. "Whenever you're down, use your goal as motivation," she said.
Nisanov's parents, who emigrated from Russia to have a better life for their family, "instilled in me the desire to achieve and an appreciation for the infinite opportunities available to young men and women of our generation."
"The only thing that stands in the way of achieving our goals is ourselves," Nisanov told her fellow graduates in her valedictorian's address. "My father always says, 'Choose your life, or your life will choose you.'" ("That's right," an audience member murmured, as others cheered and clapped.) "Sometimes, it's so tempting to choose the path of least resistance over the struggle to remain committed to an academic oath. We run from the challenges we should run to, because they will benefit us in the long run. Your diploma was earned; it was not handed to you. And for that, you should be proud."
"We are all sitting here today because we have the courage to pursue our dreams. I can say with certainty that each one of us has worked hard and pushed ourselves to get to this moment. This is only of the beginning of our journey," the future speech pathologist told the class of 2018. "We cannot stop here. We must continue looking forward to the future."
Congratulations to all graduates!