Alumna Spotlight: Angela Velez
Single Mother, Grad Student and Daycare Teacher, on Her Love for Special Education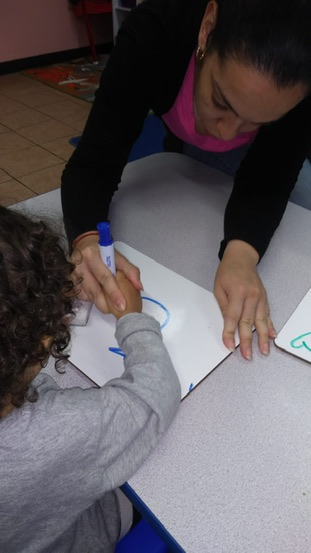 Angela Velez, a NYSCAS alumna who recently graduated magna cum laude with a bachelor's degree in psychology and a minor in childhood education, discusses why special education is one of her passions, the ways in which Touro prepared her for a successful career and how she balances work, college and responsibilities at home.
Why are you passionate about the special education field?
Children with special needs are often judged because they're different. However, they just need to be taught in alternative ways that meet their individual needs. I have seen firsthand that when a bond is created between a student and their teacher, it enables children to feel comfortable learning and I strive to do just that. Children also need to feel safe in the classroom and I've seen how pivotal this is through experiences with my own children, who have special needs. My passion for special education fuels my desire to make a difference in the daily lives of children and I want to help them to grow and develop new skills to enable them to see success throughout their life.
Where are you working now and how do you motivate students?
I currently work at a daycare center in the Bronx, where I leverage a whole-body approach to teaching as it's critical to enable children to learn through touching and seeing things. I also use yoga mixed with movement breaks as this helps the three-year-olds I teach pay closer attention to lessons once they've been in motion for a bit.
How did Touro prepare you for both grad school and your career?
Since most of my professors work in the education field themselves, they were able to teach me vital skills through sharing their firsthand experiences about critical topics such as how to interact with parents, how to best implement what we learned through our textbook in the classroom, and how to design lesson plans that will help children with varied needs from different backgrounds. If it wasn't for the continuous support of my professors, I don't know if I would have been able to move forward in my educational journey. Even when I had doubts about my abilities, I would talk to them and then immediately find myself feeling empowered to finish each course.
How were you able to balance being a mother while also working and attending college?
Being a single mother is no easy task. Sometimes, even when I feel like I don't have another ounce of energy to give, I have no choice but to do whatever needs to be done. I'm the only one that my kids can count on and keeping this top of mind is my motivation to keep moving forward. I want to ensure that my children have access to every amazing opportunity they deserve, and I will never stop doing what is necessary to provide the best life possible for them. My family and friends are very supportive and always help me in any way they can, especially when I require time to study for a big test or need to meet an important deadline. After working an eight-hour day, my coworker will drive me to the train so I can travel across the Bronx to pick up my daughter. We then head back to our neighborhood to pick up my son from the babysitter and walk together to a friend's house, so she can watch my children while I head to class. In my life, everyone understands that every second counts. I make it a point to complete assignments and study well in advance to avoid panicking at the last minute. I divide large tasks into smaller, more manageable chunks and work on one portion at a time, not the entire project. I also try to work efficiently in the time I have designated for work and school assignments so I can spend quality time with my children before bedtime every night.
Where would you like to work upon completion of your graduate degree?
After receiving my master's degree, I want to teach in either a general education setting or in special education.
Any advice you'd offer to potential students considering pursuing their higher education?
Never let anyone discourage you from reaching your goal no matter how long it takes or how many challenges you face along the way, whether they be personal, financial or health-related. Keep in mind that when you overcome one of these challenges, you'll feel a sense of accomplishment and know that you're a bit stronger and more capable than you were previously. Stay open to meeting new people inside the classroom as they can help make this journey a little easier and if you're lucky, those peers might become really good friends and future colleagues with whom you can discuss and share professional insights and tips.