A Touro Success: Pinchas Farkas' College Experience Changed His Life and Advanced His Career
New York School of Career and Applied Studies (NYSCAS) Alumnus Pinchas Farkas Started at the Bottom and Worked His Way up to Professor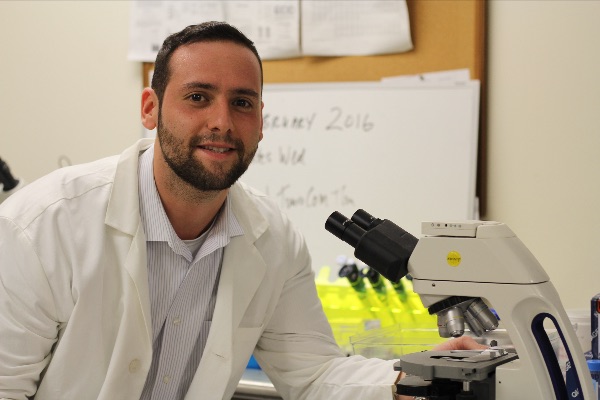 NYSCAS alumnus Pinchas Farkas
Growing up in upstate New York in a community where secular education was limited, Pinchas Farkas felt driven to earn a higher education no matter the challenges he would likely face. For starters, his family was not English speaking and he didn't learn the language until he was 13 years old.
"I've always had a passion for learning and actually studied for my GED using the popular Khan Academy Internet-tutoring program, where my comprehension of the math curriculum went from zero to college level in a little over a year," said Farkas.
A life-changing moment for him was enrolling in NYSCAS after successfully passing his GED, where he graduated from the biology program with honors. Farkas was also selected as the class valedictorian.
"Choosing Touro completely changed my life. Being able to interact with people of varied backgrounds enabled me to learn from a group of individuals I never would have met otherwise. I made many lifelong friends along the way and my college experience really changed the way I see the world overall. I don't think this would have happened at any another school," Farkas added. "Now that I have achieved my degree at Touro, I can confidently tell my friends and family who don't see education as a possibility that it is, and that at Touro they can do it. Many of my friends who would never have gone to school have attended college now and their education has changed their whole lives."
His undergraduate degree was only the beginning of his educational journey
Fast forward a few years and this alumnus has headed back to the Touro classroom, where he teaches chemistry and enjoys the ability to connect with students and encourage them to strive for excellence. He also is pursuing his PhD with an emphasis on biomechanics and ergonomics at New York University. He creds Touro with helping him learn vital skills needed to achieve success in his field, ranging from effective communication and critical thinking, to statistical and graphical analysis of data and the ability to maintain quality, safety and/or infection control standards.
"I'm passionate about research and being able pass on information that I've learned to others. I love topics related to sports health and learning about how to reduce injuries in runners, as running is one of my favorite hobbies. If I could find a career that combined all these elements, I'd be living the dream," said Farkas.
While fulfilling his academic goals is important to him, so was meeting his future wife. He recently married fellow NYSCAS alumna and salutatorian Aviva Weiner after meeting through a mutual friend and says, "it was truly beshert (destiny) for us to meet as we were both attending college at the same location simultaneously. Touro wasn't just a place where I went to get my degree, it served as a launching pad where I formed relationships I never imagined and it will always be the place where I was so lucky to meet the love of my life."