5 Careers That Only Require a Bachelor's Degree
Discover Five Fields that are In-Demand, Well-Paid and Do Not Require an Advanced Degree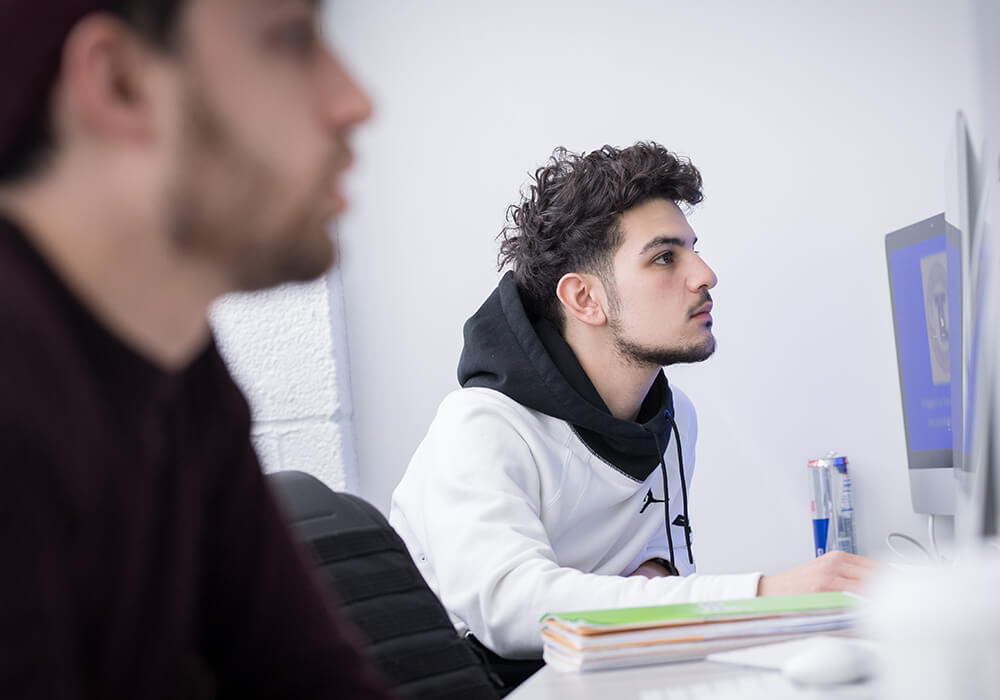 When choosing your major for your B.A. degree, learning more about which jobs or fields are in high demand can help you make an informed decision that will open the right career doors after you graduate. Check out the following six careers that offer the potential for high-paying, in-demand employment.
#1 Finance (Business Management and Administration)
A bachelor's degree in finance opens the door to a wide range of career opportunities. While majoring in finance, you'll develop strong analytical skills, learn how to master spreadsheets and other financial software and look at business problems from both qualitative and quantitative perspectives as a way to guide fiscally responsible decision-making.
Many finance jobs involve analysis so you can easily use your finance degree to begin a career as a financial analyst, budget analyst or credit analyst. You could also use your skills in the insurance industry as an actuary, assessing risk and financial consequences, or in investor relations, preparing financial data for clients, investors, analysts and media. Regardless of the finance career path you follow, you can expect to make a comfortable living: On average, analysts tend to make roughly $70,000 – $80,000 per year, while other financial professionals like actuaries can average more than $108,000 per year.
#2 Information Systems: Programming
In our digital world, more and more prestigious companies are hiring employees to work as computing experts and handle everything from creating and managing databases to designing system architectures. A bachelor's degree in information systems: Programming will give you the skills you need to work in this sought-after, high-paying field. Your coursework will give you a foundation in fundamental business concepts as well as proficiency in Java and database and operating systems.
Once you've earned your degree, you can get hired as a computer systems analyst, coordinating, installing and troubleshooting computer programs and systems, or as a computer programmer, writing, reviewing and analyzing computer programs so they function as needed. You could also apply your programming degree to become a systems engineer or systems architect, responsible for building, integrating, securing and scaling the internal computer systems and setups to meet your company's needs. No matter which profession you choose, you can expect to make an average salary of around $70,000 - $80,000, with a potential for more than $120,000 as you gain more experience.
#3 Marketing (Business Management and Administration)
Marketing is one of those careers that is always popular — and for good reason. Marketers use critical thinking skills to create relevancy, making their company's brand, products and services appealing and indispensable to their customers. Your bachelor's degree in marketing will teach you the basics of marketing research, strategy and management, along with other fundamental principles you'll need to succeed.
A bachelor's degree in marketing will also put you in a position to find an exciting and high-paying job in advertising, public relations, marketing research or management, sales or the retail industry. The options are almost limitless: Work as a writer, producer or SEO specialist creating content for websites and newsletters; connect with customers as a social media manager; liaise with the media to shape and manage your company's image as a PR rep; or become a marketing analyst, reviewing market trends to align your company's strategy and execution. For most marketing jobs, salaries will average anywhere from $65,000 per year up to over $135,000 for highly experienced employees.
#4 Digital Multimedia Design
If you're both creative and computer savvy, then a bachelor's degree in digital multimedia design can lead you to a rewarding, well-paid job that allows you to use both skills. As a multimedia design major, you'll build a solid foundation in creative graphic design, layout, typography, digital imaging, web page design and design theory, all while creating a professional portfolio to share with potential employers after graduation.
When it comes to careers in this growing field, you can use your degree to work as a graphic designer creating websites or crafting layouts for magazines, advertising campaigns and catalogs — and eventually becoming an art director, overseeing your own team. You can also focus your skills to create an awesome user experience as a UX designer for apps and mobile web or to work as an illustrator or an animator. You can expect to start your career earning around $52,000, and with experience, you can make more than $75,000 as an animator or more than $95,000 as an art director.
#5 Information Technology: Network Administration and Security
Cyber attacks, ransomware and data breaches pose real threats to businesses, and many companies are willing to pay serious money to employees who can provide network security and protection. A bachelor's degree in information technology with a focus on network administration and security will build your technical skills and give you the necessary knowledge to work with network-driven information systems — and keep them protected.
Your bachelor's degree in information technology/network administration and security has the potential to open many doors. Work as a software developer or web developer, building websites, applications or software, or use your skills as an information security analyst, identifying risks and devising plans that will keep your company's systems secure. You could even pursue a career as a computer and information research scientist, inventing new approaches and pioneering new ways to use existing technology. While salaries vary, a career in network and administration security typically pays around $70,000 - $90,000 per year — with some positions earning as much as $123,000 annually.
Ready to boost your health, happiness and earning potential? Contact Touro College about how we can help you get your bachelor's degree in one of these five growing, high-paying career fields.