4 Questions for NYSCAS Alum Maro Souid
After Overcoming a Major Language Barrier, This Touro Alum is Following Her Dreams by Attending Pharmacy School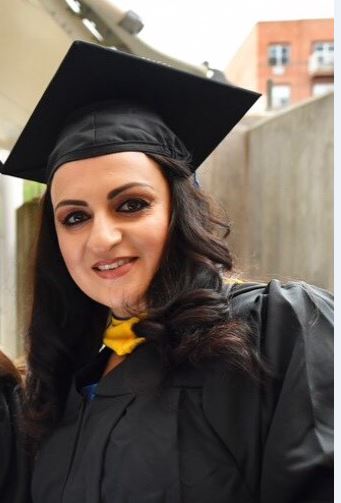 Maro Souid, a 2019 NYSCAS graduate
Can you imagine moving from the Middle East to the United States without a grade school education and no familiarity with the English language at all? That is how recent Touro College New York School of Career and Applied Studies (NYSCAS) graduate and Syrian native Maro Souid's story began but not where it ended. Souid overcame countless challenges to strive for her career goal of becoming a pharmacist. Her first significant step was graduating with a bachelor's degree in Biology and a 3.9 GPA this past May.
We spoke with Souid about her journey-- how she decided to pursue higher education with little educational background, was able to balance her many responsibilities including receiving her undergraduate degree, raising her four children and working fulltime as an online salesperson for both eBay and Amazon as she heads to pharmacy school this September.
After moving from across the world to Brooklyn, you taught yourself English by reading your son's ABC book and studying nightly after your children were asleep. Why was this important to you?
While I learned some English after moving to the US when I was 10-years-old, I really focused on becoming fluent after my son started school. I realized I couldn't help him with this homework without truly understanding the language. I was embarrassed that I had to tell my kids I couldn't read, so I decided to stay up night after night reading and then rereading their books. We then went through every page of their books together, highlighting various subjects like social studies chapter by chapter, and I slowly built up my vocabulary as we learned together. It wasn't easy, but I had goals and wanted to prove to everybody but most importantly, to my children that you can do whatever you set your mind to as long as you work hard. I couldn't let the fact that I didn't receive an education when I was younger stand in my way any longer.
How did you balance school, taking care of your children, and working fulltime?
I'm an organized person by nature and I manage my time wisely. Before starting a new semester, I ensure that my college schedule includes a day or two off so I can solely focus and catch up on my family and work responsibilities. I also try to only take classes in the mornings so that the rest of the day is free for other important tasks. I always do my best to stay calm and stress-free, drilling down only on one subject at a time and making most nights and weekends my time to study in peace while the rest of the house is asleep.
What are your career goals?
After graduating with my degree in Biology, a major I chose because I knew it was hard and I wanted to challenge myself, I will be continuing my education at Touro College of Pharmacy. My dream is to one day open my own pharmacy after learning more about the business side as an employee first. This is my goal because in my community, everyone looks up to pharmacists, and their assistance make a positive difference in the lives of patients.
Is there any advice you would give to someone else who is considering going back to school later in life?
Sometimes people give up on themselves and don't realize what they're capable of or have people in their lives who discourage them from attending college, but they should use these words as fuel to keep going--be strong and ignore negative opinions. Women, especially mothers, can handle way more than most people since they are already used to multi-tasking and managing the emotional, financial, organizational needs of their families and homes. I met excellent professors at Touro who really made a big difference in my academic performance. They pushed me to the edge to bring out the best in me and that is something I will appreciate forever.