White Tea May Kill Stubborn Infections
High concentrations of polyphenols prove effective against Salmonella and E.coli
Date: June 06, 2017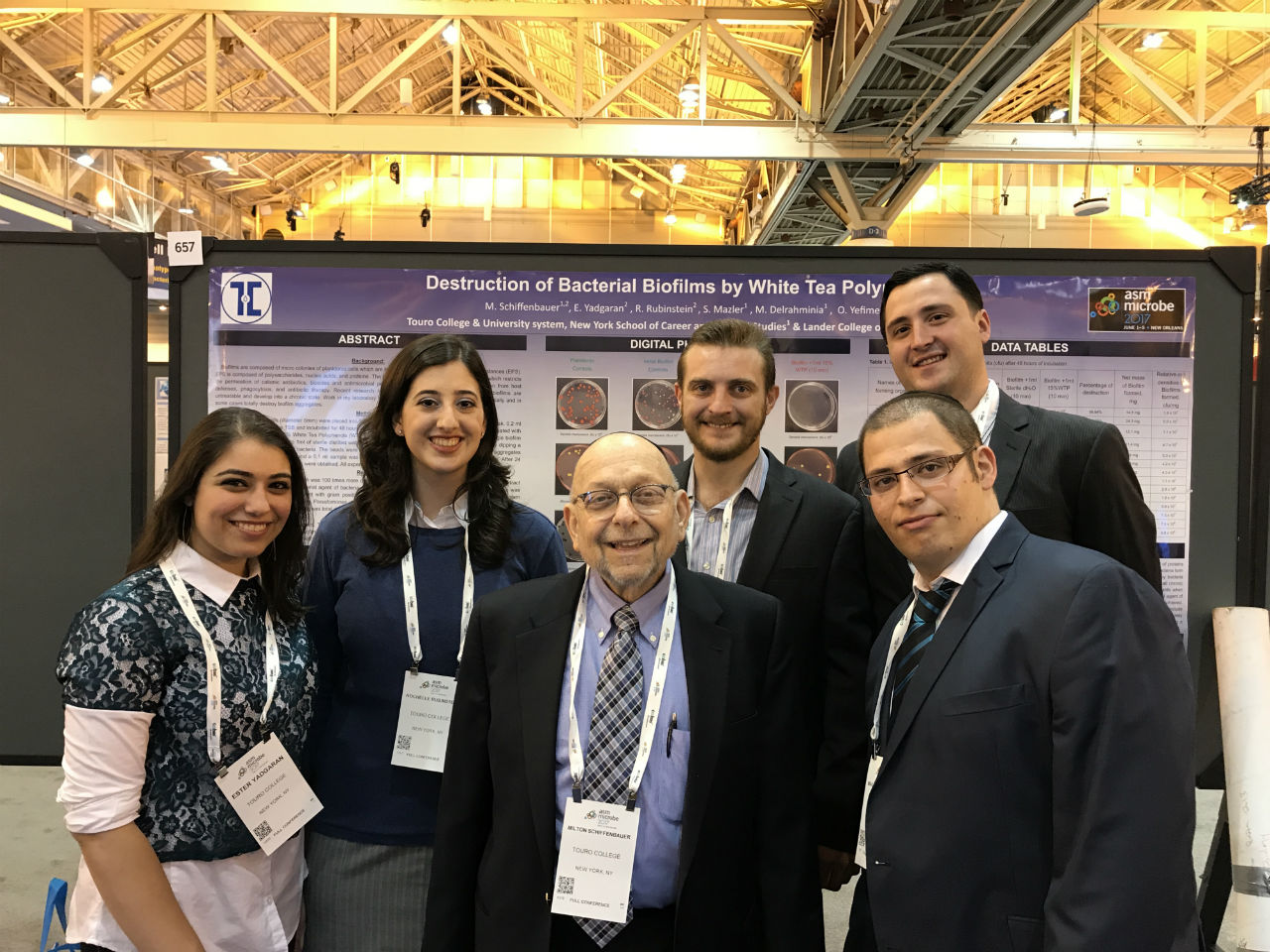 Dr. Milton Schiffenbauer and students at ASM. From left to right: Ester Yadgaran, Rochelle Rubinstein, Dr. Milton Shciffenbauer, Oleg Yefimenko, Makan Delrahminia, Samuil Mazler
Media Contact:
Elisheva Schlam
elisheva.schlam@touro.edu
646-565-6420
New Orleans, Louisiana--A new study found that white tea could kill certain bacteria that is typically difficult to treat with antibiotics. The study, conducted by Milton Schiffenbauer, Ph.D., Chairman of the Biology Department at Touro College, will be presented today at the American Society of Microbiology meeting held here.
Many bacteria form a biofilm, a tough-to-penetrate matrix of cells that makes the bacteria more resistant to treatment. "It's very difficult to destroy bacteria with a biofilm," says Schiffenbauer. According to the National Institutes of Health (NIH) about 65 percent of all microbial infections, and 80 percent of all chronic infections are associated with biofilms. Biofilms are often formed in infections surrounding medical devices, such as catheters and implants, because the biofilms form when they attach to surfaces.
Schiffenbauer has studied the antimicrobial powers of white tea polyphenols in the past. White tea is made from new growth buds and leaves and has higher concentrations of polyphenols than green or black teas. Schiffenbauer wanted to test whether these polyphenols would break through the biofilms to kill bacteria. "We thought maybe white tea is so powerful that they can destroy these biofilms," he says.
His team performed a laboratory experiment, exposing bacteria with biofilm to a concentrate of white tea polyphenols. The bacteria used in the experiment included well-known bacteria such as Staphylococcus aureus (which causes MRSA) and Salmonella and E.coli, which cause gastrointestinal infections, as well as lesser-known bacteria that are responsible for a range of hospital-acquired infections. After 24 hour incubation, 99.9 percent of the bacteria exposed to the white tea was destroyed.
"This is so interesting because it's not an antibiotic, it's just food," says Schiffenbauer. More research is needed to confirm the results. It is not known, for example, if white tea can penetrate the biofilm of chronic infections, because biofilms tend to get thicker over time. "We have not done clinical studies, but based on my lab work, I would suggest that if one has a bacterial or viral infection, drinking white tea may help alleviate some of the symptoms." White tea is available in tag bag form in stores and on line or as loose tea from stores like Teavana.
About the Touro College and University System
Touro is a system of non-profit institutions of higher and professional education. Approximately 18,000 students are currently enrolled in its various schools and divisions. Touro College has 30 campuses and locations in New York, California, Nevada, Berlin, Jerusalem and Moscow. New York Medical College; Touro University California and its Nevada branch campus; Touro University Worldwide and its Touro College Los Angeles division; as well as Hebrew Theological College in Skokie, Ill. are separately accredited institutions within the Touro College and University System. For further information on Touro College, please go to: http://www.touro.edu/news/.