NYSCAS Brooklyn Celebrates 44th Commencement Ceremony
362 Baccalaureate and 231 Associate Degrees Were Awarded, Brooklyn District Attorney Eric Gonzalez Delivered Commencement Address
Date: June 12, 2018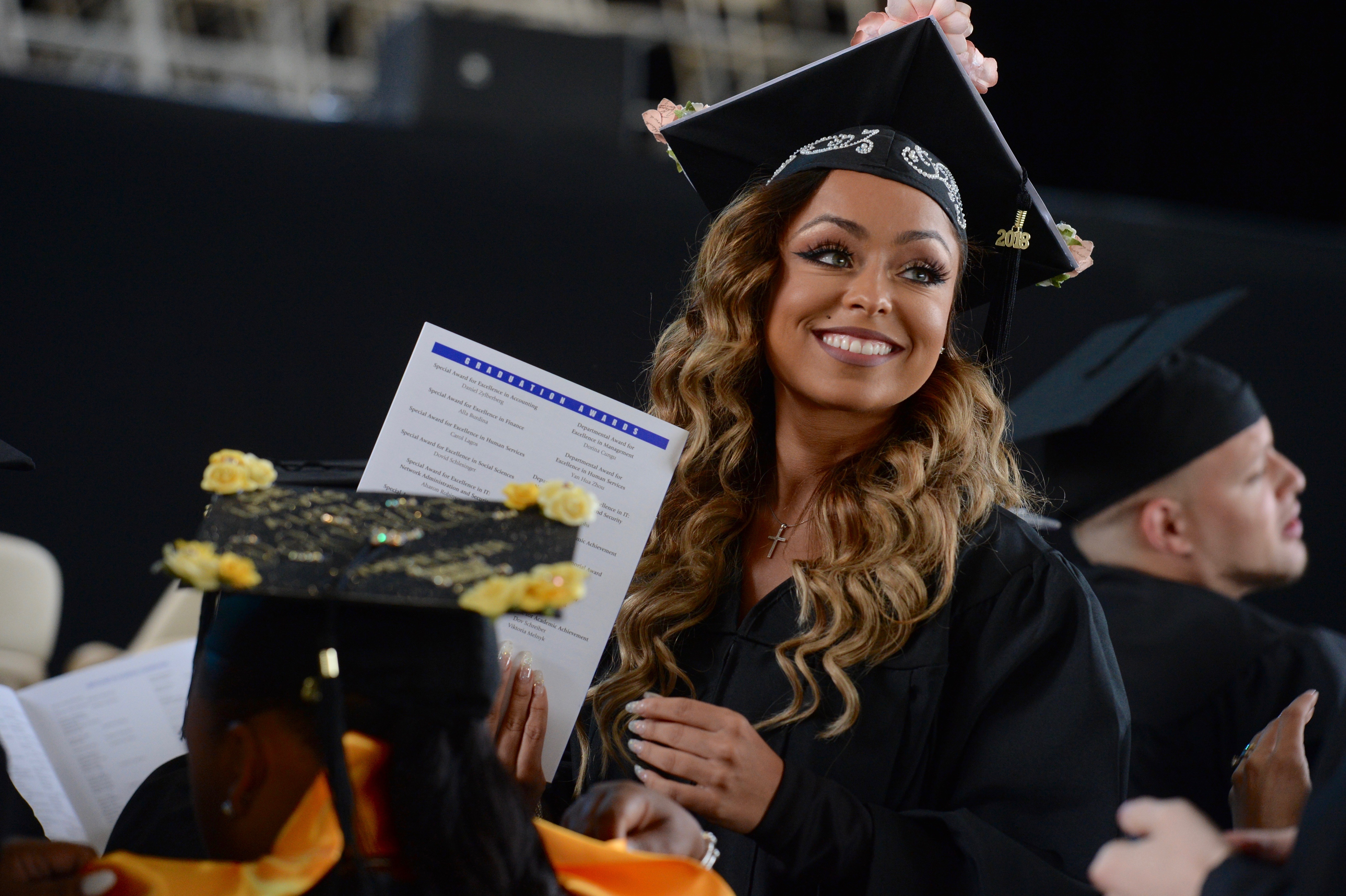 Celebrating the NYSCAS Class of 2018 at the Brooklyn commencement ceremony
Brooklyn, N.Y. – New York School of Career and Applied Studies (NYSCAS), a division of Touro College, honored 593 students at the Ford Amphitheater at the Coney Island Boardwalk where family and friends joined faculty and staff at the school's 44th commencement ceremony.
Brooklyn District Attorney Eric Gonzalez delivered the commencement address and was presented with a Community Service Award for his exceptional efforts as District Attorney. Rabbi Moshe D. Krupka, Executive Vice President of the Touro College and University System, Dr. Judah Weinberger, Dean of NYSCAS and Associate Vice President of Undergraduate Education, Timothy Taylor, Associate Dean of Students, Dr. Stanley Boylan, Vice President and Dean of Faculties, Dean Ella Tsirulnik and Dr. Avery Horowitz, Dean of Advisement and Counseling all gave brief remarks. Professor Joseph DeMarco and Dr. Howard Bruce Weiner facilitated the presentation of degree candidates. Daniel Zylberberg, an accounting major, was valedictorian.
"Today, we honor and celebrate this exceptional group of students and their commitment to fulfilling their dreams," said Dean Weinberger. "Boasting an incredibly diverse student body and offering individualized academic support, NYSCAS epitomizes Touro's commitment to quality education in an environment that respects all people and their beliefs."
"Today's graduation falls on the 74th anniversary of D-Day when 156,000 American troops and their allies landed on the shores of Normandy, the largest seaborne invasion in history," said Dean Weinberger. "This operation began the liberation of Europe from Nazi control and resulted in eventual Allied victory. This victory was not achieved by weapons alone. It was motivated by the values that we consider to be the core of our culture: courage and self-sacrifice. You, the graduates, have exhibited these values in your quest for a higher education."
"When I look out at this wonderful group of graduates and their families and their friends, I see something incredible. I see a truly diverse assembly reflective of who we are as people from Brooklyn, from New York City and as New Yorkers," said Brooklyn District Attorney Eric Gonzalez. "Congratulations on all you have achieved up to this point and good luck in the coming years."
Salutatorian Dilorom Akhmedjanova, who spoke at the ceremony, was born in Uzbekistan and immigrated to the U.S. with her husband and two-year-old son in 2014. Raising a family and working, she decided to attend Touro because the school offered a more flexible schedule. Graduating with a degree in accounting, she plans to become a CPA.
"We all worked hard to get to this day and accomplished one of the major milestones of our lives," said Salutatorian Akhmedjanova. "Graduation has already shown us how capable we all are of accomplishing our goals when we commit ourselves to them. I hope all of us here today can take this personal accomplishment as an example of how anything is truly possible when we put our minds to it."
Continuing a NYSCAS graduation ceremony tradition, Rabbi Krupka asked students to stand and face the audience to acknowledge the support students received from their loved ones. Several musical interludes were performed, including "New York, New York," "Stand By Me" and "Sweet Caroline."
NYSCAS offers high-quality, professionally-oriented degree programs and hands-on career preparation. The school serves students from all backgrounds, offering one-on-one guidance and support as it helps them develop the real-world skills they need to succeed. Currently the school enrolls over 4,000 students in accredited associate and bachelor degree programs at locations across Manhattan, Brooklyn and Queens.
The Touro College and University System
Touro is a system of non-profit institutions of higher and professional education. Touro College was chartered in 1970 primarily to enrich the Jewish heritage, and to serve the larger American and global community. Approximately 19,200 students are currently enrolled in its various schools and divisions. Touro College has 30 campuses and locations in New York, California, Nevada, Berlin, Jerusalem and Moscow. New York Medical College; Touro University California and Touro University Nevada; Touro University Worldwide and its Touro College Los Angeles division; as well as Hebrew Theological College in Skokie, Ill. are separately accredited institutions within the Touro College and University System. For further information on Touro College, please go to: www.touro.edu/news