A Tablespoon of Cinnamon a Day Could Keep Viruses at Bay
Date: June 01, 2015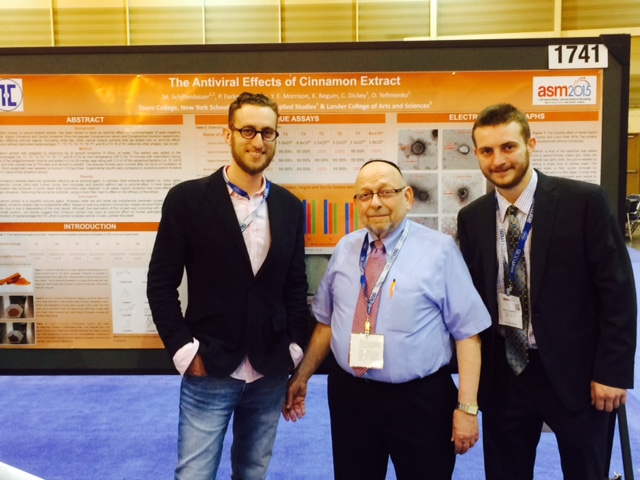 NYSCAS biology professor Dr. Milton Schiffenbauer (middle) with students Oleg Yefimenko (right) and Yehudah Morrison (left), presenting their research at the American Society for Microbiology Annual Meeting in New Orleans.
New Orleans, Louisiana–– Two varieties of cinnamon have the potential to combat viruses that make people sick, according to new research to be presented here at the American Society for Microbiology Annual Meeting.
Dr. Milton Schiffenbauer of the New York School of Career and Applied Studies, a division of Touro College & University System, and his colleagues compared Saigon and Ceylon cinnamons –varieties grown in South Asia −to other botanic extracts including onion, garlic, cloves, peppermint, cocoa, and Spanish saffron. They found that cinnamon was effective in deactivating viruses in select organisms. The other extracts had no antiviral effect.
The researchers tested the extracts against Phi X, a virus that infects bacteria and has many similarities to viruses that infect animals and humans. An extract containing 10 percent cinnamon deactivated 99.9 percent to 100 percent of the virus after only 10 minutes of intermittent mixing. The results were observed after 24 hours of incubation.
According to Dr. Schiffenbauer, the evidence suggests that cinnamon helps eradicate the PhiX virus by damaging its structure. "The results validates our belief that a diet that includes a tablespoon of cinnamon once or twice a day can be effective in eliminating or preventing viruses from infecting humans and causing sickness, such as colds, flu, and even herpes," he said.
Read more about Dr. Schiffenbauer's previous research.