Student Researchers from Touro's Undergrad and Medical School Divisions Team Up to Find a Cure
Research Takes Aim at Genetic Skin Disease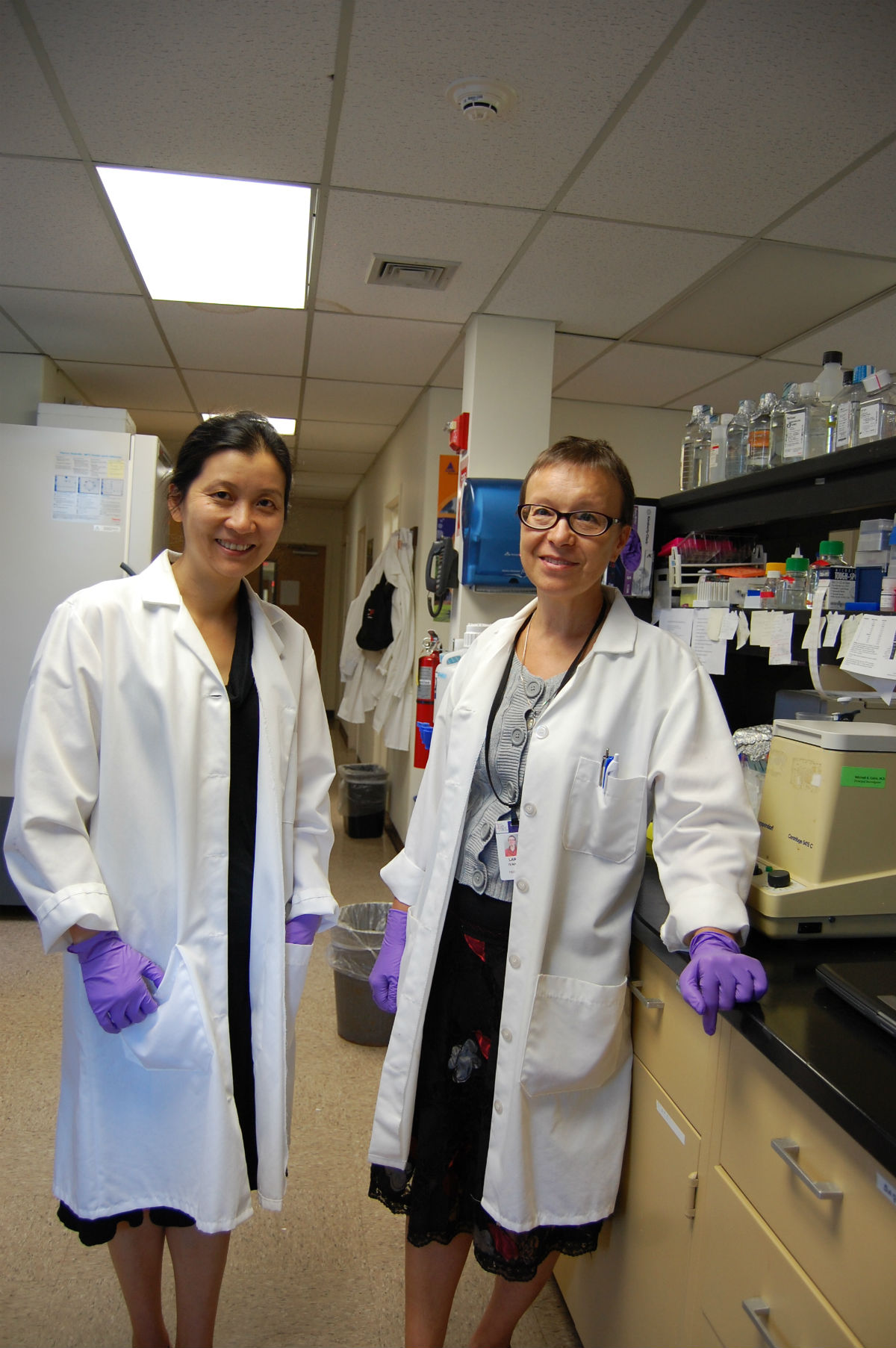 Dr. Yanling Liao (left) and research associate Dr. Larisa Ivanova at New York Medical College
Inside a laboratory at the New York School of Career and Applied Studies (NYSCAS), research assistants Viktoriya Yusopova and Abraham Levitman examine a computer printout of a gene containing over 30,000 nucleotides, from which they will identify a small number of important sequences.
"We need to find where the gene begins," explained Levitman, a senior at Lander College of Arts in Sciences who is majoring in biology. It is a painstaking process, but invaluable training that could someday lead to a cure for epidermolysis bullosa (EB), one of the most devastating genetic skin diseases known to man.
"They are doing complex, graduate level work," biology professor Dr. Brian Chiswell said of Levitman and Yusopova, sophomore biology major with a 4.0 GPA who is studying to become a physician's assistant. The students later inspected drops of a purified protein molecule, seen with perfect clarity through a microscope-- another opportunity to learn advanced molecular biology techniques.
Yusopova and Abraham's participation as paid research assistants was made possible by a $100,000 Touro College Bridge and Seed Grant awarded to Dr. Chiswell and Dr. Yanling Liao, a scientist who conducts stem cell studies at New York Medical College (NYMC) a division of Touro College & University System.
A team effort
Dr. Liao began research on EB, a devastating condition in which the layers of the skin deteriorate, after attending a conference at Columbia University. She knew about Dr. Chiswell's experience working with proteins, and started thinking, "What can we do?"
EB affects about one in 55,000 people in the U.S. It is caused by a missing or mutated protein. "The objective of our research team at NYSCAS is to manipulate that protein to find a cure," Dr. Chiswell said.
Once the undergrad researchers isolate the key protein molecule, they will send it to NYMC, where Dr. Liao and her team "take it to the next level," said Dr. Chiswell. There, the proteins will incubate with Dr. Liao's stem cells, and are injected into lab mice. Dr. Liao's published results using a similar method, prior to the NYSCAS-NYMC collaboration, had already showed tremendous promise. "The mice that were genetically engineered to carry the disease, died in two days" said Dr. Liao. "After injecting them with the stem cells, some lived up to three months,"
If results of the NYCAS-NYMC stem-cell research are well received, Drs. Chiswell and Liao could seek substantially more funding through the National Institutes of Health.
A pathway to health fields
Yusopova, who came highly recommended for the research position, enrolled in the biology program at NYSCAS because of its academic track towards advanced degrees at Touro's School of Health Sciences, and pathway to successful careers in health, medicine, and research positions at prestigious institutions.
"New diseases are always evolving, which is why I wanted to participate in Dr. Chiswell's research project and learn more about cures through lab techniques," said Yusopova.
Eva Spinelli-Sexter, Executive Administrative Dean and Vice President of NYSCAS, emphasizes the growing opportunities that are available to undergraduates. "Touro College is a progressive school with an excellent health science program. As we advance in the research field, more and more students will benefit from the ability to learn and experience first-hand laboratory research."
Yusopova added that Touro's atmosphere, academics, and respect for the Jewish faith also attracted her to the program. "The college offers a good balance between education, culture, and social responsibilities."
For more information about undergraduate research opportunities, contact Prof. Brian Chiswell at brian.chiswell@touro.edu or stop the by the NYSCAS Biology Department research lab, 27-33 West 23rd Street, New York, N.Y., Room 324. For general information about the undergraduate Biology Program at NYSCAS, visit www.touro.edu/nyscas.