NYSCAS Midtown Celebrates 41st Commencement Exercises
Date: June 01, 2015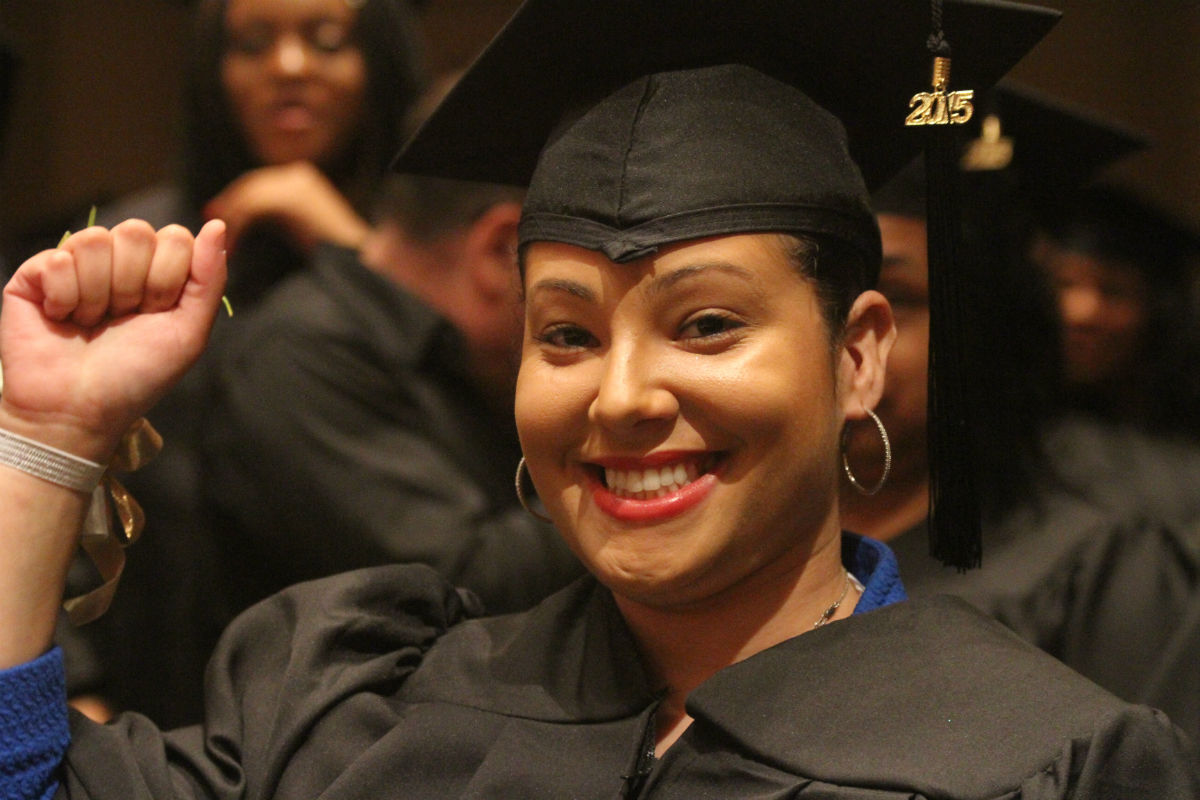 A proud graduate from NYSCAS midtown, class of 2015
New York, NY – At the 41st Commencement Exercises of the New York School of Career and Applied Studies (NYSCAS) Midtown Campus, commencement speaker, Brooklyn Borough President Eric Adams, spoke passionately about becoming a person of substance, choosing friends wisely, and overcoming life's obstacles. Adams cited the influx of European Jews, West Indians, and Puerto Ricans, who came to this country and "had to find a way to survive."
"If you look under the fingernails of every group, you will see the dirt and grime from climbing up the mountain, one hand at a time, to participate in America's dreams," Adams said.
In his address at Lincoln Center's Avery Fisher Hall, Adams compared the stories told about generation after generation of these struggling communities- to all of the Harry Potter movies that he enjoys, because, "Each sequel is better than the one that came before."
As a boy, Adams said he was in trouble, and "broke the law," but later "wrote the law," as a state senator. He was also a New York City transit police officer and a NYPD police captain before being elected borough president.
While Adams acknowledged the struggles and sacrifices of those in the nation's multi-cultural "melting pot," he urged NYSCAS graduates to think of their careers globally. "If you can be an accountant in Brooklyn, you can be an accountant in Belgium. If you are an architect in Bed Sty, you can be an architect in Budapest," he said, adding, "Don't be a Metro-card leader; be a passport leader!"
Vice President and Dean of NYSCAS, Eva Spinelli and Associate Dean Leon Perkal presented Adams with an honorary award for his service to the community.
Valedictorian Pinchas Farkas
Valedictorian Pinchas Farkas -- despite never attending secular high school or speaking English until his early teens -- attained a 3.98 GPA, and completed degree programs in biology and psychology. While he savors his academic achievements, he said, "Education is more than textbooks. It changes us."
With Dr. Milton Schiffenbauer of the biology department, Farkas participated in significant laboratory research into the medicinal properties of cinnamon and fruit extracts, an endeavor about which he became philosophical. "Each small piece of the orange pulp is like one cell of learning," he said. He plans to pursue a degree in medicine.
Speaking in Yiddish, Farkas thanked his parents for their love and support.
Awards
Dean Stanley Boylan presented a Certificate of Appreciation to Vice President and Dean of NYSCAS, Eva Spinelli, for her unwavering dedication and 15 years of service to Touro College.
Special achievement, recognition and service awards were presented to Rafaela Kramer, Natali Yuger, Ashley Cortez, Heshie Dembitzer, Aminique Kirnon Cynthia Montalvo, Karen Peralta, Cecille Sobers, Grigori Vaserman, and Bruce Washington.
The salutatory address was given by Rena Aminova. Dara Taylor sang the "Star Spangled Banner," and the evening's musical performance, "The Impossible Dream" was sung by Aminique Kirnon.