Tornado Watch!
NYSCAS College Basketball Takes Its Shot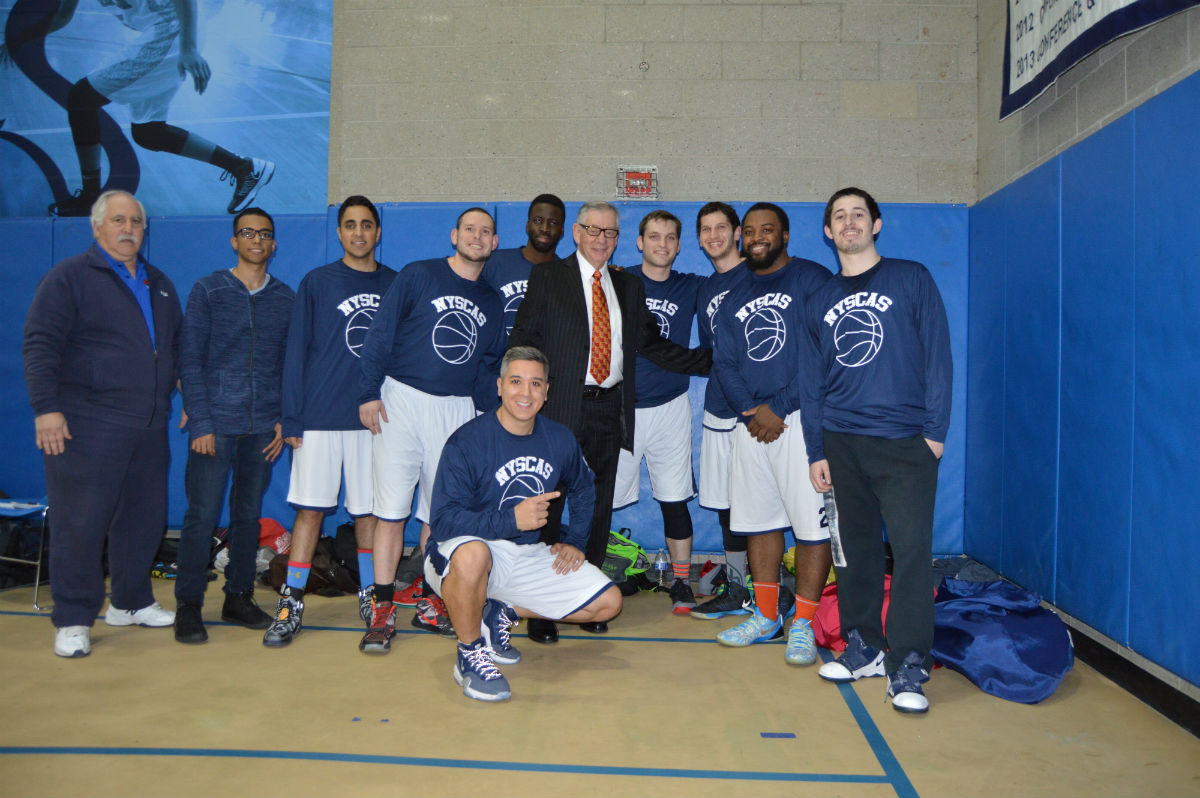 There's a new team in town, and true to its name, Touro's NYSCAS Tornados are hitting the ground hard and fast.
"It's all you, Taylor, it's all you!" shouted Ari Silberstein –a player for the Tornados and a student at New York School of Career and Applied Studies (NYSCAS)– as he cheered on teammate Michael Taylor during a recent basketball game against Pratt Institute in New York City.
For now, their story is as much about getting in the game as winning the game. It is the first year this 13-member varsity team has played against United States Collegiate Athletic Association (USCAA) teams. Touro also recently played NCAA's (National Collegiate Athletic Association) City College of New York Beavers, which proved a formidable opponent.
Coach Irv Bader, athletics director at Touro and a former draft pick of the NBA, is striving to develop the team skills and sportsmanship that could push his hard-working players to the next level.
Twelve to 15 games are slated this year against teams from Mt. St. Vincent College, City College, Kings College of New York, Vaughn College, Webb College, The New School, and Kingsborough Community College. The Tornados are scheduled to play twice that number in 2016-17.
Mendel Ivry, a point guard who is a sophomore and biology major at NYSCAS, is excited about where the Tornados are headed. "We're getting better and progressing with every game," he said. However, he adds, the team needs to work on strengthening their communication. "We are still getting used to each other and learning each other's strengths and weaknesses," he said.
Taylor, a power forward and senior business marketing major, is also proud of the program and what his team has accomplished, but like any competitive athlete, sees room for improvement. "We need to work more on our cohesiveness and how to be playing as one," he said, adding, "That will come with more practice."
However, scheduling those practices can be a challenge. Many players attending NYSCAS are commuters who hold full time or part time jobs. Some take classes on weekends or evenings and their schedules may conflict with scrimmages.
Coach Bader has his work cut out for him, with help from a small but dedicated staff that includes Assistant Coach Howard Furman, plus two scorekeepers and a team manager– all of whom are students attending NYSCAS.
Everyone agrees that if the Tornados make it to the NCAA's Division III conference, it would be a dream-come-true. Until then, says Ivry, "every game is a stepping stone."