Prof. Kadinsky Publishes Book on New York
Art History Professor Sergey Kadinsky discusses his latest book, Hidden Waters of New York City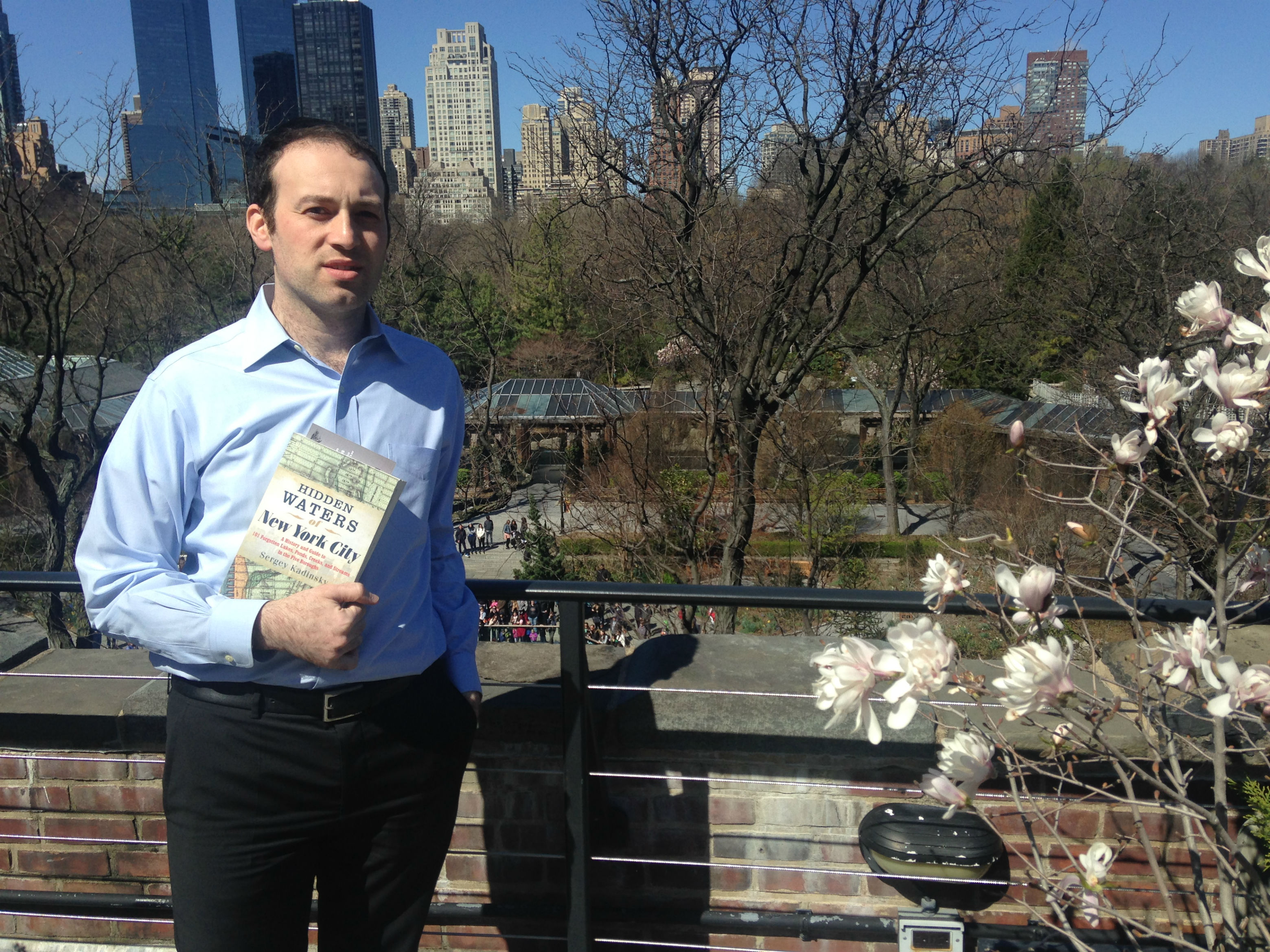 Professor Kadinsky, on the roof of the arsenal overlooking Central Park.
Sergey Kadinsky, art history professor at the New York School of Career and Applied Studies (NYSCAS), recently published his first book, Hidden Waters of New York City, with Countryman Press.
In Hidden Waters, Kadinsky—who teaches on the Forest Hills campus—reveals the forgotten histories of rivers, canals, and streams that people see everyday in New York, as well as those that have been lost or buried underground. "Even if the waterway doesn't exist today, often parks, streets, and neighborhoods still retain the names of the streams," he explains.
Kadinsky traces his love of nature back to his childhood in Latvia. "I've always been interested in exploring the natural landscape. When I was a child, I used to explore streams in Latvia. So upon moving to New York, I started looking around… were there any ponds, creeks or lakes closer to where I live? I realized that the same way that ancient civilizations were formed by rivers such as the Nile or the Euphrates or the Yangtze, similarly Newtown Creek, Gowanus Canal, and Collect Pond have influenced the development of neighborhoods around Manhattan."
Kadinsky became a licensed tour guide in college, working on the ever-present double-decker busses in Manhattan, and giving private tours in his spare time. "Tour-guiding paid my way through college," he says.
Some of Kadinsky's inspiration behind the book, he says, came from fellow NYSCAS professors, such as late professor Jacob Lieberman as well as current history professor Ron Brown, who often gives walking tours of NYC neighborhoods to his classes.
As a professor, he encourages his students to engage with the city around them. "When I teach art history, I point out things like the MTA Arts for Transit, public art funds, and other examples of art they could stop by and see on their way to class. New York City has more art museums and art schools that any other city in the country, and students should be aware of that."
Kadinsky hopes that after students read his book, "they'll take away a great interest in the neighborhoods where they live, and as a result become more active citizens in historical preservation, and have a greater understanding of how a community develops. When they walk down the street and see something unusual, let's say historical architecture, or a street sign that looks different, or a building that looks different, there's a story behind it. So I encourage them to look into that story. You don't have to travel far to find fascinating things."
Manhattan's very own Financial District houses the City's most famous hidden body of water: Collect Pond. "Originally, the pond was used as a watering hole for Native Americans, and in the Dutch days, it was used for ice skating. In colonial times, it was the site of a slave revolt, and as a result there exists a slave cemetery nearby—'The African Burial Ground.' Later, it became a notorious slum. And now, it's the City Civic Center." The pond was buried around 1807 via a canal that became Canal Street. When the pond dried up, Canal Street still kept its name, and within the past decade, the site of Collect Pond became a public park. "There's now a fountain there that retains its name. So although it's not a real pond today, just a water feature, there are historical signs in Collect Pond Park that remind travelers of what used to be there," he points out.
Sergey Kadinsky is also an analyst at the NYC Department for Parks and Recreation. When he isn't teaching art history and Jewish history at NYSCAS, you can find him at the Arsenal in Central Park.