NYSCAS Celebrates 42nd Commencement
Emmy-Winning Journalist Rita Cosby Addresses Manhattan Graduates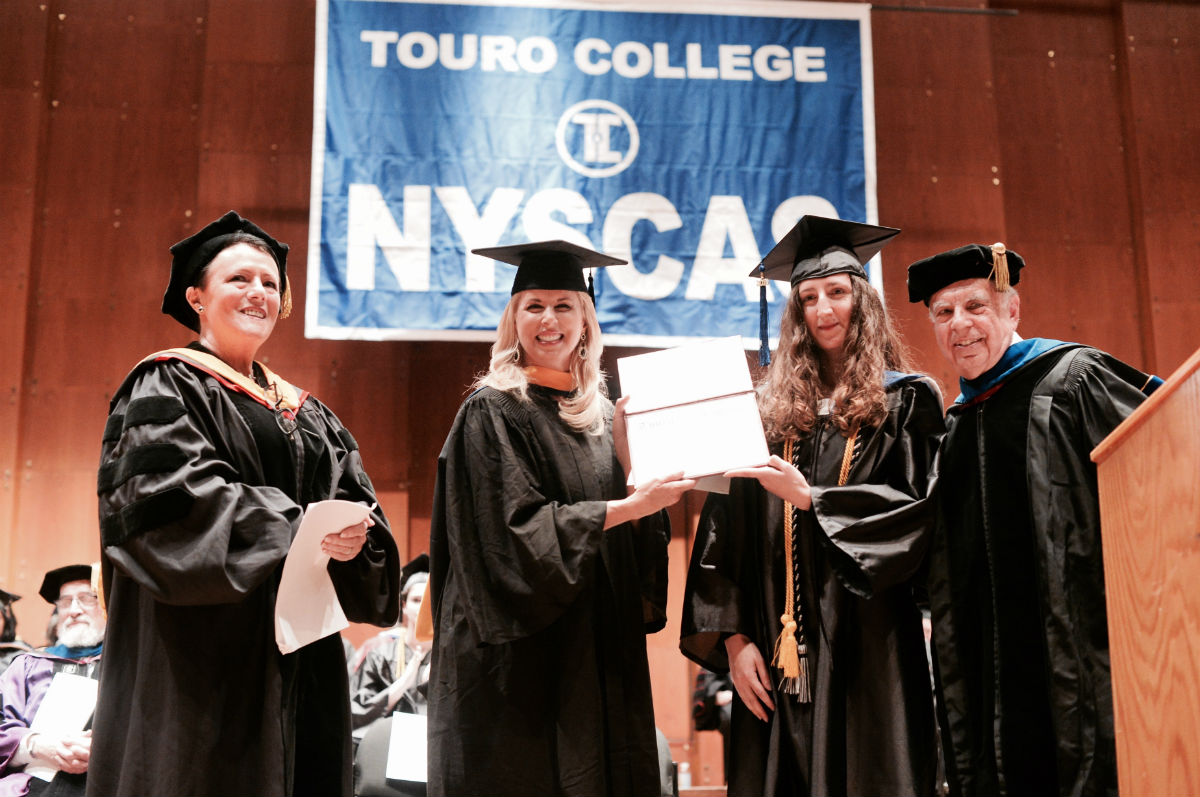 Emmy-award-winning journalist Rita Cosby served as the graduation speaker for the New York School of Career and Applied Studies (NYSCAS) and was honored with the establishment of the Rita Cosby Award presented to Guendalina Almici. From left: Eva Spinelli-Sexter, vice president and executive administrative dean of NYSCAS; Cosby; Almici; Leon Perkal, NYSCAS associate dean of faculties.
New York, NY—His voice rising above the exuberant cheers of the capacity crowd filling David Geffen Hall in Lincoln Center for the 42nd commencement exercises of the New York School of Career and Applied Studies (NYSCAS), Dr. Alan Kadish, president of the Touro College and University System, conferred degrees upon 504 college graduates, each of them smiling from ear to ear.
Commencement speaker Rita Cosby, an Emmy-award-winning journalist and best-selling author, set the celebratory mood by encouraging the graduates to raise their voices after congratulating them on their achievements. She took a serious tone, however, as she acknowledged the tragedy that occurred in Orlando, as 49 people were shot inside a nightclub.
The heartbreaking event should serve as a reminder, she said, "to love your friends, tell people who love you that you love them, appreciate them and treasure them."
Ms. Cosby became emotional while she related her estrangement from her father after he abandoned her family on Christmas when she was a young girl. Because her mother earned just $12,000 a year, Ms. Cosby was forced to work for three-and-a-half years, first as a receptionist, then as a sales manager for a wall paper company, before she could afford to go to college. Her hard work and perseverance paid off, as she rose from an entry-level position at the Fox network to become the youngest senior correspondent in the country for a national TV news organization, covering the White House, Capitol Hill and the Pentagon. She has interviewed U.S. presidents, world leaders, popes and even Michael Jackson ("And no, I cannot Moonwalk, in case you are wondering.").
She told the graduates that with the rest of their lives ahead of them, they have a responsibility to continue to work hard even after school.
"Your story, your future has yet to be written, and that is very exciting and means opportunities and relationships with ones you love and ones you will soon meet are endless," she said. "Treasure this gift you get today from Touro, and the gift you give all of us is to make the most of it."
Dr. Kadish then presented Ms. Cosby with an honorary citation, and announced the creation of the Rita Cosby Award for a student who has demonstrated an excellence in communication arts. The inaugural award was given to Guendalina Almici.
At the start of the commencement exercises, Eva Spinelli-Sexter, vice president and executive administrative dean of NYSCAS took to the podium and congratulated the graduates, saying that their accomplishments "fulfill our mission of providing higher education opportunities for the wider community in all its ethnic and cultural diversity." The dean then introduced Dr. Kadish, who encouraged the graduates to stay optimistic even in the midst of tragedy.
"It's no secret that these are troubled times in the world, and the recent shooting demonstrates the difficulty we face," he said. "Despite that, I remain convinced that the human spirit can triumph over those influences."
Both valedictorian Chana Abrakhaimova and salutatorian Aviva Weiner offered their own words of encouragement to their graduating classmates, as well.
"Some of you may feel that you're not worthy of your current blessings or that others may deserve it more than you," said Abrakhaimova. "But we all contain seeds of greatness, and all we have to do is believe in ourselves to fulfill our dreams and to reach our full potential."
Said Weiner: "A diploma is so much more than a piece of paper; it is the physical embodiment of what we have achieved. It is a source of pride and a ticket to the future. And remember my fellow graduates, we earned it, no one gave it to us and it is ours and no one else's."
Before the candidates for baccalaureate and associate degrees were called to the stage to receive their diplomas, a moment of silence was held for two beloved members of the faculty, English professor Akua Weeks, who passed away last summer, and biology professor Dr. Sudapacham Shyam, who died earlier this month.
The following evening 352 baccalaureate degrees and 283 associate's degrees were presented to graduates at the NYSCAS commencement ceremony in Brooklyn. At the conclusion of the 2016 commencement season, the Touro College and University System is expected to have awarded approximately 4,000 doctor of philosophy, doctor of osteopathic medicine, doctor of pharmacy, juris doctor, master's, baccalaureate and associate degrees to students from 29 schools and colleges located in the U.S. and around the world.
About the Touro College and University System
Touro is a system of non-profit institutions of higher and professional education. Touro College was chartered in 1970 primarily to enrich the Jewish heritage, and to serve the larger American and global community. Approximately 19,000 students are currently enrolled in its various schools and divisions. Touro College has branch campuses, locations and instructional sites in the New York area, as well as branch campuses and programs in Berlin, Jerusalem, Moscow, Paris and Florida. New York Medical College, Touro University California and its Nevada branch campus, as well as Touro University Worldwide and its Touro College Los Angeles division are separately accredited institutions within the Touro College and University System. For further information on Touro College, please go to: http://www.touro.edu/media/.