Nepalese Students Find Niche at NYSCAS, and Beyond
Learn why Nepalese students love NYSCAS, and its graduate schools.
Ram Goudel
Touro hosts hundreds of Nepalese students every semester in both its undergraduate and graduate programs. In November 2010, the Nepalese Society and Club was founded in conjunction with the Touro College Graduate School of Technology to encourage interaction among the Nepalese students and to provide a strong sense of camaraderie and support to those struggling with adjusting to American life and academics. Since then, the Nepalese Society has hosted a countless number of meetings every week. Students guide each other about classes, teachers, textbooks; enjoy their peers' company; and, often, discuss Nepalese culture, food and entertainment. Learn about two Nepalese undergraduate alumni who continued on to Touro's graduate schools.
Ram Goudel: Web Developer
Ram came to Touro from Chitwan, Nepal, where he majored in physics and studied pure sciences.
When he was deciding whether to attend school abroad in Australia, Germany, or America, America won out.
"Most students from Nepal want to study abroad because the infrastructure there is better than in Nepal, especially in fields of study like biomedical research – or in my case, web development."
After moving to New York City, a friend's friend told the 23-year old about NYSCAS. "The classes were small compared to other universities, so the professors were able to give us personalized attention," says Ram.
One faculty member, in particular, helped Ram adjust to American life and college: Arjun Mahat, the head of the Nepalese Society (and a coordinator/ faculty member on the 23rd Street campus). "He's the reason I'm in graduate school today," says Ram. "He gave me ideas about what to study, told me what classes are best geared for a job, and helped choose my classes. Every little thing he did, helped. He's a mentor, advisor, everything. We all call him a brother. Without his help, it would not have been possible to complete my studies or graduate with such ease."
And when Ram was in his senior year at NYSCAS, Mahat introduced him to graduates who had already gone through his route and had successfully landed jobs in web development. "I was a little doubtful of whether I could do it, but after speaking to the tech guys in the Nepalese Society he told me to talk to, I was confident enough to continue on to graduate school." Ram chose Touro's Web and Multimedia (WMM) program at the Graduate School of Technology (GST).
"It was "very comprehensive," says Ram. "The classes offered here were the ones required by job posts I was searching through, like Web Scripting, JavaScript, PHP… I looked at the job posts, saw what skills I needed, and WMM offered the most in-demand skills in the market."
These days, Ram is applying for full-time positions in web application technology while taking the initiative to study other web languages in his spare time, like C# and angular.js.
Sushant Bhattarai: Business as Usual
Sushant came to Touro from Kathmandu, the capital of Nepal, where he worked in his family's import/export business specializing in rugs and fur.
In 2007 he came to Montana to study abroad for college, but realized that the environment wasn't a good fit. "It was...pin-drop silence," he remembers. "It was a nice, quiet, friendly town, but I always wanted to study in a metropolitan city…more opportunities."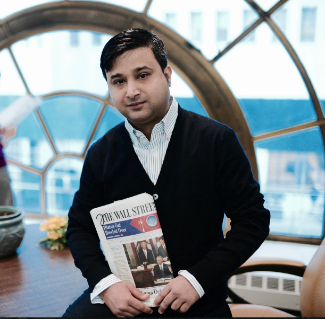 Sushant Bhattarai
After moving to New York a year later, he transferred to NYSCAS. This, he says, was what he had imagined when he thought of America back home in Nepal. "One of the reasons I left Montana, despite the people being very nice, was that life was slow…you always felt like you had to go to New York to get the most out of the American culture and American experience."
Besides for the fact that NYSCAS gave him the chance to study in Manhattan, what he loved best about the college was its supportive faculty. "We had awesome professors; they were always here to help 24/7. If you emailed them, they'd email back right away."
In college, Sushant majored in accounting and graduated with his bachelor's degree from NYSCAS in 2012. After completing his bachelors, he finished his Optional Practical Training (OPT), which then permitted him, as an international student, to work for a year in the United States on a student visa.
Ever since he began his undergraduate degree, he always knew he wanted to continue on for his Master's degree in business at the Graduate School of Business (GSB). "Touro was developing a good reputation. I thought, why not just continue?"
He calls his favorite professors at GSB—Drs. Peter Sperling and Charles Snow, who teach finance and accounting, respectively—"brilliant."
Upon graduation, Sushant plans on going back to his hometown and applying his newfound skills, insights and education to the family business.