An army of one, a school for all
NYSCAS student builds her future through the G.I. Bill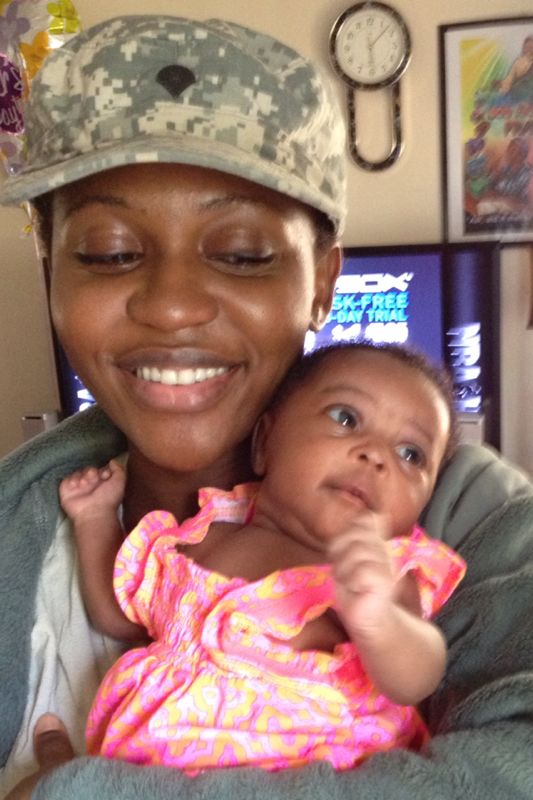 Ochanya Atayi graduated from New York School of Career and Applied Studies with help from the G.I. Bill (and her daughter, Davida).
For Ochanya Atayi America has proven to be a land of opportunity. And, as many new immigrants before her have found, it is the United States Army and a college experience that has helped pave the way for her future.
Atayi, 25, joined the army in 2008, after having been in the country only a year. She emigrated from Nigeria with a goal of attending school. She was fortunate, because her mother is a U.S. citizen, thus paving her way to America, where she felt her vistas were broader.
But it was a commercial about women in the army that she found most eye-opening. "I'm from Africa and women don't have these kinds of opportunities," says Atayi, who recently graduated from New York School of Career and Applied Studies (NYSCAS) with a 3.6 GPA.
"I thought, 'OK if they can do this, I can do this.'"
In the army, she worked in a combat support unit as a logistics specialist overseeing supplies and inventory, she says. The service never saw her as the "weaker sex" and encouraged her to excel. "It might not mean much to the average American lady, but where I am from, it means a whole lot," says Atayi.
While still in the army, she became a U.S. citizen and was able to start college at NYSCAS on the G.I. Bill, where she majored in biology. Although Atayi has never been deployed to battle, she has served overseas twice in Germany. Atayi, who married last year and gave birth to a daughter, Davida, this spring, has heard rumors that she may be deployed in upcoming months.
Servicemen and women add to the diversity of the NYSCAS community, while immigrants such as Atayi contribute a global perspective through their contributions, according to
Eva Spinelli-Sexter, vice president and executive administrative dean of NYSCAS.
"Overall, we are proud to have service members within our community," says Spinelli. "And we are delighted that many of them carry over the dedication and hard work that they have given to their country into their studies here."
The G.I. Bill first became law in June 1944, anticipating the needs of homecoming servicemen from World War II. It was highly controversial at the time, but was meant to prevent the missteps following World War I and the treatment of its veterans. It made a college education available to many who could not previously have afforded it nor dreamed of obtaining one. The bill has been updated several times since, most recently in 2009 to address the needs of veterans who have served after Sept. 11, 2001.
During the 2012-2013 academic year there were 188 students enrolled through the G.I. Bill in the Touro College University System. Of those, 109 were enrolled in NYSCAS. Like Atayi, 31 of them are women.
NYSCAS employs an advisor specifically dedicated to assist Post-9/11 G.I. Bill students to help navigate their benefits and eligibility, according to Spinelli. Touro College also participates in the Yellow Ribbon Program. This program enables qualified former soldiers throughout the college's divisions who have exceeded their allotment to continue to have access to funding.
Atayi plans to carry that hard work into medical school, possibly attending Harlem-based Touro College of Osteopathic Medicine (TouroCOM). She found her courses at NYSCAS challenging, with chemistry being the hardest and anatomy, her favorite. She credits the school and its melting pot environment with providing her with opportunities that she would not have had otherwise.
"I am comfortable working here," she says of her education at NYSCAS. "It's a multi-cultural environment, with people of different backgrounds. I speak with an accent, but I'm not by myself. There are a whole lot of people here with accents, professors, students — people like me."