620 Degrees at NYSCAS Brooklyn Commencement
NYSCAS Held Their 39th Annual Commencement Exercises in Brooklyn With Former NYS Governor David Paterson As Keynote Speaker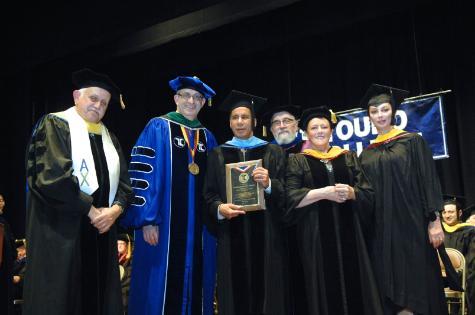 NYSCAS Commencement, June 10th. Pictured from left to right: Dean Robert Goldschmidt, President and CEO Alan Kadish, former Governor David Paterson, Dean Eva Spinelli, and Dean Ella Tsirulnik.
The 39th Annual Commencement Ceremonies for the New York School of Career and Applied Studies (NYSCAS) Brooklyn Campuses was held at Walt Whitman Hall in Brooklyn College's Center for the Performing Arts on June 10, 2013 at 7:00 pm.
The keynote speaker for the event was Governor David Paterson. Three-hundred sixty-one baccalaureate candidates and 259 associate candidates graduated from the division of Touro College in the ceremony.