NYSCAS Brooklyn Celebrates 41st Commencement Exercises
Date: June 17, 2015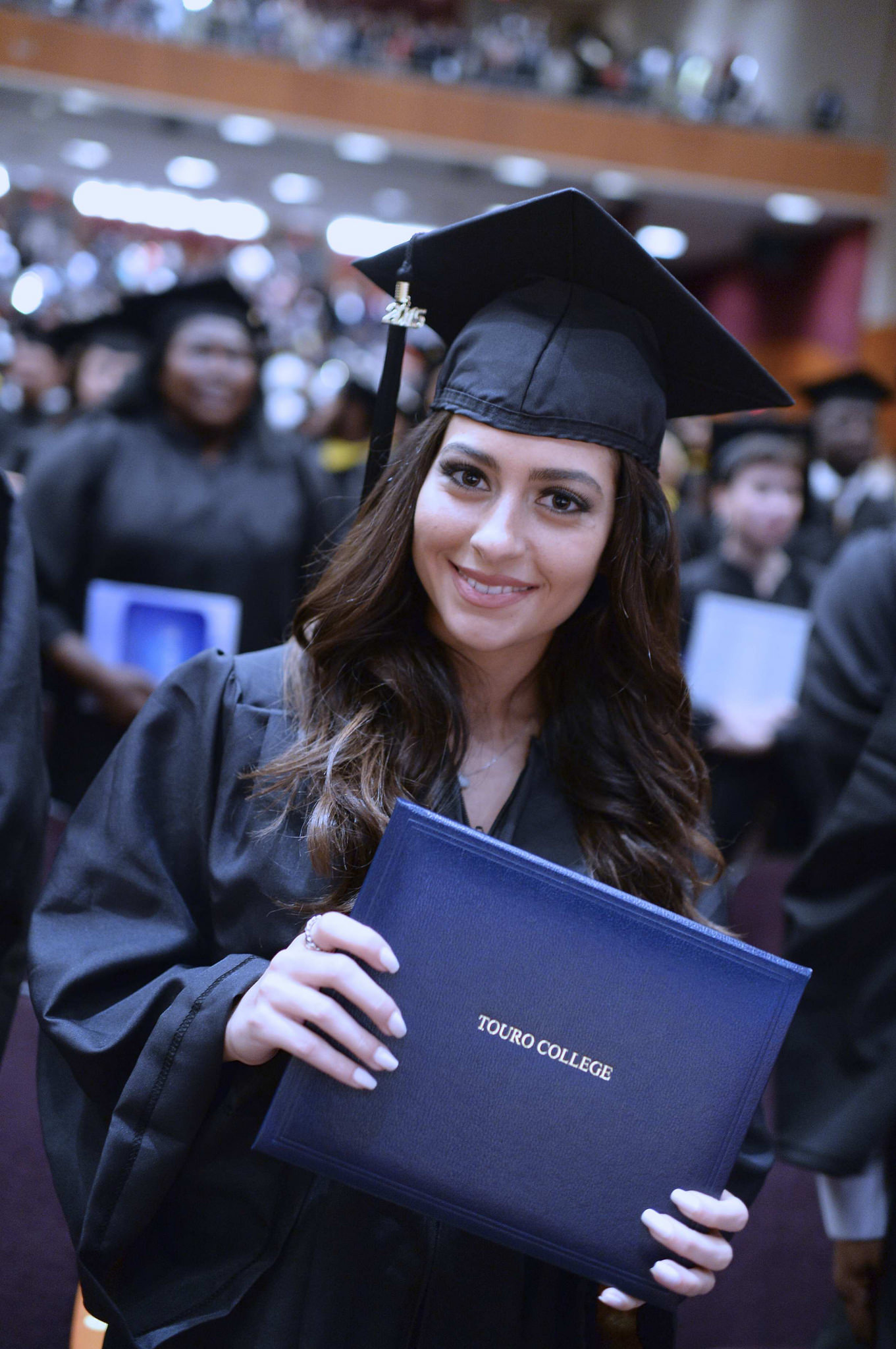 Class of 2015 graduate of NYSCAS's Brooklyn division proudly displays her Touro College diploma
Brooklyn, N.Y. – June 4, 2015 - At the commencement ceremony of the Brooklyn division of Touro College's New York School of Career and Applied Studies (NYSCAS), guest speakers, students, and administrators expressed their belief that education and hard work can change the destiny of a person, their community, their country, their world. The event took place at The Brooklyn Center for the Performing Arts. Vice-President and Executive Administrative Dean of NYSCAS Eva Spinelli presided over the ceremony.
Commencement speaker Dr. Ramanathan Raju, the President and CEO of the New York City Health and Hospitals Corporation, encouraged students to enter into STEM careers (Science Technology, Engineering & Math). Citing one study that found there were two unfilled STEM related jobs in the U.S. for every one unemployed STEM-educated worker, Dr. Raju said, "Science and technology have always been at the core of American life. America needs to fill these STEM related jobs in order to retain our economic competitiveness and prosperity. We need to produce more engineers and more computer scientists."
In another report from Georgetown University, it was found that 65 percent of those with bachelor degrees in STEM related fields earn more than those with master's degrees in non-STEM occupations.
But Dr. Raju said students should not shun their passion for arts and humanities. "Many great artists in this country are also people who work in technology or science, or medicine." He mentioned Khaled Hosseini, the physician who wrote The Kite Runner and the academic philosophy of Steve Jobs, who attributed the phenomenal success of Apple to the marriage of technology with liberal arts and the humanities. "He said this combination, 'yielded results that made hearts sing," Dr. Raju said.
Touro President and CEO Dr. Alan Kadish, Chancellor and CEO of New York Medical College Dr. Edward Halperin, and Touro College Director of Special Projects Josh Zilberberg presented Dr. Raju with a community service award.
Valedictorian Mariam Chapichadze
Despite the challenges of being an immigrant who spoke no English, and of holding down a job while attending college and raising two young sons, the class of 2015 Valedictorian Mariam Chapichadze completed her bachelor's degree in human services. She called college, "the mediator between our desires and our achievements," and said Touro was "an oasis of education where everyone who is thirsty for knowledge could come and quench it." She thanked the faculty and administrators for "listening, understanding, and helping find solutions where we saw only problems."
Chapichadze said she had mixed feelings during early days of college. "Do we really need education? Why do we have to take this or that subject when my major is quite different?" she asked herself. But courses like geology, for instance, taught her how to distinguish a real diamond from an artificial one, "for when I make money to buy these things," she said, adding, "It can even teach you how to choose a good foundation for building a house."
Even though Google "knows everything," Chapichadze argued, there are thousands of answers, and a proper education can help you choose the correct one. "Every little step of education could change our worldview, our action, and substantially- the whole world around us," she said.
The class salutatorian was Gittel Markowitz, a dedicated paraprofessional who works with bilingual special education students who require behavioral therapy. "Success without unrelenting effort is a hollow achievement," she said. Markowitz will continue her education at NYSCAS and is pursuing a bachelor's degree in psychology.
Awards
Special awards for academic excellence were presented to Yuriy Lobanov, Ina Tsintsadze, Maksim Yelkin, Hennie Shterenzer, Zhenjun Wu, Karell Mahbeer, Patricia Daniels, Mariam Chapichadze, Eli Moradi, and Chana Tabi. The Lester Eckman Scholarship Fund was awarded to Moradi and Asher Molavi. The Tuvia and Lilka Bielski award for personal achievement was given to Maksim Yelkin and Siu T. Chia.
In 2015, there were 338 baccalaureate degree candidates and 288 associate degree candidates from NYSCAS, Brooklyn.